As millions of Americans tonight sip a glass of wine, ponder the wine cellar's humidity, or consider the price of that special bottle at the wine shop, Haitians are suffering, and many are dying.
When a magnitude 7.0 earthquake hit the island January 12, the poorest country in the Western Hemisphere suffered losses beyond compare. Hundreds of thousands are now injured or homeless, and CNN reported January 18 that the death toll may top 100,000.
Palate Press has joined the relief effort for Haiti's nine million residents. "When I saw the news from Haiti, I knew I had to do something," said David Honig, the publisher of Palate Press. Proceeds from their "Wine for Haiti" fundraising effort will go directly to support humanitarian relief.
Honig had previously created "Brother, Can You Spare a Bottle?", an organization that permits charities to request bottles for silent auctions. Now, Palate Press has teamed with that organization to encourage wine lovers to contribute to Haitian relief.
"If there's one thing I learned from Brother, Can You Spare a Bottle?, it's that the wine community is an incredibly generous and caring group of people, from the vineyard to the cellar. Combining the goal of 'Brother, Can You Spare a Bottle?' with the reach of PALATE PRESS: The Online Wine Magazine seemed like a natural match."
How can you get involved? Pull something from your cellar and donate it to the cause—maybe a bottle you've been saving for a special occasion, or simply one from your favorite wine store—a bottle that will make wine lovers say "I've gotta have it!" It needn't be a Brunello, Cab, or Bordeaux, just something special others might bid on as part of a lot.
Then, go to the Comments section of this post and post a note with your contribution to the Palate Press auction. Honig will then create auction lots for bid. Then, please come back to the site and bid on these fantastic wines.
Honig has been busy. "The response so far has been humbling, and absolutely amazing," he said. "We had hoped to collect enough bottles to put together a case or two," the Indianapolis, Indiana, attorney said. "Instead, the wine has been flowing in by the case, by the magnum, by the Joroboam, by the Methuselah. Wine has been contributed by individuals pulling bottles from their cellars, and by wineries donating from their libraries and special collections. An artist contributed an original Wine Goddess print, and University of California Press contributed wine books. New York vintners are competing to prove they can out-contribute California, and California will surely respond," Honig said.
Others have joined the Palate Press fundraiser, too. Boozemonkey, about Australian wines, joined the effort today.

"People are dying and we can do something about it. But we can't do it without your help," Matt of Boozemonkey wrote to his readers on January 18. "Five dollars or five hundred—it's not about who's is the biggest, but if we can get a little generosity from everyone, that will make for a hell of a lot of wine, a hell of a lot of donations at the auction and please believe me that every dollar counts in Haiti right now."
Within minutes of Matt's post to his blog, several Australian wineries donated cases. Wine bloggers soon began adding the logo to their sites, and other wineries lined up to contribute, including 2 Mates, Caught Redhanded, Gibbston Highgate Estate, Lankey's Creek Wines, Lindis River Wines, The Little Wine Company, Overhill Winery, and Barristers Block.
Palate Press contributors and the US wine industry are stepping up at a similar pace. Already, Rodney Strong, Cornerstone Cellars, Lynfred Winery, Liebe Cellars, Twisted Oak, and others have made substantial contributions. "The generosity of the wine community is inspiring," said Honig.
---
How it Works
Donors are invited to post items in the comments section of this post. Honig will then create auction lots, already underway, for bid. Lots will be posted here with a link to the individual lot. Individual 750ml bottles will be collected into larger lots, while large format bottles will be posted right away as individual lots.
Then, readers will enter a bid in the comments. Palate Press will not close bids  quickly, but but once we do, the auction will end once 24 hours has passed without a bid. If a bidding war between two or three people transpires at the end of the bidding period, we will schedule a final bid at a set time to which the contestants (and anybody else lurking and waiting, but interested) agree. Honig will ship the wine to the winning bidder.
To see all the Wine for Haiti auction items, please see the Wine for Haiti Auction Catalogue.
Please direct all inquires to WineForHaiti@palatepress.com.
---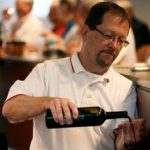 Howard W. Hewitt is a former career journalist who writes a bi-weekly newspaper column in Indiana. he also writes about value wine on his blog, Grape Sense – A Glass Half Full.