When I saw Stefano Campatelli again in Houston in late January, I commented to him once more that "Baby Brunello" is a terrible moniker for Rosso di Montalcino, a diminutive that immediately describes it as no more than second-best. He nodded, and replied diplomatically that there was not much that could be done about it, at least for now, as the reference has some traction among its producers. The agreeable Campatelli is the Director of the Brunello consortium, properly, the Consorzio del Brunello di Montalcino, who was in Houston for a tasting of wines from a few dozen wineries from the appellation.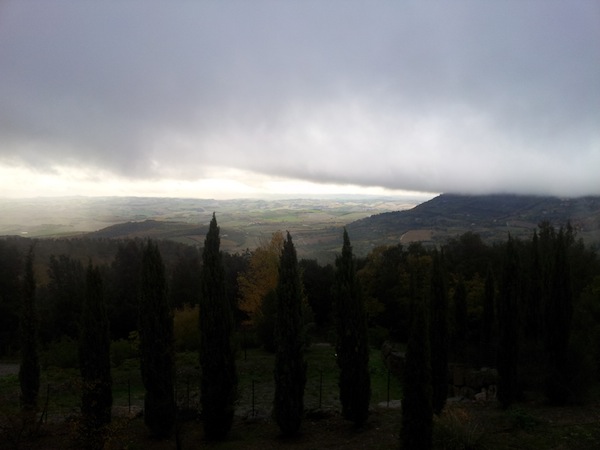 I had met Campanelli a couple of months earlier, in late November 2012. I was a guest of the consortium for a tour of several of the wineries, and a chance to taste many more of their wines on their home turf in southern Tuscany, and with the local cuisine. The namesake of the consortium and the prime reason for the visit, the estimable Brunello di Montalcino, is its star. This makes perfect sense, of course. Brunello di Montalcino is regarded along with Barolo in Piedmont as the most prestigious of Italy's wine regions. Brunellos from Biondi-Santi, the winery that originated the style in the late 19th century, are among the most famous wines from Italy; the recent release of their 2007 Riserva at around $700 per bottle makes it about the most expensive, too. Other Brunello producers like Casanova di Neri and Valdicava draw nearly similar and continued critical acclaim from the international wine press.
But, it was the secondary wines, those bearing the Rosso di Montalcino designation, that were the ones that I enjoyed more frequently during that trip. I tasted many Brunellos that were going to be fantastic, but not yet. The sturdy Brunellos are often not nearly ready upon release – replete with significant tannins that carry them to a long life – and often take between five and ten years afterwards to hit their stride. The youngest of the Brunellos I really loved was from the 2004 vintage. I did enjoy several others immensely, but I liked many more of the Rossos, all of them, in fact, in large part because most of the Rossos are released ready to be consumed, or nearly so.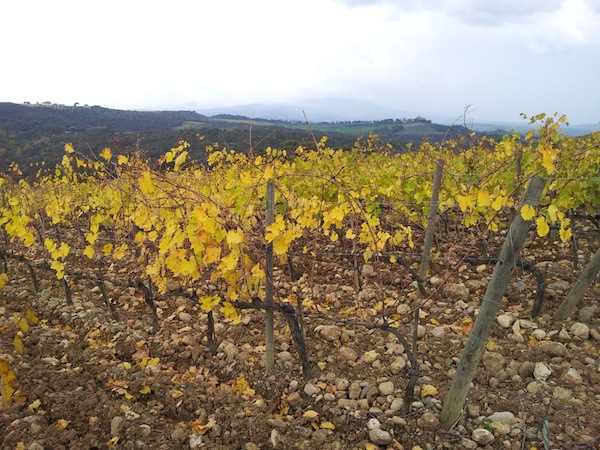 Rosso di Montalcinco was created in 1984 so that the wineries were able to earn money while their Brunellos aged the minimum of four-plus years after harvest, the longest aging requirement in all of Italy. Rossos can be released after just the following September. Similarly, 100% Sangiovese like the Brunellos, usually made with younger vines, the Rossos present another side of the grape that reaches its peak in the picturesque landscape of that part of Tuscany. Though the range of expressions varies, most Rossos are vibrant wines, showing buoyant cherry and sometimes strawberry notes typical of Sangiovese, a mild earthiness, usually gentle tannins, and a wonderful acidity. They display an easy drinkability that often belies their strength, typically between 13.5% and 14.5% alcohol these days. And, these are recognizing Italian; recognizably Tuscan. Rossos are different wines than their more structured, longer-lasting siblings. Not better, but different.
Rossos are much more like the top wines from the nearby Chianti appellations. Not surprising, given the similar geography, weather, aging, and makeup of the best Chiantis, which are entirely or nearly entirely Sangiovese. The famed Chiantis, too, typically garner more press than the Rossos.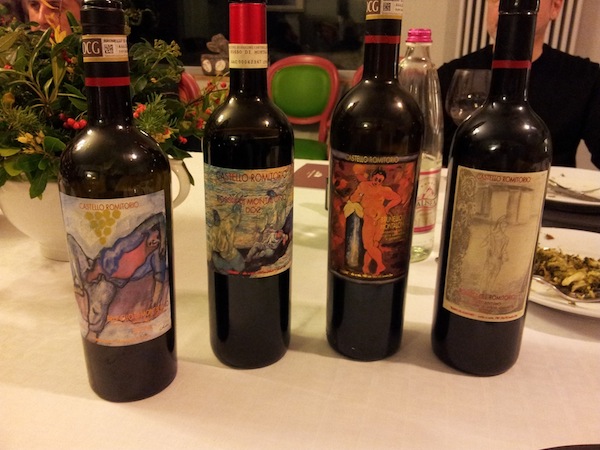 The Rossos exhibit some of the diversity found in the Brunellos from their shared fifteen-kilometer-by-fifteen-kilometer appellation, reflective of the differences in terrain, elevation, microclimates and soils, not mention winemaking techniques. Barriques, tonneaux and large Slavonian oak botti might be employed for aging before spending a minimum six months in bottles before release. Though a single style does not exist, what each of the Rossos has in common is that it is an excellent food wine, as one might expect from Italy. Robust fare is especially well complemented with a Rosso like ragù Bolognese, or even game, according to one winemaker.
Though wines labeled Rosso di Montalcino can be absolutely terrific, they will, naturally, always be regarded as second-best in their own region. This means these Rossos might be easy to overlook, but it also makes many terrific values, even priced at $25 or $35. Kevin Zraly, the noted wine educator, led a couple of tastings at the Brunello event in Houston in January. He was as instructive and insightful – and infectiously energetic – as when he was a guest lecturer at the introductory undergraduate wine class I took at Cornell a couple of decades earlier. He remarked after the first one that "Rosso is one of the top ten values…a great, great wine." Some further confirmation of what was readily apparent to me after my enjoyably heavy, nearly weeklong, consumption at the source.
[author] [author_image timthumb='on']http://palatepress.com/wp-content/uploads/2012/10/Mike-Riccetti-profile-photo.jpg[/author_image] [author_info]Mike Riccetti is a Houston-based writer and the local Zagat Survey editor. He has contributed numerous articles about food and drink toMy Table, The Tasting Panel, Culture, Draft, Serious Eats and other publications and sites and has co-authored The Guide to Ridiculously Easy Entertaining. Some of his previous work can be found at MikeRiccetti.com.[/author_info] [/author]