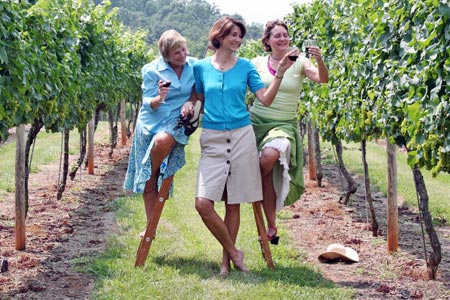 Although many people daydream about starting their own business, very few have the courage to do so. As anybody who has done it will tell you, it takes more than a great idea to become a success. In the case of Well Hung Vineyard, a boutique winery based outside Charlottesville, VA, it took three charismatic and interesting women, one vintner, and years of hard work to bring to life a unique concept they'd kicked around for some time—and mostly in jest. By leveraging their unique talents as a nurse-turned-winegrower, an artist with design skills, and a savvy business developer, the women of Well Hung Vineyard were able transform their idea into a business success story.
In 2000, Amy Steers and her husband put their first vines in the ground—more as a hobby than anything else. Her husband had taken a wine tasting class in college and discovered his love of wine; when they moved to Virginia in 1998, they specifically looked for a home that could support a small vineyard. "There weren't many wineries there at that time," Amy explained. "But my husband always wanted to grow grapes, so we thought we would try it.  We thought we would grow and just sell them, and keep a few just to make our own wine in the basement.  When we bought this property, we bought it with the intent of putting in a couple of acres of wine [grapes]. We never thought this business would grow from what we planted." In 2002, Amy left her fifteen-year career as a nurse in the field oncology to pursue the vines she'd planted. She has managed all the day-to-day of the vineyard herself since then, with help brought on during crunch times as needed. Many years it was the help of her family and friends that brought in the harvest.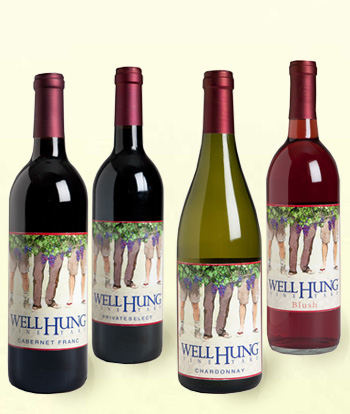 The story of Well Hung Vineyard is as compelling as the wines themselves. Fast forward a few years.  Amy and her husband had been selling their grapes to a local winemaker for a couple of years, when, during harvest time 2006, a friend of Amy's commented on how "well hung" her grapes were. Tracy's bawdy comment resulted in lots of laughter—and in the concept for the business. "It was decided then and there to use that concept for our label," Amy says. They had no intention of going into the business themselves up until that point, but could now see themselves in business. Tracy, an artist and designer, and now one of the three partners at Well Hung, designed the vineyard's unique label. But, because they had no winery, no tasting room, no facilities whatsoever, they did not know what to do with their hilarious concept.
In the meantime, Amy met their third partner Kathy at a dinner party. "She literally fell off the chair when she learned about our concept for Well Hung," says Amy. Kathy helps develop businesses, and, through her expertise, Amy and Tracy were able to get Well Hung Vineyard off the ground, forming an LLC In 2008. They went through a year of paperwork to get approval for the label, and were ready to launch. It all came together when Michael Shaps opened his custom crush winery, Virginia Wine Works, resolving their biggest dilemma, as Amy puts it: "we've got the name, now what are we going to put in the bottle?"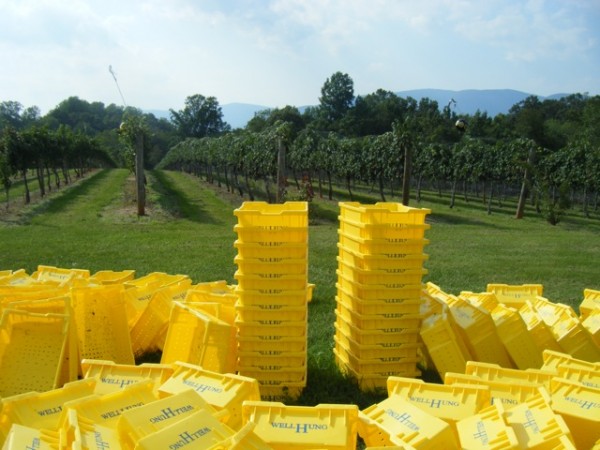 Access to a custom crush winery was the crux of the whole business. "[Michael Shaps] enabled us to take our idea and migrate it," explains Amy. "He makes the wine and puts it in the bottle … it worked out very well that he opened his business just as we were ready to open ours."
This model is very European: in the United States grape growers will often produce and bottle their own wine. According to Amy, "Michael saw that people had small vineyards and wanted to make their wines, in a small manner, but had no way to do it. I think we were his first clients. I know he's up to at least twenty individuals who use him for those services. It was a match made in heaven."
By purchasing grapes from other vineyards, Well Hung produced 289 cases their first year—and sold out within eight months of that 2008 vintage. Now, two years later, that small vineyard (just under two acres) continues to produce just under 300 cases of wine a year. A success for this new company, by any standard.
Amy will bring on regular part-time help for next year's growing season. Tracy still does some painting, but that has slowed a bit since she became involved with Well Hung. Kathy now works full-time at Well Hung, a "leisurely retirement" postponed for now. Even with the success of the business, the women still maintain diverse hobbies and interests: Tracy is a flamenco dancer; Kathy is involved in the local community organizations and helps her husband work their horse farm, and Amy volunteers at the local food bank and gives dog therapy at a nearby senior center—all in addition to "manning" the vineyard year-round.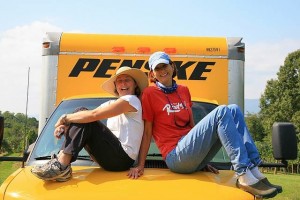 Yet, the story becomes even more impressive when taking into account this turbulent economy, the fact that 85% of small businesses fail within the first year, and the reality that women represent just a tiny fraction of the entire wine industry. Here are three women who are defying all the odds to run a wildly successful business—having completed three harvests, selling out of their first vintage, and growing distribution to extend throughout Virginia and online, as well. Initially popular for their Cabernet Franc, which makes up the majority of the plantings in their vineyard, they are now just as popular for their Petit Verdot-Merlot blend. They also offer a Chardonnay and a Viognier. This writer sampled all four at a recent Virginia wine festival and was impressed at the complexity and quality of the wines, especially upon learning that the vineyard is very young, and the company so recently established.
"Our dream is to … be a winery that produces a high quality wine with a really humorous label and be able to blend those two together," offers Amy. "That's what shocks people. They buy it because of the label and are shocked because it's so good. Michael Shaps is an amazing winemaker." Amy feels the wines speak for themselves, and attributes their success to repeat customers. She also notes that they get traffic to their website and online retail site from all over the country. People seem really connected to the label.
The three women have toyed with the idea of launching a tasting room or other facilities, but the logistics make it difficult at this time. "For now," says Amy, "we want to be a really reputable, sound business, and just provide people with excellent wine."
---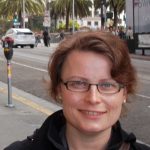 Kristina Anderson is an Industrial-Organizational Psychologist, and together with her husband, the publisher of www.localvinacular.com, a wine blog focused on wine education and enjoyment. They live in Brooklyn, NY.