It has not been a good month for Laike, the two-year-old mutt whose sole task is to identify the hidden locations of white truffles. Her handlers have trained her to identify the scent of the prized underground mushroom, and she has shown great promise. But October, like September, has largely been a bust in Piedmont.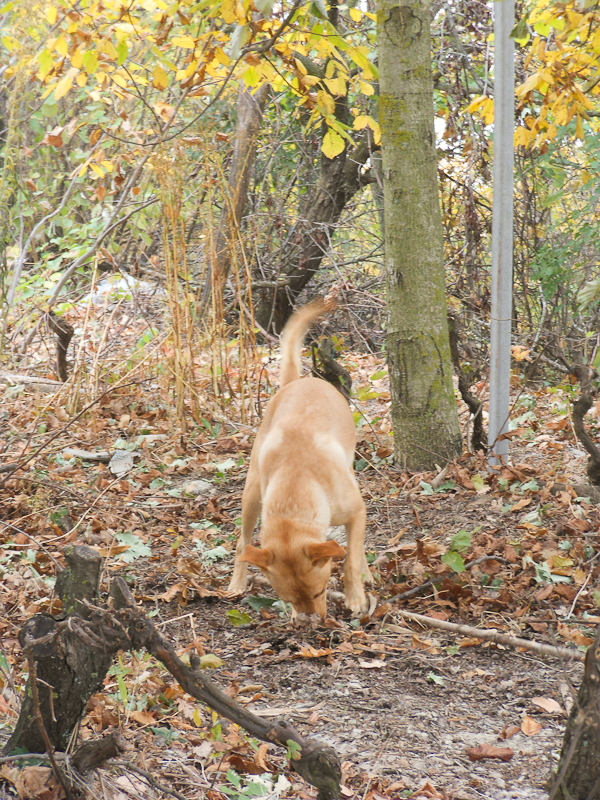 It's not Laike's fault. The abnormally dry weather, combined with extended heat, has made truffle hunting conditions much more difficult. Sometimes Laike struggles to discern where the truffles are growing; truffles enjoy a symbiotic relationship with a variety of trees, and they can thrive as far underground as two feet. The dry weather hides the truffle's strong aromatics. On other occasions, she'll seem to locate a truffle, but the spot is so dry that her handler (known as a trifulau) cannot break through to reveal it.
No surprise, then, that Laike's handlers are thrilled to finally have favorable weather on the morning that my wife and I arrive to join them on the trail. Fog dominates the valleys that dip and dive between Serralunga d'Alba, where we've been staying, and Sinio, the tiny hill town just a couple of kilometers south as a bird flies – but no one travels in a straight line in Piedmont. It takes us nearly half an hour, plodding through the fog as we creep up the sides of steep slopes. Finally we reach the narrow road that rises to the trifulau's base, a series of old buildings that houses dogs, a ramshackle wine cellar, a small kitchen… and somewhere, one would presume, a stash of white gold.
As we wait for our guides, I am curious, but I am not about to go poking around for the truffles. The morning already resembles an Arthur Conan Doyle novel with an Italian accent, and I don't need to invite my hosts' animosity.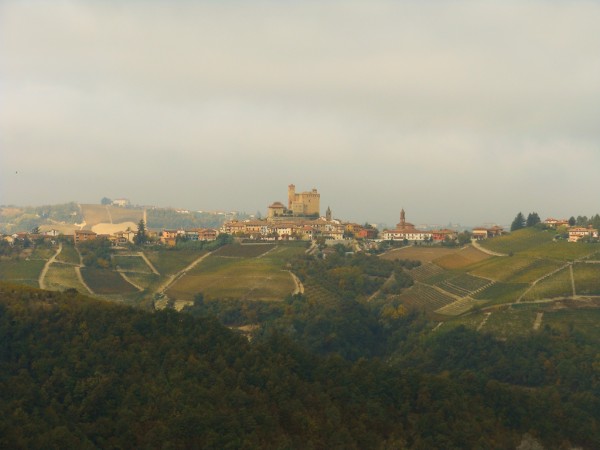 « Ridiculous » prices
They are generous to bring us along, I suppose, but then, we're paying 25 euros apiece for the privilege. We are here to learn how this ancient tradition works, and why the truffles we're finding in nearby restaurants are so expensive. After several years of stratospheric prices, suppliers enjoyed a more "sane" year in 2010, according to Ivo Pages, a Spaniard who supplies white truffles to Michelin-starred restaurants in Europe . "But this year is really dry," Pages sighs. "Prices are really ridiculous again, but there are still customers."
So what's a "ridiculous" price for white truffles? By mid-October, white Alba truffles (the exalted Piedmontese variety) were going for $550 per 100 grams, and rising. That means the truffle hunter will get roughly $154 an ounce, and consumers can expect to pay nearly $200 an ounce. A one-ounce truffle is 28 grams, enough to cover several meals, more if you're judicious.  Last year, suppliers were able to secure white truffles for roughly half the current prices, even though the quality was considered to be much better–more "profumato", as they say around here.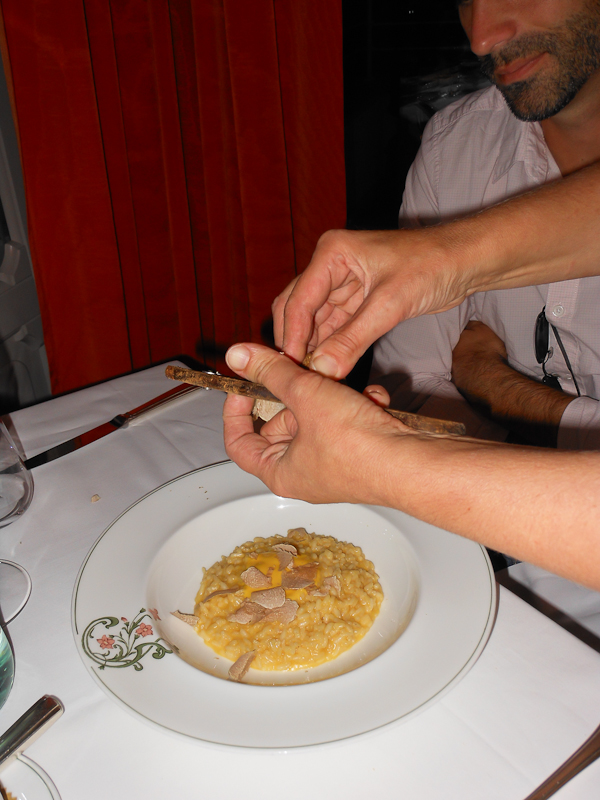 Two nights before our trek to Sinio, my wife and I had dined at Ristorante Bovio in La Morra, a culinary destination famous for its vertiginous views of the vineyards below and its truffle-obsessed menu. The risotto I ordered was available « normale » for 15 euros, or « con tartufo bianco » for 30. I had come for the truffle, and was not disappointed. Our server appeared with a plate of the knobby treasures – a small pedestal covered in glass. She carefully chose one, then retrieved a truffle mandolin to shave the tuber onto my plate. For a year supposedly hampered by weak aromatics, these truffles filled the room with their earthy scents and seemed to imbue themselves into our clothes, the way cigarette smoke embeds itself into a bar-goer's jeans.
"Don't look for cheap white truffles," Pages warns me. "Sounds like you paid a lot for your truffles at dinner, and you were smart. That's the real thing." He explains that with prices soaring and availability plunging, the market is ripe for fakes, often presented at a discount. "Trust and connections are essential" if you want to get true Alba truffles, he says. Then there's the old local saw about provenance: "The only one who can guarantee a truffle's origin is the dog."
On the hunt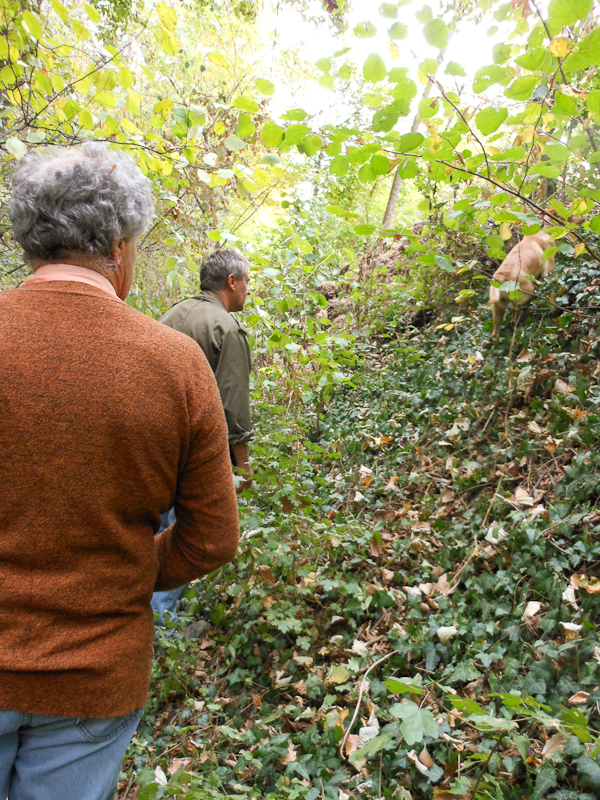 I find myself laughing at the question of authenticity when we meet our trifilau, a grizzled truffle-hunting veteran whose name is so heavily accented in Piedmontese that we're advised simply to call him "Eddie." There is not a sniff of affectation to this man. He and a colleague greet us warmly. They speak no English, and would probably prefer to speak their native Piedmontese, but they're kind enough to work with my broken Italian. It's good enough to get by for the next 90 minutes as we follow Laike past a Nebbiolo vineyard and into a tangled grove of Oak, Hazelnut, and Poplar trees.
Immediately, Eddie calls on Laike to sniff around the base of a poplar tree. The dog takes one look and sprints off up the hill. Experienced truffle hunters like Eddie have a firm understanding of which trees have been productive and picked over, and which might be ripe for new truffles. It's a guessing game, with the trifulau honing in on suspected hotspots while the dog barrels around, performing its own investigation.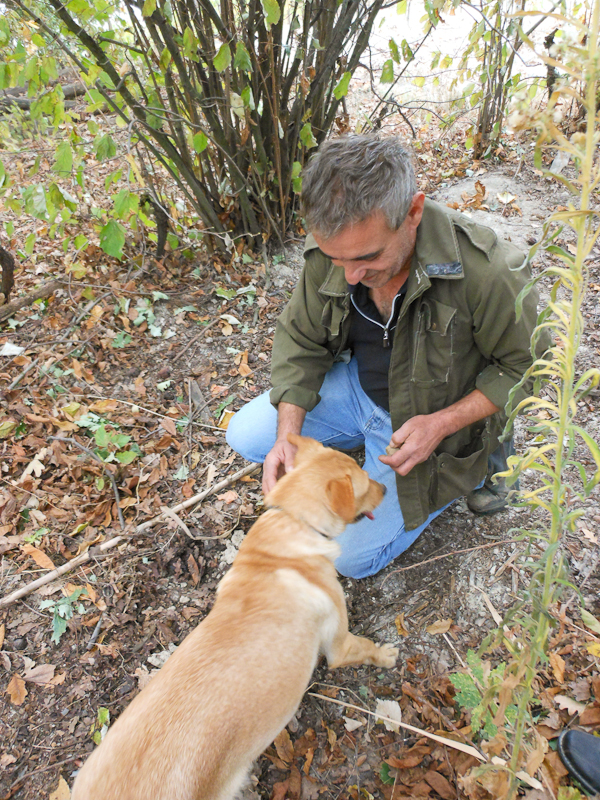 After exhausting a grove of trees and coming up with nothing, we climb to a dirt path that connects to a denser forest, higher on the hillside. Eddie and his colleague tell us that patience is essential, especially in a year like this. Then, a minute later, it appears their patience will be rewarded. Laike seems fixated by a patch of dirt two paces from the base of an old oak tree. Eddie drops to his knees and pulls out a zappino, a tool that works like an ice pick, the pointed end breaking up the dirt. He works at it for a moment, but then seems surprised when Laike loses interest and bounds away. After poking for another thirty seconds, Eddie shakes his head. "Duro ed secco," he mumbles. Hard and dry. It's a refrain we hear throughout the hunt.
Still, he doesn't blame Laike. Italians place great trust in their dogs. Truffle hunters in France employ pigs for the task, but the pigs have a voracious appetite for truffles. Italians don't have to worry about their animals eating the prize; all Laike desires is a ball or a biscuit as a reward. Eddie has both stashed away in one of the many pockets of his utility vest, an essential piece of gear in the truffle-hunting arsenal. Laike is struggling with the conditions, and even the low-hanging fog isn't enough to soak into the parched earth. It will take many more days like this one to improve the yield.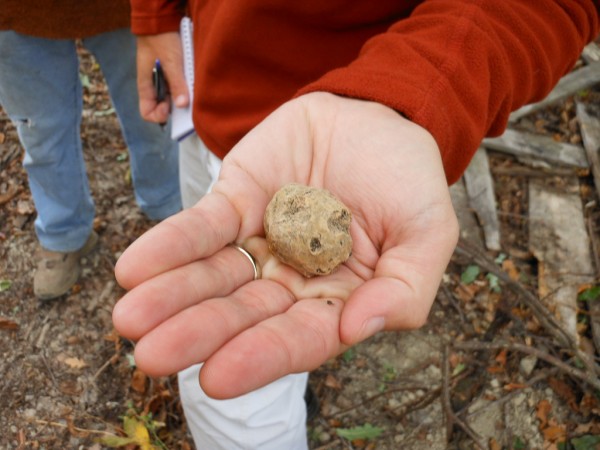 But the day is not a total waste. Later in our excursion, we notice Laike excitedly burying her nose in the ground near the base of a young pioppo, a poplar. She runs three tight circles around the tree and resumes sniffing. This time Eddie will not be deterred. He gently nudges Laike aside and uses the zappino and his fingers to claw through the turf. Eventually he reaches into the ground and reveals a white truffle of modest size, perhaps half the size of a golf ball. He's smiling broadly, and he happily extracts a biscuit for Laike. Now she's satisfied, too.
Our 90 minutes turns up just two small truffles. On a good day, Eddie explains, they'd have half a dozen or more. We console ourselves by devouring a plate of meats and bread along with a glass of their homemade dolcetto. It's bretty and distinctive and perfectly suited to the food.
A long season
To the north in Alba, the annual truffle festival is under way. It runs for a month, and there are already whispers on the street that some of the white truffles are from other parts of Italy. For inexperienced truffle enthusiasts like myself, it's hard to tell, but I remember what Pages told me: Don't look for bargains if you want good truffles.
Fortunately, there's still time for truffle season to improve. The season tends to run through the end of the year, occasionally into January. They will stretch it out this year, hoping to make up for a dreadful start. Diners who are paying stratospheric prices now might see the cost of a high-end meal fall if the yields crank up. After all, Italians prefer to consume their truffles within two weeks, and never like to wait longer than three. So within each season are several mini-seasons.
On our drive out of Piedmont, I find myself wondering where Laike and Eddie's truffles will end up. Perhaps some nearby restaurant, where the customers know their food is fresh. But maybe Eddie will write off another fall day as a loss, and enjoy the white gold himself. Truffles are considered a luxury, but for the trifulau, it is just another food in this simple Italian life.
---

Evan Dawson is the author of Summer in a Glass, a book about Finger Lakes winemakers. Evan is also the  Finger Lakes Editor for the New York Cork Report. His paid job includes offering his best Ron Burgundy impersonation as a morning news anchor and political reporter for WHAM-TV in Rochester, NY.