Washington State—not to be confused with the U.S. capital—ranks second nationally in wine production, has over 650 wineries, and is home to the Wine Spectator's 2009 Wine of the Year. Having visited wine regions around the world, I believe Washington State, located in the beautiful Pacific Northwest, is one of the most exciting you'll find. Washington boasts an interesting history, has a perfect climate for grapes, produces many varieties into award-winning wines, and offers many regions to explore.
History
While these are exciting times in the Washington wine industry, many consumers know very little about the region. In fact, many consumers drink Washington wines without ever realizing they're from Washington. Allen Shoup, a Washington wine pioneer, was recently quoted as saying that only 10% of wine drinkers know Washington produces wine, and yet 70% have heard of Chateau Ste. Michelle or Columbia Crest, two Washington wineries.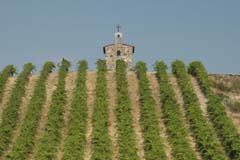 The first known planting of grapevines in what is now Washington State was at Fort Vancouver in 1825, and the first winery was founded in 1874 by John Galler of East Wenatchee. However, Washington's modern wine industry really got its start in the 1950s and 1960s with Associated Vintners (now Columbia Winery) and American Wine Growers (now Chateau Ste. Michelle).
According to Ron Irvine in his book The Wine Project: Washington State's Winemaking History, the Washington wine industry was profoundly and irreversibly changed by four almost simultaneous developments during the 1950s and 1960s.
First, the state legislature passed what was known as the California Wine Bill, which paved the way for varietal wines. Further was the sheer competitive drive of American Wine and its refusal to be outdone by California or any Washington upstart. There was also the creation of the remarkable home winemaker group that eventually became Associated Vintners; this group went on to produce the state's first premium wines. Finally, Dr. Walter Clore, regarded as the father of the Washington wine industry, started the Wine Project along with Vere Brummund, George Carter, and Chas Nagel. This project linked winemakers with grape growers through the extraordinary research efforts at the Prosser Research and Extension Center.
In the 30 years since, the Washington wine industry has exploded. There were only 19 wineries in the state in 1981, while today there are over 650, with a new winery license bonded every 10 days.
The Perfect Climate for Wine
There's a reason why the Washington Wine Commission uses the tagline, "The Perfect Climate for Wine." The wine country of eastern Washington offers nearly ideal conditions for grape growing: plenty of sun, plus an abundance of water from the Columbia River. In the summer, Washington averages 17.4 hours of sunlight per day, about two hours more than California's prime growing region. And unlike California, Washington State will be a likely beneficiary of global warming as the conditions suitable for grape growing move northward.
Signature Varietals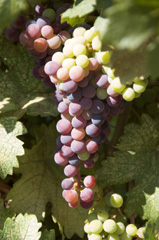 Wineries here make world-class wines from so many different grapes that there's never been a focus on just one "signature" varietal—in contrast, think Napa Cabernet or Oregon Pinot Noir. Washington makes stellar Cabernet sauvignon, Merlot, Bordeaux-type blends, Syrah, and Riesling, to name just a few. Cabernet franc, Malbec, and Semillon have also done very well.
Still, after tasting thousands of Washington wines over many vintages, talking to numerous growers and winemakers, and walking the rows of most of the major vineyards in Washington, I've decided that Washington's signature red wine is Syrah and its signature white wine is Riesling.
Award-Winning Wines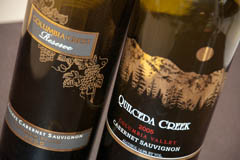 The 2005 Columbia Crest Reserve Cabernet Sauvignon was named as the number one wine of 2009 in Wine Spectator's annual Top 100 Wines list. It was the first Washington wine to receive this honor. Meanwhile, the 2005 Quilceda Creek Columbia Valley Cabernet Sauvignon received a 100-point rating by Robert Parker's The Wine Advocate, their third 100-point rating in four years.
Paul Gregutt of Washington Wines & Wineries describes Quilceda Creek: "The father-son team of Alex and Paul Golitzin are making, by anyone's standards, as fine a Cabernet sauvignon as anyone in the world. Their single-minded focus, their ability to make brilliant wine in virtually every vintage, and, most impressively, their unbroken track record of excellence are unparalleled. Nobody does it better."
In addition to the 2005 Columbia Crest Reserve Cab's #1 score, nine other Washington wines were recognized in Wine Spectator's Top 100 Wines of 2009. Also making the list were: #26 Cayuse Syrah Walla Walla Valley Cailloux Vineyard 2006 ($65), #33 Novelty Hill Cabernet Sauvignon Columbia Valley 2006 ($25), #36 Efeste Syrah Red Mountain Ceidleigh 2006 ($29), #38 Chateau Ste. Michelle Cabernet Horse Heaven Hills Canoe Ridge Estate 2006 ($28), #60 Spring Valley Uriah Walla Walla Valley 2006 ($50), #66 Barnard Griffin Riesling Columbia Valley 2008 ($8), #72 The Magnificent Wine Company Syrah Columbia Valley 2006 ($20), and #74 Waterbrook Cabernet Sauvignon Columbia Valley Reserve 2006 ($22).
More than just Walla Walla
Despite the accolades, wine lovers outside of the state who actually know something about Washington wine might only think of Walla Walla. That's a great tribute to the marketing prowess of the Walla Walla community and its Wine Alliance, but hardly an accurate perception. Today there are over 100 wineries and 1,800 acres of vineyards in the Walla Walla Valley—certainly significant but a small percentage of the over 650 wineries and 32,000 acres of vineyards for the entire state of Washington.
Please don't misunderstand—I'm not trying to downplay the significance of Walla Walla to the Washington wine industry, nor the quality of its wines. But to gain an understanding of and appreciation for Washington wine, I believe it's important to visit wineries and taste wines from the state's other ten AVAs: Columbia Gorge, Horse Heaven Hills, Lake Chelan, Puget Sound, Rattlesnake Hills, Red Mountain, Snipes Mountain, Wahluke Slope, Yakima Valley, and the all-encompassing Columbia Valley.
Great Bang for Your Buck
Washington State is producing outstanding wines that consistently deliver great bang for the buck, so are perfectly positioned to thrive in our current economy. Case in point is the 2005 Columbia Crest Reserve Cab (Wine Spectator's #1 wine of 2009), which sold for $27 upon release. Cabs of this quality from California would likely set you back over $100. This is excellent news for the Washington wine industry—not to mention excellent news for you and me as wine consumers.
Upcoming Events
There are two upcoming events that will give participants the opportunity to learn more about Washington wines.
The WAWine World Tasting Event will be held this Thursday, June 3, 2010, from 5-8pm PDT. Virtually hosted by 14 Washington wine writers (including myself), #WAWine—the event's Twitter hashtag—is an online event in which thousands of people all around the world will simultaneously taste Washington wine and talk about it via Twitter, Facebook, and at on-location events. Join the event using your favorite social media service.
Walla Walla will also play host later this month to the 2010 Wine Bloggers Conference, held June 25-27, 2010. The conference is already sold out, but I'm thrilled that so many of my fellow bloggers—many visiting Washington wine country for the first time—will get to see firsthand what our great state has to offer.
Washington State is arguably the hottest wine region in the United States right now. On the heels of the 2009 awards and amid the hype about the upcoming Wine Bloggers Conference, the buzz about Washington wines continues to get even hotter. So if you are not already on the bandwagon, it's time to get aboard and explore Washington State wines. Your palate and pocketbook will thank you.
---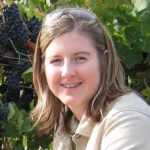 Kori S. Voorhees is a Certified Specialist of Wine and Editor-in-Chief of the independent wine blog, Wine Peeps: Your Link to Great QPR Wines from Washington State and Beyond. She also writes for Washington Tasting Room Magazine and Skagit Publishing. Kori lives with her husband and daughter in Seattle, Washington.