Billed as the largest Italian wine conference outside of Italy, VINO2010, held February 2–5 in New York City, drew hundreds of people in the wine and food sector from across the US: wine buyers and distributors, retailers and restaurateurs, and food and wine journalists. Lured by everything from dinners with top chefs to seminars on topical subjects, and rounded up by a collection of PR agencies, attendees spent three days immersed in Italian wine and food.
At the brief opening session I was thrilled to see a large number of my wine writing friends—this was going to be fun. Whenever I entered a room I could be guaranteed to find someone I wanted to see—and usually someone I wanted to meet. I know others felt the same way.
First we were warmly welcomed by the Italian Trade Commission. At the luncheon that followed, our hosts urged us to attend the Vinitaly trade fair, held in Verona each April, which promises an overwhelming but invaluable experience for buyers (just the scope of this fair—over 150,000 professional attendees—scares me to death).
VINO2010's opening wine tasting featured both the sparkling wines of Prosecco, which I know fairly well, and of Oltrepo Pavese, which I didn't, but had the chance to get to know better during a well-presented seminar and tasting.
Another tasting (in a freezing cold room!) ran the gamut of Puglian wines, which gave me the opportunity to review my recently-acquired knowledge of Puglia (more on that soon in Palate Press). This tasting was accompanied by presentations from Puglian winemakers, although the winemakers vanished quickly in order to set up for the afternoon trade tasting. Fortunately, another large tasting offered a chance to meet many Italian vintners in town for the occasion.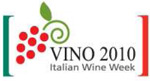 A special presentation offered updates on the wine regions of Tuscany and Prosecco, and mentioned their campaign to promote their top-quality wines in the US during the next three years.
I missed a panel debating the future of luxury wines, but colleagues reported that while some think the pre-2008 luxury market is gone for good, others believe the current economic situation is causing only a temporary glitch.
Additional presentations geared toward wine and food professionals included a luncheon pairing of Italian foods with wines, and another on the importance of on-premise in national brand-building for wines.
For me, the dinners were definitely highlights: the Bastianich Empire's Del Posto one night, and the next Chef Odette Fada of Tony May's San Domenico Restaurant.
After returning home, I asked a friend who had also attended if he thought VINO2010 had accomplished its goals—or even if he knew what those goals were. He just shrugged. So then I asked myself the same question. My answer: The food and wine; the access to wine producers, trade personnel, and chefs; the networking—these are a great way to give attendees the feel for really being in Italy, especially if one's work does not regularly take one there.
I suspect that's exactly what the organizers of VINO2010 had in mind.
---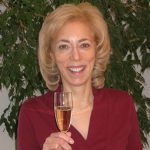 Becky Sue Epstein is Palate Press's International Editor. An experienced writer, editor, broadcaster, and consultant in the fields of wine, spirits, food, and travel, her work appears in many national publications including Art & Antiques, Luxury Golf & Travel, Food + Wine, and Wine Spectator. She began her career as a restaurant reviewer for the Los Angeles Times while working in film and television.