South of downtown Seattle, Washington in the warehouse district, you'll find a new kind of wine bar … one that literally brings the wineries to you.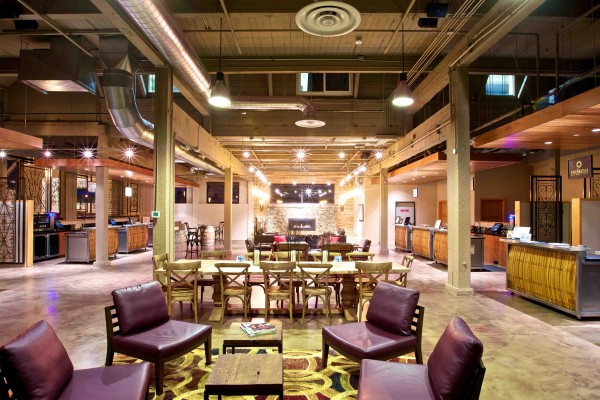 URBAN enoteca, just celebrating its first anniversary in December, is a 22,000-square-foot "full Washington wine experience and entertainment destination" that features six different boutique Eastern Washington wineries each at their own bar in The Wine Library and served in The Restaurant @ UE. With the majority of Washington's 700 wineries located four and half hours away from Seattle in Eastern Washington, this gives the wineries access to the Seattle consumer and the consumer access to new wine discoveries. Each bar in The Wine Library is staffed with the winery's personnel so they are very knowledgeable and invested in the wines they are sampling to you via flights, pours and tastings.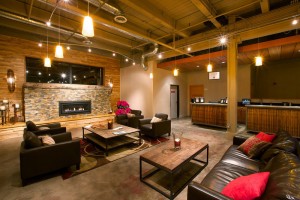 As Terry Thompson, creator and owner of URBAN enoteca says, "it's the untasting bar." His inspiration for its creation came from Italian enotecas – enoteca meaning 'wine repository'—where the wine grower and consumer come together over wine and tasting rooms like The Press Club in San Francisco. Terry's wine appreciation began while studying abroad in Florence from Gonzaga University. During his commercial real estate career and as owner of a high-end hotel, condominium and apartment interiors manufacturer, his passion for wines from his home state of Washington developed. He established a wine cellar in his corporate headquarters which today sits in the back of URBAN enoteca and holds over 1,100 bottles from around the world. In 2009 Terry decided to follow his passion for wine and created the concept. Working together with his family on the design, art, management, construction and technology, URBAN enoteca was born.
From the outside it looks like a simple warehouse but upon entering through the huge wooden front doors the reaction is 'wow!' as URBAN enoteca features multiple layers to discover … from decor and design to food and wine.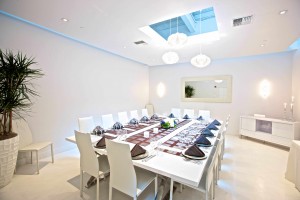 The decor and design are rustic urban featuring elements of earth, fire and water, like The Wine Library's welcoming king-sized fireplace wall and the towering floor to ceiling fountain in the middle of the main hall. Innovative event spaces for up to 300 people include The Riddling Room, named after the riddling process in making champagne, and Blanc de Blanc, an intimate room dressed in white from floor to ceiling, designed to host the perfect wine tastings (no white back drops required for inspecting your wine's color). Mouthwatering menus in The Wine Library and The Restaurant are created by executive chef Chris Opsata. Enjoy delicious small bites like candied bacon, cheeses and charcuterie in The Wine Library or a full divine dinner of Oregon Elk Loin or Winter Squash & Sage Risotto in The Restaurant.The award-winning wineries featured in The Wine Library and The Restaurant are "a collection of boutique wineries run by simple, wonderful, fabulous people." All family owned and operated, they have thirty-two gold, sliver and bronze medals between them … Cave B Estate Winery, Côte Bonneville, Five Star Cellars, Fidélitas, Kiona Vineyards and Winery, and McCrea Cellars. Just pick up your Library Card as you enter URBAN enoteca and you're on your way to new wine discoveries.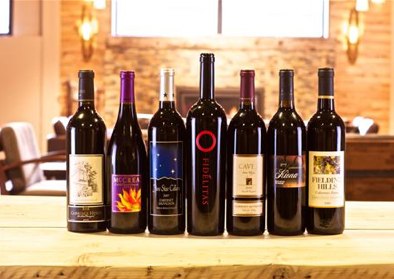 With an incredible first year under URBAN enoteca's belt, there is much more to come. Special events and tastings are added to their calendar of events regularly. The Wine Library has space to add eight more wineries. Hearing the excitement in Terry's voice speaking about URBAN enoteca's future, you know the possibilities are endless.
No matter what time of year you're in Seattle, URBAN enoteca is an oasis to experience award-winning Washington wines, delightful food and a rustic winery setting all just ten minutes from downtown Seattle. It's truly the next generation wine bar.
---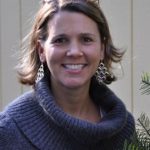 Shannon Jones is founder of Grape Occasions, a company dedicated to helping people explore wine, travel and spas. Shannon has spent more than 18 years creating meaningful and engaging branding, marketing, and communications strategy for global experiential brands in North America, Europe, Middle East and Africa. She shares her wealth of information and experiences to help you enjoy all your occasions on the Grape Occasions website at GrapeOccasions.com and twitter @GrapeOccasions.