It is tempting to think of Stony Hill Vineyard as this lovely flower growing on the flank of Napa Valley's Spring Mountain, a flower that has miraculously flourished, largely unchanged, since it was planted in 1952.
Such unchanging longevity is not a routine occurrence.  While Napa Valley may be a great place to grow wine grapes, the climate has not been so kind to the people who turn them into wine.  During the half-century-plus that Stony Hill has been producing wine, dozens of other wineries across the valley have flourished briefly only to quickly perish.  Even among the family-owned wineries that have not been sold to corporations or taken public, only Nichelini and Charles Krug have longer tenures.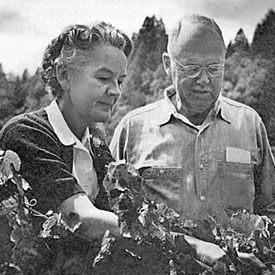 Today, Stony Hill is still growing basically the same eclectic variety of grapes – mainly chardonnay, semillon, riesling and gewürztraminer – that they were when Fred and Eleanor McCrea moved here from San Francisco and planted their first vineyard in the same year that Dwight D. Eisenhower was elected President of the United States.  And Stony Hill still sells most of its wines to a subscription list of friends and customers, having helped pioneer that marketing technique long before boutique and cult wineries came into existence.  Even the same head winemaker, Mike Chelini, has been here more than 40 years, coming to the winery in 1971 and taking over winemaking duties in 1977 upon Fred McCrea's death.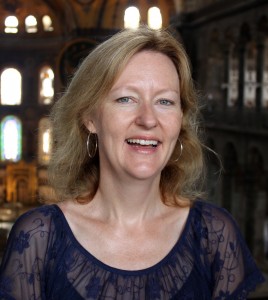 "Very little here has physically changed at the winery," says Sarah McCrea, the third generation of McCreas to run Stony Hill.  "We bought a new press in the mid-'80s.  It's still here.  The physical structure hasn't changed at all.  The whole team from Mayacamas [winery] came over for a visit a couple of years ago, and we traded stories about who had the oldest equipment."
America was still in the midst of World War II in 1943 when the McCreas brought a 160 acre goat farm with the intention of starting a winery on heavily forested Spring Mountain, between St. Helena and Calistoga on the valley's west side.  Surrounded on three sides by parkland, Stony Hill has north-facing slopes and some elevation (700-1,200 feet) that permitted the planting of a mixture of warm weather and cool-climate grapes. When this planting began in 1947, it is interesting to note that only about 200 acres of Chardonnay was being grown throughout California.
The winery was constructed in 1952, and the first vintage of wine was made as the vines were reaching maturity.  Almost instantly, Stony Hill achieved almost cult status – although, at that time, cult status only meant that Stony Hill had a following among a very small Euro-centric group of wine cognoscenti.  There was virtually no wine media, and the media at large was not interested in wine that didn't come in a jug.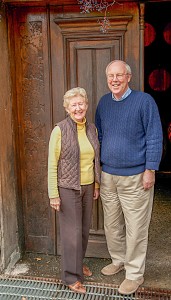 In time, young Peter McCrea joined his parents in the vineyard, and gradually he and his wife Willinda took over the estate. Their daughter, Sarah, in turn, joined the business a few years ago to head marketing and sales, while her brother Frederick, a San Francisco businessman, sits on the winery's board. Sarah McCrea says,
"We make about 4,000 cases a year, about half of it in Chardonnay. We've always done Riesling and Gewürztraminer, and both have loyal followings.  In 2009, we started making Cabernet Sauvignon, although we sometimes sell a portion of the grapes."
"People may not think what we've planted makes the best use of the land, but it's worked for us," McCrea says, recognizing that producers in the valley quit growing riesling, gewürz and sémillon years ago (in addition to chenin blanc and Napa gamay) in recognition that growing Cabernet could make them far more money.  "But we make the types of wine that our customers keep coming back for year after year, and that's wonderful," she says.
The winemaking style of Chelini and Stony Hill follow can best be described as "restrained."  Their signature Chardonnay is truly Burgundian in style, which means that the Stony Ridge Chardonnay 2008 (about $47) is still drinking well and is quite fresh.  It is not at all oxidized after seven years, and it is somewhat light in body which maintaining a leaner strength to go along with its elegance.  The current vintage, the 2013 Chardonnay ($46), is very lively with lots of apple flesh and apple skin flavors with balancing savory notes.
The 2013 Gewürztraminer ($26) and 2013 White Riesling ($32) have appreciably muted fragrances which follow rather than lead the tastes and are more Alsatian than German or American in style.  The Gewürz is almost like a Pinot Blanc, quite restrained with lots of minerality – an ideal food wine. The Riesling has crisp white peach flavors with only a hint of juiciness in the finish.  The 2012 Cabernet Sauvignon ($59), a fairly new addition to the stable, is refreshing with its tart cherry flavors, minerality and lean characteristics, more Loire Cabernet Franc in style than Bordeaux Cab Sauv.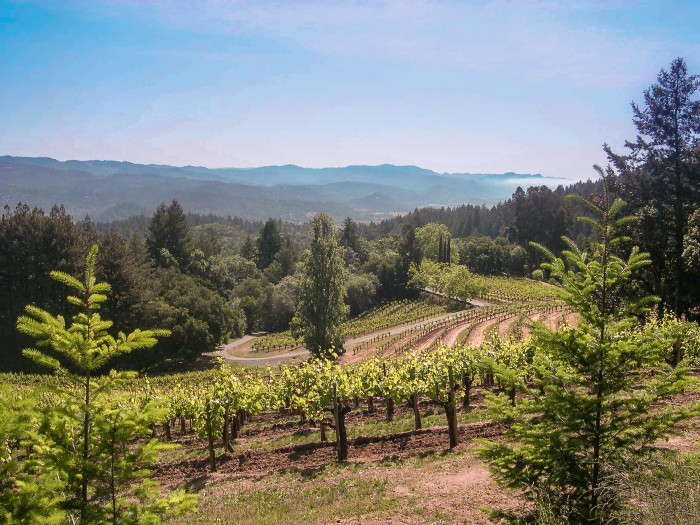 McCrea, whose job it is now to market these wines, did not grow up in Napa Valley, as her parents lived in San Francisco during her youth before first her mother and then her father left the city to manage the winery full time.  "If you asked me in my early 20s if I were going to work at the winery, I would have said that was far out of my line of sight," she recalls.  "And yet I knew I would get to it eventually.  In a weird way, that knowledge held me back when I was working in marketing and for an agency because I knew whatever happened that I would be leaving eventually."  Today, she oversees a healthy business that sells wine in almost 20 states, with emphasis on restaurants and a handful of retailers, in addition to its mail-order business.
"We have a family conversation every couple of years" to plot growth and reconfirm the path forward, McCrea says.  A young cousin, representing the fourth generation, is working in hospitality, and McCrea has stepchildren and her brother Frederick has two small children, so any talk of family succession is some time off.
Meanwhile, McCrea is enjoying the mindset at Stony Hill.  "After working in growth-oriented companies who asked 'how big could we get' and concentrated on what's happening next," she says, "it's nice to concentrate on what's happening now."
…which is pretty much the same thing that has been happening for the last 63 years.