Jean-Marie Guffens Went From Media Darling to Police Handcuffs (read part 1), and He's Never Been Happier. Here's Why
Part II: The Big Knife
If Jean-Marie Guffens's wines are even better today than they were in the 1990s, why is he struggling? Guffens doesn't have a simple answer, but he wants to show the full body of his work. He makes nearly 70 wines a year between his Burgundian operation (Verget) and his Château des Tourettes, an operation in Provence that he purchased fifteen years ago. Today we're tasting most of the wines, from the 40 bottles on the long table in his office to the barrels and tanks in his winery.
The quality of such a wide-ranging portfolio is profound.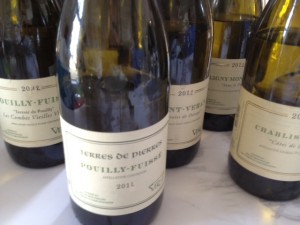 Our tasting includes Rick Rainey, a brand manager for Winebow, which has become one of Guffens' American importers.
"The same attitude that made him great became his worst enemy over time," Rainey tells me. "He never fit in to a mold in Burgundy, which was great. But it was his undoing. He never played along, never tried to appease people. And over time, it rubbed a lot of people the wrong way."
It's a tremendous bit of insight. Guffens was always a colorful quote in his early days in Burgundy. But wine writers prefer to maintain healthy relationships with their subjects, and plenty of Guffens' colleagues were upset about his constant barbs. Whether it was in big publications or small papers, Guffens delivered critiques with a deliciously poisonous pen. He often referred to himself as a "one-eyed king in the land of the blind."
"People had enough," Rainey says. "I get that. But Jean-Marie has a good heart, and more importantly, he makes tremendous wines. That's never changed."
One of the great debates centers upon whether wine can truly be both rich and crisp, round but still cutting. The critics seem to use this dichotomy as a default line of praise for big wines, but when tasted, many of these wines turn out to be flabby. They are the wine equivalent of the person using an outdated picture for an online dating profile.
But Guffens' wines reach that rare level of seeming contradiction. They are nervy, electric, but textured and rich.
"People will ask if I like rich wines, or if I like wines with acidity," Jean-Marie tells us. "I say both. I prefer the big knife."
He opens a bottle of his 2012 Pouilly-Fuissé La Roche and smiles. "This is the big knife."
He's right. Bottle after bottle reveals a winemaker in absolute stride, perfectly at ease with how the wine is made.
Aiming high in Provence
Strangely, Guffens seems to be happier than he's ever been. He has lost some of the prestige of his label, and yet he's more at peace with his decisions.
That shouldn't be confused with a slipping in standards. In fact, Guffens seems more obsessed with quality than ever. Throughout the day, Guffens riffs on what's required to make great wine, and why so many people fail to achieve it.
His feelings about grape picking haven't changed, and he continues to do it the hard way: no machines. "Everything I do is hand-picked, because I do vinification, not reanimation. Have you ever seen grapes that are picked by machine? They look like a guy in the hospital who's just about to die."
For a man who has performed manual labor for decades, hand-picking is just one more layer to make for a challenging harvest. But Guffens lights up when we talk about the busiest time of his year.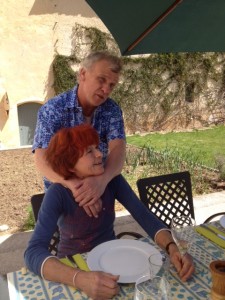 "I become 20 years younger during harvest!" he says, while his wife Mainke nods in agreement. "Of course, after harvest I fall apart."
Ten years ago, Guffens might have found reason to complain about that. His colleagues say he was always eager to fight, and he seemed to relish putting others down. Today, Guffens retains that blunt edge, but he's less easily agitated.
"We live in a world where the problems aren't really problems," he explains as we walk through the courtyard behind his winery. He gestures at his olive trees, totaling twenty acres, and his vines, totaling fifty. "Our GPS stops working, we think that's a problem. It's not. Very few of us have real problems."
This is not the same man who routinely thundered about his colleagues' crop yields as if they were the subject of a United Nations scandal.
It's easy to wonder if the loss of his friend Didier Dagueneau mellowed Guffens. They were close, and close in age. Both were known as demanding winemakers who defied French conventions. Dagueneau died in September of 2008 when his ultralight plane crashed.
"He shouldn't have been flying," Guffens says. He holds a glass of one of his 15-year-old Chardonnays and seems to freeze as he stares at the wine. A minute passes before Jean-Marie says, "He was scared. He worried about crashing. If you're worried about crashing, you shouldn't be flying. I tried to tell him, but he wouldn't listen."
Guffens takes a long slug of the wine and adds, "He was a great man."
There is something unsettling about confronting mortality. Guffens lost a friend just when his business was losing the fame that comes with big scores and big headlines. Today he's dealing with the slow loss of one of his parents, who is battling dementia.
"We spend so much time learning how to live, but we also must learn how to die," he says.
Mainke returns with a plate of freshly baked bread studded with tomatoes. The food seems to be in endless supply, and with each course, the hosts smile. They spend more time in the Luberon than they used to. Jean-Marie feels he is more needed in the cellar here, and he has increasing confidence in his winemaking team in Macon.
During a diversion to his winery, we taste his Provencal arsenal. His Marsanne is the freshest Marsanne I've ever tasted; I'm typically wary of the heaviness that seems to weigh down most bottles made from this variety. Jean-Marie is not surprised. "I hate unfresh wines, especially from Provence," he shrugs. His reds are tannic and structured, but not burdensome. Most remarkable is his Château des Tourettes Trilogie, a blend of Syrah, Grenache, and Cabernet Sauvignon. These are easily some of the most serious, thoughtful wines coming from this region, but most wine lovers around the world have never heard of them.
"I'd love to get better distribution, especially in America," he says. Then he starts laughing — as he often does, before he realizes that his guests aren't in on the joke. "Oh, America," he muses. "As much as France gives us trouble, we can sell wine here. In the United States, it's amazing, the laws for selling wine. I think I prefer North Korea."
As we're about to leave his cellar, Jean-Marie turns quickly, his mind racing once more. This time he has a new target: biodynamics.
"So much for Jean-Marie being the leader of the counter-cultural movement," I whisper to Rainey.
Guffens is undeterred. He is tired of what he perceives to be the ego and the bluster of biodynamic winemaking. "I hate when people put 'biodynamic' on their label," he says, gesturing dramatically. "Biodynamic! It's like the word terroir, or it's like telling people you go to church. You are not a better person just because you to go to church."
He wags a finger at us. "Terroir, church, biodynamics. I have nothing against any of it, but don't put it on the label just to impress someone. That's when it means nothing."
Back on his patio, Jean-Marie is thinking about how things have changed. It is more difficult for him now, but he seems to prefer it.
"Before, people bought my wine because it was highly rated. Today, they buy it because it's good. That's more satisfying."
Within weeks, he will be finished with a decade-long legal nightmare. He might not be the self-described revolutionary he once was, but he is far from finished in his winemaking career. If he can gain wider distribution, he believes his labels will see a surge in popularity — with or without the high critical scores they once received. If not, he'll get by, enjoying life in the Luberon.
"Freedom comes from not caring what people think," he says at the end of a lunch that has stretched perilously close to the dinner hour. I tell him he seems to care what I think of his wines.
"Don't be confused," he says with a knowing smile. "I am happy if you like them. I want you to understand them. But if you don't, it can't bring me down anymore, because I am finally free."
[author] [author_image timthumb='on']http://palatepress.com/wp-content/uploads/2009/11/evan.jpg[/author_image] [author_info]Evan Dawson is the author of Summer in a Glass, a book about Finger Lakes winemakers. Evan is also the Finger Lakes Editor for the New York Cork Report. His paid job includes offering his best Ron Burgundy impersonation as a morning news anchor and political reporter for WHAM-TV in Rochester, NY. [/author_info] [/author]