Jean-Marie Guffens Went From Media Darling to Police Handcuffs, and He's Never Been Happier. Here's Why
Part I: France vs. Guffens
On a brisk, sun-splashed day in Provence, the man who was once the white-hottest winemaker in the world sits at a long table studded with nearly 40 open bottles. We're talking about his current lineup, and we're talking about where he's been, and he offers a swift dismissal of the fame he found in the mid-1990s:
"I was overrated."
Given the breathless hyperbole that gushed forth from wine critics in those days, Guffens is probably right. Here's the start of a Wine Spectator tasting note on Guffens' 1996 Verget Chablis Vaillons: "A God-like wine that might bring tears to the eyes of some Chardonnay aficionados." Here's a note from another: "A wine to worship."
And that pales in comparison to the pedestal that Robert Parker erected for Guffens, a Belgian who arrived in Burgundy with swagger and a mission to raise the quality of Chardonnay.
In the intervening years, something has changed. Well, to be fair, many things have changed. Guffens, blessed and burdened with a towering intellect and a mischievous air, constantly experimented. He was never satisfied. He liked the praise — he's a human being, after all — but not enough to stand pat. The French government developed a feud with Guffens that led to a this-must-be-fictional series of arrests, detainment, and threats. Guffens focused more on his estate in the Luberon. The major wine publications largely stopped writing about him.
Today, Guffens is approaching 60 and struggling to find wider distribution in the United States. The crowds that once showed up for him are much smaller, or gone.
"I went to Tokyo in the 1990s and I remember 150 people waiting in line for me to sign a bottle for them," Guffens says, shaking his head of wild graying hair. He finishes the story through laughter, saying, "Today I go to Tokyo and nobody is waiting in line."
There is some irony here. Guffens reached the pinnacle when his wines at Verget (his negociant house in Burgundy) and his wines at his tiny private label Guffens-Heynen (producing wines in the Macon) overwhelmed the critics with waves of flavor and hedonism. Today, Guffens' wines are just as intense, but show more complexity and balance. He would seem to be the ideal leader in the movement away from over-extracted, over-oaked wines. His current lineup provides the evidence that wine can be massively flavored, yet searingly crisp and long. But the phone doesn't ring like it used to around here.
"I was overrated years ago, and today I'm underrated," he says. "That's much more fun. When you're overrated, everyone is waiting for something great. When you're underrated, you can surprise people."
You could call this a comeback story, but the man never left. He just kept improving, kept refining, kept working, even while dealing with obstreperous bureaucrats and middle-of-the-night police raids. He loves to tell the story of the customs agent who arrived as part of one of those raids, only to ask for a taste of the wine he was charged with investigating. The quality of Guffens' wines has not wavered, even if his reputation has.
Guffens might not admit it out loud, but he probably wonders why no one seems to be noticing.
Battling the French government
Jean-Marie Guffens does not seem the type to cry often or easily. Laugh, sure. Not cry. He's imbued with a sense of overconfidence that leads him to criticize his colleagues with glee. He doesn't shy from a fight. He isn't bothered when a writer or a winemaker or a restaurant owner calls him an asshole, which has happened plenty. He studied theater and comedy; he can quote freely from philosophers; he has thick skin figuratively and literally, and his sturdy hands give away his many hours of manual labor. He projects strength and assurance.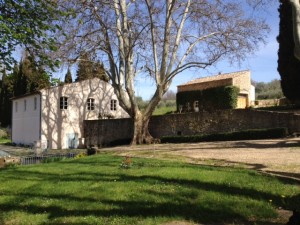 But when we talk about the arrests, he cries.
The investigation by French authorities began in 2001, when officers accused Guffens of blending wine from his Provençal estate with his Burgundian wines. To Guffens, the allegations were silly, the result of a personal feud, easily disproved. But they didn't go away. French investigators routinely pestered the crew at the Verget operation, culminating in a 25-man raid and the arrest of Guffens' team.
This is where Jean-Marie loses it. "If you come after me, I will defeat you," he says, and then his voice catches and cracks. "But if you come after my friends and my family, I will kill you."
Police arrested Guffens' wife, Mainke, along with his chief winemaker and several female staff members. They were held in jail, taunted, and told that Verget would never make wine again. They were told that they should confess what they knew, even though there was nothing to know.
Guffens created a 27-minute film detailing the debacle, which can be viewed right here. The film was released after Guffens cleared his name in court. The French authorities had botched the investigation, mistaking vintages, paperwork, and more. Guffens suspects it was all done on purpose, to smear this Belgian winemaker who had come to France unafraid to criticize the locals. The coup de grâce in Guffens' film comes when he belittles the police for their rampant misspellings on the legal paperwork. "They spent maybe 100,000 euro of taxpayer money on a summary document with about 150 spelling mistakes — ridiculous!" Guffens fumes, adding, "The judge told me he did not know what I was charged for."
But that wasn't the end of Guffens' legal frustration. He was in court twice in May, and will return for a hearing this month. These proceedings focus not on whether Guffens did anything wrong, but whether it was reasonable for the investigators to suspect he might have. In other words, Guffens is being dragged back to court so the French government can cover their backsides.
"It's a joke, and not a funny one," Guffens tells me.
It will be over soon, and yet he can not talk about the detainment of his staff without breaking up. He says a female employee still has nightmares about the raid and the jail time. "I proved they were wrong, and I embarrassed them," he says. "But they deserve worse. Customs has too much power, no accountability. Why would anyone want to make wine in France? They could be raided in the middle of the night, having done nothing to deserve it!"
Tyler Colman, the American author of the popular Dr. Vino website, pointed to the imbroglio as evidence of "difficult days for many French vignerons." So now that the legal battles are winding down, why doesn't anyone seem to be covering the affair?
"The French government can never be wrong," Guffens says with a shrug. "I have already cleared my name in court, but they try to keep coming back with something. Everyone is tired of it. It should be an old story, but there is always something new."
Not everyone has forgotten about Guffens and his wines, however. In the New York Times, Eric Asimov describes Guffens as "a visionary who has helped lead the striking improvement in the Mâconnais." In 2008 Asimov wrote of Guffens' wines as delivering an interplay of minerality and richness. Guffens has a phrase to describe exactly this kind of wine:
The big knife. And he believes he's now making bigger knives than ever.
•••
Editor: Part two of this story will be published tomorrow on Palate Press.
[author] [author_image timthumb='on']http://palatepress.com/wp-content/uploads/2009/11/evan.jpg[/author_image] [author_info]Evan Dawson is the author of Summer in a Glass, a book about Finger Lakes winemakers. Evan is also the Finger Lakes Editor for the New York Cork Report. His paid job includes offering his best Ron Burgundy impersonation as a morning news anchor and political reporter for WHAM-TV in Rochester, NY. [/author_info] [/author]