Pizza is polarizing. 

 Everything I offer below will be controversial to someone and make perfect sense to someone else.
Everyone has their favorite pizza and it's not negotiable. Trying to pry one's fingers from their favorite pie (to branch out) is not an easy task but it can be done. As in all vinous or gastronomic trials, experimentation breeds knowledge but pizza is a particular oddity. Most of us have a set image and expected flavor of what pizza should be (similar to a perfect steak or Napa Cabernet). As opposed to something like Coq au Vin, where the dish probably has more latitude with each taster, most pizza lovers want their pie in a specific incarnation (learned since birth) and any deviation from that taste and image is heresy.
2009 was a banner year for pizza around the world and while I could not (obviously) travel to every top purveyor of this foodstuff, I tried. My waistline appears to be the only casualty as my knowledge for not only the food but also the people behind the pie became as important as the pizza itself. There is no doubt that New York has regained its crown as the epicenter of pizza in the world but it is not for the style normally associated with the Big Apple. The classic NY pizza, upheld by luminaries such as Grimaldi's, Lombardi's, Joe and Pat's, Di Fara, Johnny's and others has been somewhat pushed to the background in favor of a broad synthesis between greenmarket, Naples and hyper-gourmand (most notable in Chelsea's "Co."). This is the style the modern world seems to favor circa 2009 or more appropriately, this style seems to be the inspiration for others to take up the paddle and learn the trade of pizza making.
Of course, what I call The Classics never go out of style and that's why they are classic. These are a combination of old-school Italian and Italian-American recipes produced in a thoroughly retro style that became the inspiration for what most of us recognize as pizza. The East Coast of the US and West Coast of Italy have a semi-monopoly on these establishments but their offspring can be found throughout the rest of the US, Europe and indeed throughout the world.
The rules: I traveled unannounced to each establishment. I ordered a simple Margherita or plain pizza and also a second pie with signature toppings of each establishment. If the results were superlative, I then sampled each pie a second time announcing my intentions to the proprietor. The highest rated establishments showed no difference between my "unannounced" experience and the potentially spruced up pizza (when they knew what I was up to). Those that showed a wide difference between the "unannounced" and "announced" pie (i.e. – they served the typical customers a lackluster version of what should have been grandiose) were dropped off the list or added to the "Most Overrated" list. I've included a few of those names below as it ended up as one of the most important defining lines between the great houses and the also-rans. Every consumer has the right to the same experience but (in the end) it's up to the proprietor or individual pizza maker on any given night to uphold the stringent standards they preach.
The following review may appear to be a review of NY area pizza joints but time and again I found myself comparing very good pies around the US, UK, Italy and even Canada to those of the current upstarts in New York City. Throughout its history, New York has attracted those with big dreams (monetary or artistic – sometimes both) and the New Pizza Order proves that the Big Apple magnet is alive and well as far as top pizza chefs are concerned. As a destination attraction, one could do a lot worse than a weekend in NY sampling 3-4 of the establishments below.
Almost all of the pizza places below use some form of wood or clay oven at very high temperatures of 800-1100 degrees. The exception comes from The Classics below, but most still adhere to the standard (albeit very well seasoned) pizza oven you are more familiar with. There are also a few old-school coal oven entrants (Lombardi's, Grimaldi's, Luzzo's, et al) that swear by their combination of a standard pizza oven fueled by Pennsylvania's finest.
Please keep in mind – this list is not comprehensive but it attempts to be. There are always establishments yet to be discovered and that's why I will pen a 2010, 2011, 2012 list and so on. I welcome your input and your continued discoveries via: pizza@garagistewine.com
As promised, I've included my impressions followed by a compiled list from our email members who passionately submitted thousands of top five lists with well written ammo to back up their favorites. In truth, it's tough to argue with passion, especially when it comes from the heart, and this topic bread a slew of passion that was exciting for me to read.
With that, let me present the best of pizza 2009…
*******************
2009 Overall Winners – The Best of the Best
1) Franny's (Brooklyn, NY)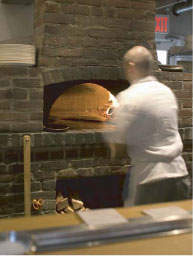 Placing Franny's as the #1 overall pizza may be a little anti-climactic as they've received so many accolades in the past but, try as I might to knock it from the top spot with a new (or old) kid on the block, I couldn't.
What sets Franny's apart from most on this list is that they are not really a pizzeria. They are a destination Park Slope/Prospect Heights eatery with a small menu that changes throughout the seasons. They serve some of the finest, small-farm antipasti and primi in the US along with other tidbits of an equally first-rate freshness to the pizza. In no small way, Franny's influence on the culinary trend over the last decade in New York and the rest of the US is as far reaching as Blue Hill, Craft or even The French Laundry. Credited with inventing the now widespread "gastro-za" movement (in reference to a pizza version of London's greenmarket gastropub movement in the 1990's), Franny's remains in a class of one.
While Franny's is certainly one of the finest overall low-fi restaurants in the United States (shorts and flip-flops are still allowed), we've come for the pizza. Franny's pizza is perfect in nearly every way – it epitomizes the new school of pizza making in the US and, in fact, they may have invented it back in 1999/2000. Ask any of the neo-chefs who've come after and nearly every one will tell you this Flatbush quasi-organic/farm-table eatery was in some way an inspiration. If that is the case, then why are there so many die-hard pizza fans and knowledgeable palates that would rate Franny's among the most ho-hum in New York? Many of my friends and colleagues just don't see what all the fuss is about.
The key is in the simplicity. Franny's perfected the art of pizza without toppings or maybe one garden-fresh miniscule topping (picked that morning from their friend's backyard in Park Slope) and few would have the audacity to serve a pizza so naked. In some way, it almost dares you to toss it back in the server's face in protest "This is pizza? Where's the, well, pizza?" To those who understand, this is precisely the point – the finest cuisine is the simplest and the ingredients that make up a typical Franny's pie are so superlative (fantastic flour, fresh cut organic herbs growing in their Brooklyn alley/garden, local/sustainable meats, cheeses, etc) that a simple dusting of charred fennel and olive oil is all that's needed to bring any pizza taster to their knees.
Franny's pizza has deep roots in Calabrian cooking but it is not classically Neapolitan. Served only in the now ubiquitous small 10-12" size (uncut), the crust is stunning, lightly crisp with a whiff of wood smoke from the oven and a texture that is sublime. Regardless of the choice of toppings, you will find a glorious marriage of light, pinpoint flavors combined with savory flavors that taste exactly of what they are (tomato, mozzarella, etc). Franny's is not for those seeking multi-toppings or a 2 a.m. post bar-binge slice – it is for those seeking the most inspired, unpretentious and soulful new-generation pizza in the world. NO TAKE OUT (although you can convince them on occasion)
2) Delfina Pizzeria (San Francisco, CA – the original Mission location only)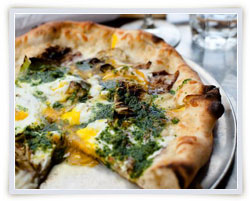 If you take everything regarding Franny's above and move it to the West Coast with a San Francisco vibe, it would be Delfina Pizzeria. What makes me quite happy with Delfina is their continued improvement in quality despite a plethora of accolades – they could rest on their laurels but they don't. Last year, they did not make my Top Five but in 2009 they are all the way up to #2.
Delfina exemplifies the new way to dine in America – laid back sophistication for $20. You are just as likely to see Mission slackers as businessmen and, in an "only in San Francisco" occurrence, the two opposites are actually friends, meeting here to dine and venture to a concert together after the pizza.
Without bragging or boasting, Delfina's immensely flavorful haute-gourmand pizza speaks for itself and one taste of the broccoli rabe pie (sampled five different times this year) will make you understand how fastidious and detailed this establishment is – all without ever batting an eye or allowing the visitor a moment of uncertainty (the complete opposite of Di Fara). The crust here manages the most difficult of tightropes, between a soft Neapolitan-inspired center to a slightly crisp Roman bottom and it succeeds where others cut in its mold fall short (Co. of NY).
Many of have taken inspiration from what Delfina does best – a San Francisco dedication to natural ingredients, no attitude, and gastronomic heights at bargain prices for the quality. Delfina's mother restaurant/trattoria next door remains one of the finest bargains in San Francisco with equal, if not greater, attention to simplicity and detail with primi and secondi. The ultimate compliment to this pizza is the fact that you never tire of it and always look forward to the next perfectly structured taste of greenmarket goodness (surrounded by cracking hot and blistered dough cooked at nearly 1000 degrees). Hard to find a fault. TAKE OUT AVAILABLE
3) Pizzeria Da Michelle (Naples, Italy)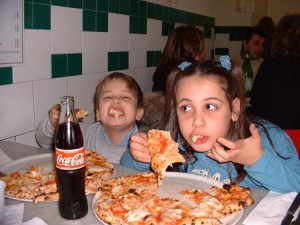 Many pizza snobs would rate Da Michelle (or the recently downgraded Pelloni in Naples) as the world's #1 by a wide margin. For many, it's not even close. Naples has been the center of pizza for generations and this establishment has been in business for more than a century and a half (with little change in recipe and without cleaning their oven). According to local lore, the carbon buildup on Da Michelle's oven (since the industrial revolution – that is not a joke) makes their pie unlike any other.
For me, this pizza is the inspiration for the classic pies of the US, but they do not compare to the original. If you desire what is arguably the single greatest Margherita pizza on earth, Da Michelle rarely disappoints but it is true to its old-style roots – roots that seem to sing a wonderful, beautiful song as you dine.
Da Michelle makes you take a step back in time to appreciate just how far the influence of pizza and Italian food and culture have spread around the world. There are no green market ingredients or small-batch mozzarella balls from a specific row of cows in Calistoga but they have the finest local products that don't need any tag or certification to give them credence – one taste is all you need to toss every facet of the current food revolution and its obsession with small production out the window. Stick to the simple Margherita (not the buffalo milk) and you will ground yourself at pizza's zero position. Da Michelle is pizza and pizza is Da Michelle. NO TAKE OUT
4) Franco Manca (London, UK)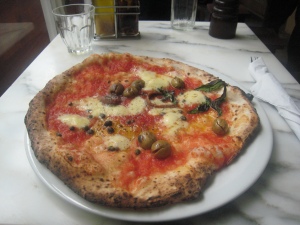 Why does it seem that many of the world's pioneering food purveyors take up residence in broken down or lesser neighborhoods? The answer is simple: money. Cheap rent and young hipsters who are willing to work for next to nothing (just to be associated with the next big thing) often fuel the honest and pure momentum of an establishment such as Franco Manca – the UK's finest pizza. No corporate structures, big name chefs or Bravo paving the way for a Top Chef appearance – this is from the street and it's as real as it gets. If you navigate your way past the heroin dealers and others as you emerge from the Brixton tube stop (or, if you are set to see a show at the legendary Brixton Academy), Franco Manca should be your destination.
For a mere 5 pounds sterling you will feast on London's finest cuisine with plenty left in your wallet for whatever you seek prior to the latest Wolfmother show up the street. What makes this pizzeria so special is the Franny's aspirations with a far more classic Calabrian structure. This is new-generation Neapolitan with organic ingredients and locally sourced, small-production cheeses, tomatoes and even basil that is fussed over without any fuss at all. All of the water is filtered (twice) and the clientele ranges from Caribbean locals to newly posh celebs from Tooting. The ultimate bargain in the most expensive city in the world – if you appreciate culinary detail as well as the most natural and fresh pizza you will find, Franco Manca deserves it's #4 ranking and it has aspirations to move up. TAKE AWAY AVAILABLE
5) Borboni (Ostuni, Italy)
If you find yourself venturing down the wrong side of the tracks in Ostuni, in the uncharted part of this tourist mecca of southern Italy, you will be far from the beauty of the white-walled, ancient center of town – rather you are buried in a Mussolini-era, depressing, modern village linked to the old-town by name alone. It is here, away from all tourists or even people for that matter, that one of the finest pizzas in the world is made.
Owned by a young gun with aspirations (Miky) and his "girlfriend," Borboni screams quality from the smallest ingredient to the most grand (fresh white truffles). Miky is one of the more interesting Jim Jarmusch-like characters I've stumbled across in my journey, and this half pizzeria/half advertisement for Miky's lingerie shop a few blocks away is curiosity enough to make the trip.
At Borboni, you don't just eat pizza; you experience soft porn on the walls in a cave-like setting with Transylvania-esque candelabras hanging from the ceiling and only the bare light of a single flame (à la the 40 Watt Club in Athens) to illuminate your view. None of this is contrived – it's the real thing that any aspiring independent filmmaker would be licking his/her chops to document.
Easily confused as a sex shop from the outside with scads of dowdy men (and woman) smoking and cavorting about, this one-of-a-kind dragon's lair is also home to one of Italy's finest pies. Here, you eat an experience of freshly cut and sliced meats (literally, sliced from an entire pig's leg or other as you watch). Nothing is pre-prepared – even the dough is made fresh throughout the night, so don't expect to be in and out in 5 minutes. The quality is nothing short of stunning, and each topping is painstakingly sourced from friends and small farmers around Puglia, the Abruzzo and Umbria. If you are a fan of Jamon Iberico (the real $50/quarter lb. stuff), Borboni produces several cured meat renditions of pizza that are among the most sublime culinary treats for 8 euros, you will experience. Make no mistake, Borboni is world class, and the owner knows it (but he may be off somewhere getting inked so be warned – do not eat here in his absence – he will return in due time). TAKE OUT AVAILABLE BUT FROWNED ON
2009 The Crossovers
1) Lucali (Brooklyn)
2) Veraci (Seattle)
3) Veloce (East Village, Manhattan)
When you simply want great pizza but don't necessarily wish to cut it with a fork and knife or learn the Naples subway system, The Crossovers come to the rescue with a synthesis of old and new that is arguably more desirable than any of the Top Five above. This style takes inspiration from many backgrounds, but in the end it is one thing: an American pie. There were times during the past year when I was tempted to place Lucali in Brooklyn as #1 overall (ahead of Franny's) but its aspirations are just not the same – which is entirely the point.
This is pizza, inspired by the size (16-18") that you knew in high school, but they've taken the accepted norm of US pizza and turned it on its head – combining it with the finest ingredients and a bakers pride in each pie they serve. Not to be confused with The Classics below, the The Crossovers can compete with the list above in their desire to be Neapolitan, Roman or (in the case of Veloce) Sicilian, but they bring a sigh of relief to the tired gastronome and a comfort that is missing from the list above. This is pizza without frills or fuss but it's done in a very 2009 fashion.
If you are looking for the finest pepperoni, roasted pepper and artichoke pizza in the world (all from hand roasted peppers and whole artichokes baked in their wood oven), Lucali is your destination. The wait outside can be annoying, and the no-rules approach even more so, but the pizza result more than makes up for it. Keep in mind, this establishment has no set hours and there is no sign outside – you are not even allowed to go inside unless you are one of the lucky few to score a table.
A special star goes to Veraci, housed in what looks like an old gas station in the not-so-trendy section of west Ballard (not the area around Ballard Ave). With no atmosphere to speak of (anti-atmosphere?), this establishment vies with Lucali as the best Crossover pizza in the US…and they will come to you…literally bring their portable brick oven to your next street fair or event. San Francisco may boast Blue Bottle and it's Rotisserie Chicken stand at the Ferry Plaza farmer's market, but Veraci is the only traveling brick oven gastro-za road show I know of – uniquely Seattle and worth the trip.
Veloce is the only true Sicilian-inspired pizza in this review – a square pie with a thicker and crisper crust that is able to hold a myriad of toppings without fail. On a good night, the results are among the finest in the land (or any land) and their combinations merge greenmarket with rustic in a homey way. Try the Five Onion (a combination of leeks, sweet onions, chives, roasted red onions and scallions) or their signature Porchetta with home made sausage, rosemary, sage, fennel pollen, tomato and mozzarella – you will not be disappointed and the effort does not require contemplation (à la Keste) to walk away completely satiated.
2009 The Classics
1) Cafaso (Naples, Italy)
2) Di Fara (Brooklyn, NY)
3) Pizzeria Uno (Chicago, IL)
4) Sally's Apizza (New Haven, CT)
5) Pizzeria Remo (Rome, Italy)
6) Johnny's (Mt. Vernon, NY)
Like Da Michelle, there are many that would place Cafaso as the #1 overall pizza in the world. Leave the valuables at home and don't go alone (Naples can be a free-for-all crime-wise, especially in sections of the old town like the Spanish quarter and Furcella), but the pizza is worth the risk to bodily harm. The crust is slightly different than Da Michelle, but the results are no less superlative. A little more cheese and even less sauce than Da Michelle gives Cafaso its legendary character – all charred to a blissful golden delight in one of Naples hottest (and most seasoned) ovens.
In a town with so many would-be legends of the pizza oven, for me, Di Fara earns its title as the best of the US-based Classics. You never know what you will get after the circuitous subway ride to this less than desirable section of outer Brooklyn, but if Domenico DeMarco is in a good mood and he decides not to burn your pie to smithereens just to spite you, this pizza (Brooklyn's most expensive at $5 or more/slice) can be pure heaven. Its depth of flavor is just that much better than Grimaldi's, Joe and Pat's or any of the other stalwarts in the five boroughs. You will wait for the opportunity – maybe for an hour or more after ordering as DeMarco often forgets who has ordered what, and those weaned on his omnipresent state of amnesia and gruff style push themselves to the front when "a good one" debuts from the oven. Don't be shy – when he calls out "Smith!" the name sounds just as good as your own…
The original Pizzeria Uno in Chicago (only the location on Wabash – sadly, now a tourist destination) is the grandmother of Chicago-style deep-dish pizza and the mother of a horrible chain of Appleby's-like "pizza" restaurants that cannot be recommended. The original location still uses the same ovens, pans and recipes from the 1940's and 1950's. Even some of the produce purveyors are the same. The simple cheese or sausage pizza at Uno set a standard for Chicago pizza that has never been topped (not even at Due, the sister restaurant a block away).
Some say it's the water, others the secret recipes held under lock and key for 50 years, but Uno is in a league of its own. Very rich and immensely filling, a true Chicago deep dish is not 2/3 dough and 1/3 ingredients – it is the opposite. The dough is actually thin, not obtuse like so many copycats. Semi-crushed tomatoes vie with mozzarella (and a few other cheeses skillfully blended) plus one of the more flavorful doughs ever created (slightly sour, but more in line with freshly baked, dense Tuscan bread). For me, Uno remains the only true Chicago pizza (along with Lou Malnati's, but they are not as consistent) in a genre that has become a caricature of itself with heavily breaded, cheaply produced pies that are all dough and no talk. Giordanos? I don't think so.
Sally's Apizza is a Classic all to itself. The New Haven style of pizza making, like Chicago, is unique. The style is part New York, part college town but the results (with semi-burned cheese all the way to the outer part of the dough) are miraculous. Some say Sally's has fallen off a bit lately, but your trip to New Haven will not go without stellar pizza – there are 4-5 other top Apizza establishments in the city (unrelated to Sally's) that are equally as alluring.
Pizzeria Remo is Rome's only entrant and they hold the torch for the capital city with aplomb. Located in Testaccio, a night-owl's party zone that has become quite trendy over the past decade, Remo has the Roman style of pizza down to a science – a crisper crust than the best of Naples (a style preferred by many American pallets) with a near-perfect blend of char, cheese and lightly dusted sauce that you can almost (I said almost) pick up with your hands. I have a soft spot for true Roman pizza as it is every bit as good as Neapolitan, and distinctive due to the crust. Rome is also known for pizza bianca (no sauce) and no visit to this city is complete without it. Be warned, there are more poor pizza establishments in Rome (and Naples) than anywhere else in my travels – you must choose wisely among a handful of the best or you will be sorely disappointed.
To a huge contingent of die-hard NY/NJ/CT dwellers, there is only one pizza establishment worth the time – the original Johnny's in Mt. Vernon. There is such a following for this eccentric classic that many I interviewed for this article became angry when I hinted that anything was better. Johnny's creates the type of venom and passion that sustains a cult-like frenzy and, on the East Coast, that venom is perfectly fused with the gruff and abrupt social norm that is linked in less urbane areas with The Sopranos. If you want to experience what true New York style pizza was back in the 1950's when Frank Sinatra and others created a halcyon image of the New York dream, head outside of the five boroughs to Mt. Vernon. Just remember, they are rarely open and post no hours. Even so, if you venture to Johnny's, go when you think you have the best chance that other people will be eating (say, 7:00pm on a Thursday night?) and they will probably be open (don't even think about Sunday…or Monday…or probably Tuesday).
2009 Honorable Mention – New York
1) Keste (West Village, Manhattan)
Keste may indeed produce the finest pizza in the United States, but I haven't come to that conclusion yet. For now, I will place them at the #1 spot in the Honorable Mention list. Rated #1 by New York Magazine and Time Out New York (a rarity, maybe even a first where both publications agree), Keste is playing on a field with few peers. This is the richest Neapolitan-inspired pizza in the country, one that takes contemplation and concentration to fully enjoy. The crust is downright spectacular, with irregular nooks and crannies and right angles where round lines should exist. No two pizzas are alike from an appearance standpoint and the artisanal bent is evident upon first glance. I've read from a supposed astute reviewer that Keste's sausage looks like it came from a Jimmy Dean frozen pack – that's completely missing the point. The sausage is so rich and, well, meaty that there is no question you are dining on a carnivorous concoction meant to challenge the senses. The cheese used at Keste (especially the ultra-premium burrata) is so rich and creamy, those with even a hint of lactose intolerance should head across the street and stick to the old-school Joe's. Circa December 2009, no pizza review or understanding of where pizza has come would be compete without at least two visits to Keste.
2) Co. (Chelsea, Manhattan)
There are times when Co. is simply amazing. The toppings are among the finest gastro-za in the US (or anywhere), but there can be too many of them and the too-thick crust is what keeps them from cracking the Overall list. It is indeed a fantastic crust, unique and singular (almost just-baked, gooey and bread-like), but there is just a too much of it and the soft texture makes 1-2 very filling pieces stay with you for too long. If Co.'s crust had a more cracker-like bottom, it would vie with Delfina for a similar crown. Co. is among the most ambitious low-fi establishments in the US (although not quite as low-fi as Motorino in Williamsburg), treating pizza more as a culinary experience than simple pizza. I am drawn to this spot time and again as their desire to be perfect and stand out is palpable. While not quite there yet, out of thousands of potential pizza restaurants for this review, they came in #2 on the Honorable Mention list – that should tell you something.
3) Motorino (Williamsburg/soon to be a second East Village location in the old Una Pizza Napoletana space)
Think Franco Manca above, in a non-hipster corner of Williamsburg, Brooklyn with aspirations to take over the #1 overall position. With abandoned furniture found on the street corner, employees that probably don't even get paid (in money) and some of the truest Naples-inspired pizza you will find. If you like your bands at the true garage stage, I mean Modest Mouse in the basement before they knew that they could copy the Pixies and few would notice, Motorino has the chance (like any serious talent) to achieve great things. Unfortunately, like most talented bands, only a very few become REM. Stay tuned…
2009 Most Overrated
1) Malletti (London, UK)
2) Una Pizza Napoletana (East Village, Manhattan) NOW CLOSED
3) Lombardi's (Manhattan)
4) Tutta Bella (Seattle)
5) Artichoke Basille (East Village, Manhattan) tie
5) Nick's (Manhattan) tie
5) Patsy's (original 117th St. location) tie
All of the establishments above performed below their expected level of hype with vastly different results when the proprietor or pizza chef knew of my intentions to pen this review. In the case of Malletti, Lombardi's, Artichoke Basille's and Nick's, the pizzas were sub-standard on both tasting occasions (unannounced and announced) and Lombardi's and Nick's were so poor, I even tried them a third time to confirm my opinion (thus the delay in publishing this review). While I'm set to be tar and feathered for my inclusion of Una Pizza Napoletana on this list, the excellent standard they set years ago has been eclipsed by others on this list (although the establishment is now closed and headed to San Francisco, so it may not be fair to include them).
There you have it, the best (and worst) of 2009 – now let's hear from all of you…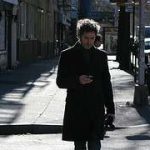 Jon Rimmerman started Seattle-based Garagiste in 1999 with $500, a passion for wine, and a knack for weaving a great story.