My first encounter with Inedit made me extremely apprehensive, even before my first sip.
This beer is a new offering by Damm brewmasters, working with Spanish chef Ferran Adrià and his sommeliers. It's a coupage of barley malt and wheat, with hop, coriander, orange peel, and liquorice. The 750 ml bottle sports a small pamphlet explaining "the why" behind its creation:
"Inedit is the first beer specifically created to accompany food. It is born from the conviction that a beer could be paired with the utmost respect to the best cuisine was necessary [sic]. That is its aim and its virtue, and that is what makes Inedit different, special and unique."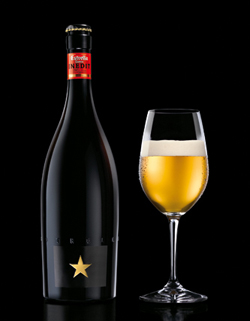 The first beer created to pair with food? I don't think so. Humankind has been pairing beer with food for hundreds, if not thousands, of years. Despite the common misconception that wine is a better match for food than beer, craft beer dinners are a growing trend. In fact, many beer aficionados argue that beer is more complex than wine, and complements most foods better.
As a slave of the restaurant industry, as well as a beer writer and evangelist, I've developed tremendous understanding and respect for food and beverage pairings. I've read and written articles on the synergies of food and wine versus food and beer, and have hosted many pairing events, including beer vs. wine dinners. For the most part, my non-beer drinking friends and guests are pleasantly surprised at how well beer pairs with food, and in many circumstances, they actually prefer it—even over wine!
So, despite Inedit's ludicrous marketing claims, I decided to give it the benefit of the doubt and taste it as I would any other beer.
The Beer Wench's Tasting Notes: Estrella Damm Inedit
Appearance
Cloudy, golden blond color. Yields a big, fluffy white head that lasts and leaves moderate lacing.
Aroma
Moderate Belgian yeast aroma; fruity esters of banana and clove. Slight hints of pale malts. Notable spice (coriander and licorice) aroma. A mild zesty, citrusy-orange fruitiness.
Taste
Sweet, shortbread-like malt flavors with hints of citrus. Slightly metallic. Spice flavors are subtle and not overpowering. Hop bitterness is very low, but bitterness from orange pith is present.
Mouthfeel
Light-bodied, creamy texture. The finish is tart, dry and bitter (orange pith).
Overall
Although technically Inedit does not claim to be in specific style category, its ingredients and these tasting notes are strongly reminiscent of the Belgian Witbier style. Overall, I found it refreshingly crisp with a tart, dry finish. The only element that threw me off was the hint of orange pith, which is typically undesirable.
Food Pairing
Because of its very light flavor and body, I wouldn't suggest pairing this beer with heavier, fatty ingredients and sauces—red meats and heavy cream-based sauces would completely overpower its crisp flavors. Instead, pair it with seafood (especially raw seafood and sushi), white meats, salads, soft cheeses, or vinegar or white wine based sauces. Asian cuisine and spicy food would also pair nicely. Oysters, ceviche, sushi, and seafood tartar would probably be its optimal pairings.
I paired my sample with a chicken soft taco topped with fresh salsa, guacamole, and a squeeze of lime. Inedit helped cut some of the spice from the salsa and didn't compete with the freshness of the other ingredients, nor did the taco's freshness overpower the crispness of the beer. All in all, this pairing was smooth.
Final Thoughts
 Inedit reminds me of summer. It's a light and fresh beer, a good match for lighter summer fare. Although it's meant to be paired with food, it also strikes me as a beer that could be enjoyed on its own, or as an aperitif before a meal. It's most likely best when consumed fresh and young—I do not suggest aging it.
In the end, though, I'm still apprehensive about Inedit. It wouldn't be my first—or even fiftieth—choice to pair with a meal. The $9.99 price tag seems steep for what it is, and while I appreciate the opportunity to taste and review the beer, I can't see myself buying it in the future.
Your mileage may vary, though—my palate isn't the be-all and end-all. If you've tried it, post a comment here, or give it a taste and let me know. Cheers!
— Commonly known as The Beer Wench, Ashley V. Routson is a freelance food & beverage writer specializing in beer and blogging at DrinkWithTheWench.com. But don't be fooled by her gypsy lifestyle and beer wench demeanor; Ashley is also a (*closet*) wine geek and has been known to infiltrate the wine blogging world.