Visitors to St. Louis often want to go see the Arch, or take in a Cardinals game. But for our guests who are up for more than just the usual tourist sites, one of the places I take them, particularly if they're foodies or lovers of urban neighborhoods, is The Hill. Deeply Italian in tradition for more than a century, it's known to non-locals as the place where Yogi Berra and Joe Garagiola grew up on the same block—visit the 5400 block of Elizabeth Avenue. But for St. Louisans, it's a shopping, dining, and recreational area that continues to work on realizing its potential.
In many ways, and on many streets, it could still be the Eisenhower administration. Small, single-family bungalows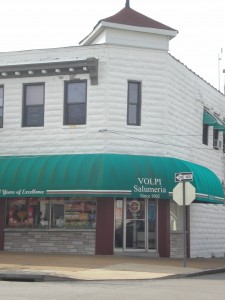 are the rule, a few duplexes here and there; recently, some new condos. Nearly all have front porches, that old feature that promoted neighborhood stability, and it's easy to imagine nonna sitting there chatting vigorously with a passing acquaintance. Very few sport signs advertising that they are for sale. Most of the houses here are passed along in the old way—by word of mouth, often after mass at St. Ambrose Church, so that a newly married son can move out of an apartment and into a well-loved house, just around the corner from his cousin and two of his aunts. This is definitively a real neighborhood, where people live their everyday lives.
St. Louisans come for lunch before or after a visit to the Missouri Botanical Garden a few blocks east, or to do a little specialty shopping. More of an occasion is usually made of evening dinners, although some places are known to be hangouts for the post-softball crowds from The Hill's Berra Park, named for a long-time, local politico and not the Yankee catcher.
From the shopping-and-strolling standpoint, Shaw Avenue is the main east-west thoroughfare. A handful of smaller streets head south; to the north, an interstate highway is a concrete gash. Grocery stores may show off an old-fashioned aura like J. Viviano and Sons, or the more modern feel of DiGregorio's Market. While each has a few things for what some might call the tourist trade, they're mostly serious stores—but not in a grim way—for people who want the food their parents and grandparents cooked. Both cut a wide variety of salame, some neighborhood-made, some from out of town, and DiGregorio's has weekend wine tastings, often reasonably priced reds from Eastern Europe. I tend to divide my patronage, depending on where I can find a parking place, although they're in easy walking distance of each other.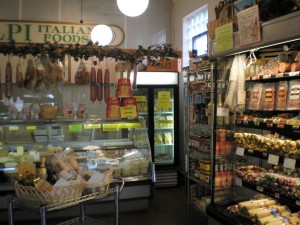 Volpi Foods has been producing fabulous prosciutto and other cured and smoked meats for over a century, and the small retail area usually has a few other items, often exclusive to the city. Tastings are sometimes possible, both here and at the grocery stores.
If I feel particularly indulgent, I head for the Missouri Baking Company. It looks and feels old (circa 1924), but offers warmth that comes from both the ovens and some of the ladies behind the counter. Technically, it's more of a pasticceria than a panetteria, with considerably more sweet stuff than bread, especially before Christmas and Easter. A fine place for people watching, but decisions are difficult when it's time to order. I have a real thing for the zeppole, a custard-stuffed donut topped with a touch of cinnamon, which isn't always available.
Equally important are wares from Bertarelli Cutlery, who sell fine knives and a few other items, useful in the kitchen or dining room. Widely used by restaurants, they will even sharpen the ones already in your (and my) armature. My visitors are always blown away by Bertarelli's charm and sense of true European craftsmanship.
Speaking of craftsmen, a few very different ones have slipped into The Hill in recent years, providing a reassuring freshness. A remarkable addition is SKIF, whose angular contemporary clothing is unlike any seen in the neighborhood prior to the theatrical debut of The Matrix, for which SKIF created the knitwear. The showroom is like an artist's workroom, complete with an amiable dog or two. Another shop, considerably more Italian, is Girasole, a boutique whose stock wanders from books to jewelry. Here, too, a few touristy items are found including infant wear that read "I'm so cute, I must be Italian," and souvenir street signs.
Restaurants too abound. The grinder-hero-poor-boy controversy never came to St. Louis; they were, and remain,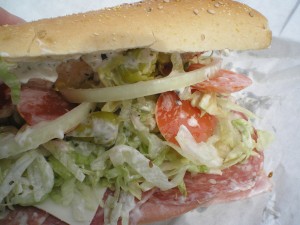 Italian sandwiches, hot or cold, wet or dry, available at sandwich spots usually calling themselves delis. Anthonino's turns out fine versions of local specialties, and adds a few from Greece. Throughout the city, restaurants offer an appetizer called toasted ravioli. It's not toasted, but breaded and deep-fried and served with a red sauce, and several places claim to be its birthplace. One is Charlie Gitto's On The Hill, which sometimes finds professional athletes dining and drinking. Milo's Bocce Garden is another, and also home to real bocce courts in the back yard, and regular league activity, like softball or bowling.
Strangely, it's only recently that a coffee house opened on The Hill; Shaw's Coffee House is a Gio-come-lately, but good for sipping and feeling the morning sun. On my late morning visits, I've often heard older patrons chatting in a mixture of Italian and English. St. Louis only in the last decade or so came to the pleasure of outdoor dining, so places like Shaw's offer only a few sidewalk tables.
Dinner on The Hill can be a fancy affair. Black ties and white tablecloths are the drill at Giovanni's On The Hill and Dominic's On The Hill. (Note these geographical designations are simply to define them from their siblings elsewhere in the city.) This is traditional Italian food, mostly Sicilian in influence. While the original settlers were from northern Italy, it wasn't until the Sicilians arrived that anyone began serious restauranteering. Risotto was a no-show on St. Louis Italian menus until the 70s or 80s. Both places are jam-packed on during holidays, graduation season, and for molto proposals and anniversaries. One large American travel magazine recently erroneously included Kemoll's with these local favorites. Sure it's also family-owned and very traditional Italian, but you'll find it downtown, not on The Hill.
Less formal is Gian-Tony's, in a former private residence that's been through many additions. Family friendly, the customers are casual, with waiters more formally dressed than the clientele. One of my favorites is the osso bucco, but its availability is irregular. I also like the more modern Italian dishes of Lorenzo's Trattoria, which is also open for lunch. Surely another sign of the times, even tapas has crept into some establishments. Guido's offers good St. Louis-style pizza—very thin crust and soft, Velveeta-like processed cheese called provel—as well as traditional Spanish tapas. Modesto goes for more contemporary takes on outstanding Spanish cuisine and has a lively bar.
• • •
A few notes on visiting: The Hill is bisected by I-44, exit at mile 287. Its boundaries are considered to be Kingshighway, Manchester, and Hampton Avenues, to the east, north, and west, respectively; the southern edge is roughly Southwest and Arsenal Avenues. Public transportation is by Metrobus 8. Much credit is to be given to local residents, who tolerate the activity and traffic along the narrow streets. A few restaurants have valet parking at night; otherwise, creep along the streets, and please don't block driveways. Nearly all stores are closed on Sunday, and the food stores are very busy most Saturdays, and utterly mobbed just before major holidays.
---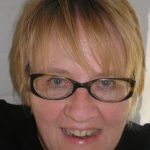 ANN LEMONS was a picky eater as a child. She's been making up for it ever since. After years of living a normal life, she fell into food writing, working as an on-the-road correspondant, and restaurant reviewer for many regional publications as well as her local NPR station. She and fellow food loving husband Joe Pollack have co-written three books on St. Louis restaurants and food stores. They co-edit and coordinate the St. Louis edition of the Zagat Survey. In answer to the most-asked question, she says, "No – he's a joy to cook for." Together, they also write and photograph travel, especially food-oriented journeys, and blog at St. Louis Eats & Drinks.