Unlike many of his colleagues, Joe Davis, the founder and winemaker of Arcadian Winery, does not come from a long line of winemakers. His people were Monterey fisherman—with first-hand accounts of John Steinbeck's peccadilloes, no less! But he was not destined for the family business.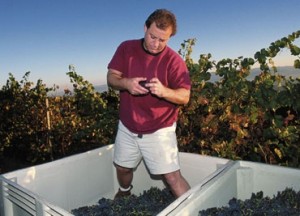 Back in 1982, when he was a college student in Seattle working at a wine shop, a customer brought him a gift of a bottle of Domaine Dujac 1978 Clos de la Roche Grand Cru from Burgundy. After a taste of the rare wine, Davis became a Pinot Noir devotee and knew that he wanted to make wine himself. He promptly transferred to the University of California Davis to study winemaking, and eventually took a position working for Dan Lee at Morgan Winery.
It was there in the 1990s that he honed his skills making Chardonnay, and then implemented a Pinot noir program relying on Burgundian winemaking techniques. From there, he serendipitously landed a position with his idol, Domaine Dujac, for two years before returning to California to start Arcadian Winery in the Santa Ynez Valley in 1996.
Today, Davis is one of the best known figures in Santa Barbara wine country, thanks to his top-quality Chardonnays, Pinot noirs, and Syrahs. At the heart of Arcadian's success is Davis's terroir-driven philosophy: make wines that fully express the distinct characteristics of each vineyard and of California's Central Coast region. He does so by using traditional French artisanal techniques and hands-on vineyard management.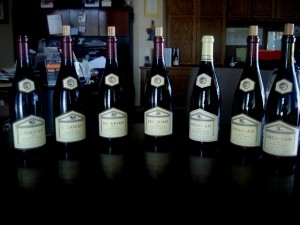 The mission of Arcadian, and a question Joe Davis asks himself with each bottle he makes, is whether it is worth it to produce these vineyard-specific wines. Do each of the wines consistently represent a sense of place? Are they different enough from one another, and yet still consistent from each site year to year, and also in terms of overall quality? Based on the wines I tried, I think Davis does indeed accomplish that mission.
I first tasted Arcadian wines just over a year ago, on a visit to the Santa Ynez Valley. I set aside an afternoon to meet Davis and find out more about both the man and his wines. Not only was he generous with his time, but over the course of the afternoon, we tried seven of his recently released wines.
2005 Sleepy Hollow Vineyard Pinot Noir, Santa Lucia Highlands
This is Davis's twenty-third harvest in this vineyard—he has been working it since he was the winemaker at Morgan. The sandy soils lack calcium, translating into a velvety texture without a tannin-induced pucker. Davis refers to this zaftig wine, with its feminine notes of tart cherry, orange zest, and roasted coffee, as his "favorite old comfy chair." ($56)
2005 Dierberg Vineyard Pinot Noir, Santa Maria Valley
Dierberg was planted in the mid-1990s, producing more youthful, vivacious wines, with a sharper contrast between the bright front notes and the subtler dark finish. The berry flavors here are all luscious summer fruits like raspberry, blackberry, and currant, giving way to black tea aromatics and a smidge of nutmeg spice. ($65)
2005 Pisoni Vineyard Pinot Noir, Santa Lucia Highlands
Pisoni is one of the most famous pinot noir vineyards in North America, located about 10 miles farther from the ocean than Sleepy Hollow, so the climate is about five degrees warmer. That means meatier, more focused aromatics like ripe cherry, raspberry and cocoa, and tannins that dance on the edge of the tongue. "It's like that perfect apple you have as a kid," explains Davis, with a faraway twinkle in his eye, "that apple you always remember—with just the right amount of fruit, acid and crunch." ($95)
2005 Fiddlestix Vineyard Pinot Noir, Santa Rita Hills
This vineyard has the rockiest soils Davis works, so the mineral-rich soil bed heats up, creating a nuanced balance of fruit and acid in the wines, and ripe characteristics of black cherry, currant, bitter tea, and even prune and cola notes. ($60)
2006 Sleepy Hollow Vineyard Chardonnay, Santa Lucia Highlands
This also comes from ten rows in Davis's "old comfy chair" vineyard in the Santa Lucia Highlands. It is aged between 22 and 28 months in 35% new French oak barrels and fined with milk, but left unfiltered. The notes of butterscotch, vanilla, and even a whiff of honeysuckle do not detract from the crispness of the light citrus flavors of tangerine, and Spanish lime and food-friendly acidity. ($48)
2005 Stolpman Vineyard Syrah, Santa Ynez Valley
Though a deep purple color, Davis says this Syrah is "the most Pinot noir-like in texture." It has medium body and elegance of a Pinot, but the flavor profile is all Syrah: blackberry, blueberry, licorice, lavender, a dash of pepper, and some hauntingly light vegetal notes that keep it from feeling over-rich. ($65)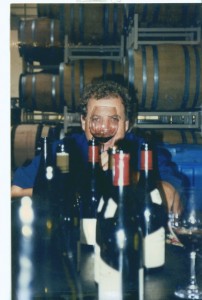 2006 Purisima Vineyard Syrah, Santa Ynez Valley
The grapes come from two one-acres sites that sit at 800 feet and 1,200 feet above the Stolpman Vineyard. No surprise here: this wine is intense and concentrated, but still vivacious. Dark fruits like boysenberry and black cherry combine with spicier hints of licorice, fresh basil, and austere streaks of graphite for an intoxicatingly complex palate. (Price unknown)
Tasting with Davis, a philosopher-chemist of sorts, is an extraordinary exercise in both big-idea theorizing and detail-oriented analysis. One minute he will expatiate about his interpretation of the concept of terroir and how it affects his winemaking; the next, he will list dozens of the 3,000 iso-electric compounds that, through attraction and repulsion, account for the flavors we detect in wine, plus how they change over time.
"Tasting demands your attention," he explains, "and the more you give to it, the more you get out of the experience. It takes the same level of concentration as reading a book. You taste more things, you're able to articulate why you love it, or hate it—you can feel anything about it—but not disinterest."
---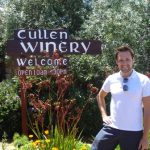 Eric Rosen is the restaurant reviewer and wine writer for LA.com. He also regularly contributes to several other area publications including Los Angeles Confidential Magazine, Hotel Chatter, Jaunted, Frontiers IN/LA, Edge Publications, and The Rundown. Rosen has traveled all over the world exploring wine regions including those of France, Argentina, Chile, Spain, Italy, Austria, Germany, Portugal, and most recently Australia. To read more of his articles and see what he has been up to lately, you can read his personal blog and web site, Eric the Epicure.