Milwaukee is so famous for beer that its baseball team is named the Brewers, and a guy used to slide into a vat of beer every time one of them hit a home run. Laverne and Shirley ran for seven years, into the early '80s, featuring two women who capped bottles in a Milwaukee brewery.
But this is the 21st century, and big-brand beer is multinational now, removing Miller's previous local appeal. People here still love beer, but I came to Milwaukee for the cocktails.
This city is a damn fine place to drink. Three bars have made lists of top cocktail bars in America — though I only get to two because I haven't yet heard of the third, and moreover there's only so much liquor one can process in a weekend.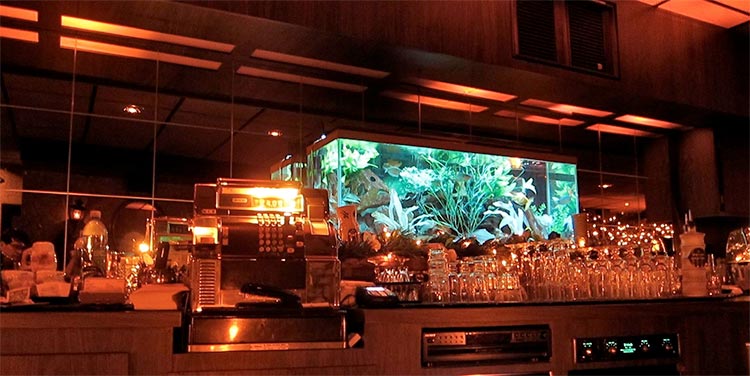 I start my tour at Bryant's Cocktail Lounge, which converted from a beer bar in 1938 and for decades had the artisan cocktail scene to itself for miles around. It has the curmudgeonly attitude of a culinary grand dame: Follow its rules or else, which include the fact that there is no menu. Instead, customers tell the bartender what type of drink they like, and she makes something she thinks they'll enjoy. (Imagine if sommeliers could do that.)
Ice cream drinks are big at Bryant's; this is probably how it has stayed in business for 80 years. When I see somebody happily sucking on a big creamy pink concoction, I note from the beginning that I don't want a dessert drink. Instead, I say I like cocktails based on rye, Scotch or mezcal. (This is not exclusive, but it gives the bartender an idea.) I like complexity. Sometimes I'm in the mood for something tall and refreshing, but as it is currently cold in Milwaukee, I ask for something spirituous.
Fortunately, what Maggie the bartender makes for me – a Brass Rat – is stellar. It tastes like peaty Scotch with a little citrus and some bitters.
"What's in it?" I ask.
"I can't tell you," she replies.
That only goes so far; Bryant's is worth a visit for its period charm and decor, but I find myself trying to spy on Maggie when she makes my second drink. I note Calvados and mezcal and stuff from plastic squeeze bottles, then give up.
Still, I enjoy the proto-hip '50s music and get into a good conversation about bitters with a biker in a do-rag; he's in town making a pilgrimage to the Harley-Davidson plant, Milwaukee's biggest tourist draw. Maggie pipes in and we have a long chat, which is how I end up a couple days later at Bittercube, a local producer of bitters.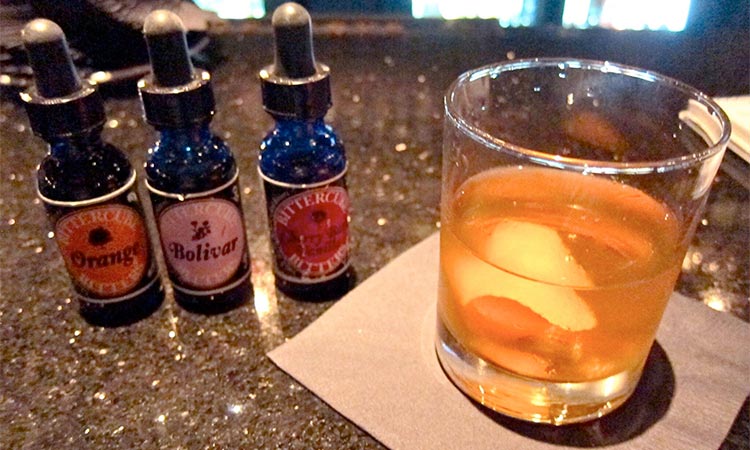 Bittercube was founded by two bartenders – one in Chicago and the other in Minneapolis – who came to Milwaukee because the industrial space was cheaper. It makes 8 types of bitters; the most popular is cherry bark vanilla, probably because it sounds like dessert, but in fact, the bark comes from small cherry pits steeped in overproof white whiskey. It's earthy and, because of the whiskey base, goes well in Bourbon cocktails.
Here's a fun fact about bitters: to smell them, pour some into one palm and let it evaporate. To taste, drop a little on the back of the hand and lick it. Any other way, the dose is far too big.
Another fun fact: citrus flavors are best extracted by grain neutral spirits, but with other ingredients, bartenders like to use the same base spirit as the cocktails it's intended for. In other words, artisan bitters made with rum will do well in rum drinks.
My favorite of Bittercube's offerings is Corazon, a blend of dried peppers, local coffee and sea salt in grain neutral spirits. It's probably meant for Tequila-based drinks, but I've found it terrific in whiskey cocktails.
Tasting bitters tires the palate, because there's more flavor in a few drops than in the rest of most drinks. So I soothe my tongue with whiskey-flavored ice cream at Purple Door, which follows regional tastes by using more butterfat than most ice creams, though not so much as to become the local fixation, frozen custard.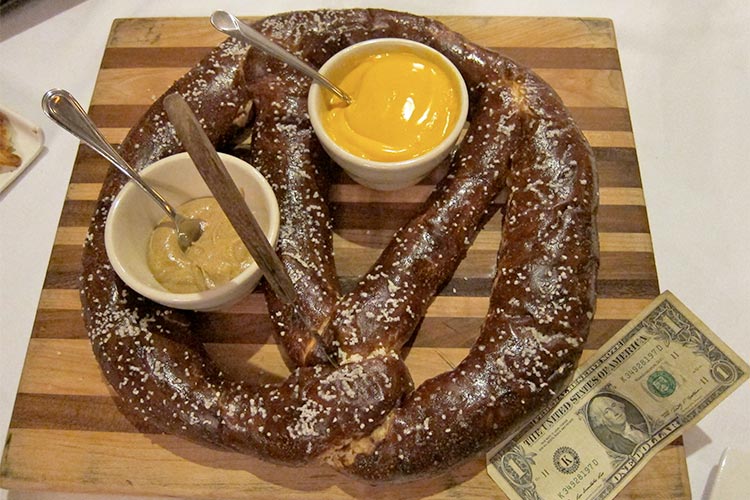 I later visit Great Lakes Distillery, whose products are popular in local bars. I recommend Rehorst Barrel Reserve Gin, which founder Guy Rehorst says is the only gin in the world to include Wisconsin ginseng. It's spicy, with ginger, basil and coriander notes, and though it features caramel and vanilla from the used Bourbon barrels, the wood flavors are not overly strong.
"I owned a CD and DVD manufacturing plant," Rehorst told me. "In 2002 I saw the future and decided to get out. Making gin is a much more fun profession."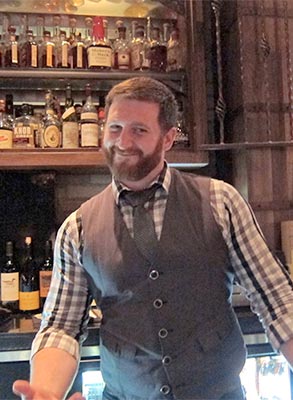 I'm burying the lead. Those who can only visit one bar in Milwaukee should go to Distil, which made Food & Wine's list of best bars in America. It's around the corner from the luxurious and haunted Pfister Hotel, where all the baseball teams stay and some later complain about ghosts turning on their iPods or moving their pants. (ESPN did an article on it.)
I don't know if Distil is haunted, but it has the same 19th century look: a beautiful copper ceiling, a stone bar, and cream brick walls. It would be a stylish place to drink even if it didn't have some of the best bartenders I've been around. I write this in my notebook: "The bartenders here are friendly, even though the cocktails are good." In San Francisco, where I live, it's not easy to get a delicious cocktail – the first, anyway – without some standoffishness. But here, the conversation is easy from the beginning. And unlike Bryant's, they talk me through the drink.
Given my self-description, bartender Doug first makes me a Spicy Boulevardier: Elijah Craig 12-year Bourbon, Cocchi Vermouth di Torino, Ancho Reyes, green Chartreuse and orange bitters. It's boozy, citrusy and very tasty.
While we're talking about amaro (a passion of mine), he starts playing around with new ingredients and creates another drink for me to try as soon as I'm finished; it's like sitting around the drink lab. He calls it the Milwaukee Boulevard: Rittenhouse 100 Rye, Ron Zacapa 23 Solera rum, Cocchi Vermouth di Torino, Campari and Ramazotti. He tells me I don't have to pay because it's an experiment, but it is so delicious I pony up.
After an Old Fashioned with both Black Maple Hill and Michter's Small Batch bourbon, 1/4 ounce of turbinado syrup and three of Bittercube's products, I stumble back to my room. Fortunately it is not haunted, though I do take a spooky picture of myself with the riverside statue of the Fonz from Happy Days, which I guess counts as a ghost.