By the Editors of Palate Press.
Gift-giving season is upon us, and the Editors and Publisher at Palate Press have been getting bombarded with the annual "what should I get for the wine lover on my list" questions. Here are a few of the wine gadgets we love and some we can't recommend. We end it with a confession by one of our Editors, and with the best gift recommendation of all for the wine lover. What are your favorite gift ideas, and which ones have you received over the years that would get instantly re-gifted if you could do it anonymously?
LOVE
Chilled Balls: A New Tilt on Life
Now here's something fun for the guy who has everything: a few more balls…I mean "sophisticated chilling spheres."
Keep these chrome Tilt Spheres in your freezer and you never have to worry about ice diluting your favorite spirit as you sip it: the spheres keep it cold as long as you want.

For me, the best part was putting the spheres into the drink and taking them out with the accompanying shiny chrome hook (then setting them gently in their wide, welcoming stand).  In, out, in, out.  Fun for all.  – Becky Sue Epstein

Riedel Bottle Cleaner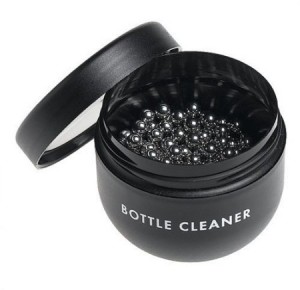 I received this small box of tiny ball bearings a couple of years ago from a winemaker friend who swore they were extremely effective and useful. Not exactly sure how much they could actually accomplish, I put them in one of my favorite decanters, one that had become stained with a small, reddish coat of residue, over the years, something that no long brush that I could find seemed to reach.
Lo and behold, after a couple of minutes of swirling them around most of it was gone and the glass restored to its former, crystal-clear self. I've used them since, every few months or when the glass of my decanters seems less crystalline, and smile at the result. – Rémy Charest
Slowing Down Time, Speeding Up Time: S'Well & Tag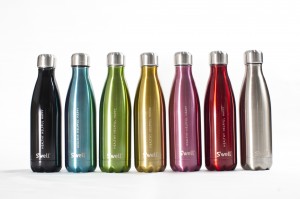 First, to stop time, use S'well bottle ($45 for 25-oz size). Pour in your chilled white wine and take it anywhere — it's lightweight stainless steel —  or just leave it out on the countertop.  It keeps wine at a drinkable temperature for more than two hours – and I only poured in half a bottle of Kris Pinot Bianco; the rest was in the fridge as a control. S'well is stainless steel, "BPA free, non-toxic and non-leaching," says the label, adding that 10% of sales go to WaterAid.
Now to speed up time.  Aerate an entire bottle of wine by pouring it through the special funnel into the Tag wine decanter set (around $35 from Viva).  The four holes in the decanter create a fun little fountain as you're pouring into the clear glass, bottle-shaped container. This is best when you must have that red wine right away, but you don't want to have a pretentious decanter on the table. And the glass flask can also be rubber-stoppered if you're saving some for later.– Becky Sue Epstein
Code 38 Professional Wine Knife
How much would you pay for a great corkscrew? You can get a pretty good double hinged waiter's friend for less than $2 on Amazon. Add $10 for a fancy one with a wooden handle. A double-winged corkscrew is less than $10, and a fancy gadget with squeeze handles and levers is still under $50. So what would you pay for a great corkscrew? How about $220?
The Code 38 Professional Wine Knife is the best tool ever made for removing corks from wine bottles, emphasis on the word "tool." The body is made of molded stainless steel, giving it the solid heft of a quality tool. The knife, not a serrated blade but a lightly rounded smooth blade that can be sharpened, flips out with a flick of the thumb. The worm is a French-made spiral that glides smoothly into any cork. The lifter arm is one stage, not double hinged, and in a corkscrew this well engineered that is an improvement. I have opened hundreds of bottles of wine with a Code 38 and it lifted the cork with a single pull every time. Every hinge- the worm, the knife, and the lifter- all pull out smoothly and fit snugly, without even a hint of wobble. Even after more than a hundred corks in a night there is no discomfort, just a quick, smooth, easy pull every time.
This is an extraordinary corkscrew, a Grand Cru in a land of vin ordinaire. It is a gift that an oenophile will use with pleasure for a lifetime. – David Honig
Variable Wine Aerator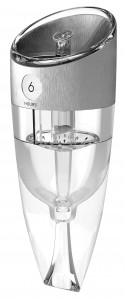 Loving my Vinturi wine aerator the way I do, when I heard someone was producing a variable aerator, I couldn't wait to get my hands on it.  Made by Host, it retails for around $25, which is reasonable.  The exciting part was that aeration can be very simply dialed from 0 ("slight aeration") through to 6 ("extreme aeration equal to 6 hours of decanting).  Not knowing exactly how long to aerate my wine, I started with a 2007 Napa cab and three glasses.  I poured one at 0, one at 3 and one at 5.  The aromas were certainly different – but unfortunately the wine was corked, so there went that experiment.
I moved on to a 2009 Paso Robles cab.  For this one, I poured glasses with the dial set at 0 then at 2 ("mild aeration equal to two hours of decanting") and then 4 ("robust aeration").  At first sniff, 0 was OK, 2 was too tannic and 4 was perfect.   After half an hour, 0 was very nice.  However, 2 had become more fruity and quite complex; it was the perfect glass.  By the end of an hour, 4 was past its prime, with all the tannins overwhelmed by jammy fruit.
Conclusion: if you simply want get a bottle of medium-aged wine drinkable faster, you probably don't need this gadget.  But if you love to play with your wines and have plenty of glasses, go for it.  I'm sure my friends and I will have hours of fun with this on future evenings – as long as we have enough time and enough dishwasher-safe glasses – -Becky Sue Epstein
HATE
Drop Those Wine Drops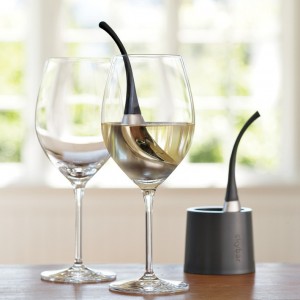 I can understand devices like these Wine Chill Drops (around $40) being used for drinks that are meant to be chilled, but honestly I think promoting them for wine is awful. First, most chilled wine shouldn't be freezer-cold: while these gadgets don't water your drink down, they would likely drop the temperature lower than necessary.
Secondly, I don't even want to begin to think about the logistical nightmare of having these metal things clinking around in a glass, or shifting when drinking, or worst of all ruining all my bubbles in a glass of sparkling wine.
If anything, I think chilled white wines have a fascinating shift in character as they go from an initial serving temperature to a slightly warmer state; something I very much look forward to in a glass of white wine. — Ryan Reichert
Vinturi Spirit Aerator: Don't Get Sucked In

The one thing I would never bring to a desert island – an island with a whisky supply, of course – is a Vinturi Spirit Aerator ($40).
Strange, because if I had one wine gadget that I would absolutely take to another desert island – the island with the wine cellar – it would be my Vinturi Wine aerator.  I use it all the time, for young and not-so-young red wines. By sucking in some air when you pour wine through it, it allows the wine to aerate, and the flavors and aromas blossom right away.
But the Vinturi Spirit seems to function in exactly the opposite way. In repeated home testing, all it seems to do is remove the aromas from spirits.  I don't get it:  aromas are a major part of the appreciating of whiskies and other spirits.  What a disappointment! – Becky Sue Epstein
Skybar One Wine System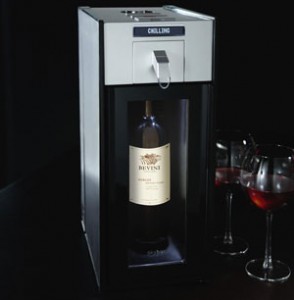 The Skybar One Wine System (around $400) is a single bottle wine chiller, preserver, pourer, and aerator. It is a cabinet that holds a bottle of wine, chills it to the desired temperature and keeps it at that temperature as long as the machine is plugged in and turned on. According to the company it keeps the wine fresh for up to ten days. With a turn of a knob it sets a selected temperature or picks the temperature by varietal. With the push of a button it pours the wine, then keeps the remainder vacuum-sealed and chilled until the next pour.
It was tested over four days. First, a glass of Premier Cru Chablis was poured, then the bottle was put in the Skybar One. We set it to "Chablis" and waited. First it made a loud vacuum noise for a couple of seconds, then a fan came on. The machine operated at about 50 decibels, the sound of a box fan on low. A glass of wine was poured from the Skybar, routed through a hose and down a spout. It poured into the glass with a little froth, aerating the wine. A second glass was poured directly from the bottle. The difference was obvious, with the wine from the bottle softer, a bit more round, open, and complex.
The real test came four days later. Was the wine still fresh? We opened a second bottle of the same wine to compare the Skybar One wine to a freshly poured glass. After four days there was an obvious difference between the two, with the Skybar One wine short of fruit and a little flat. Additionally, for the entire four days the Skybar One put out the same 50 decibels of noise, a constant fan hum that was obvious and annoying. – David Honig
CONFESSION
Gadget Abuse Confessional – With Recommendations
I have a confession to make.  I have a gadget abuse problem.
My ex-wife noted on more than one occasion that I have every kitchen gadget known to humankind.  She bemoaned that she couldn't buy me anything for Christmas because I already had everything a cook could want.  My miniscule kitchen is overflowing with graters, choppers, slicers, dicers, blenders, cutters, pulverizers, and several "-ers" whose function is now a mystery to me.  But I know that someday I will need that very thing to make a dish and search high and low for it.
This gadgetitis extends to my bar as well – a six-and-a-half feet long brass and wood behemoth that I had made in Pakistan (you can get a bar made by craftsmen in an Islamic country) that gave two burly movers hernias when they carried it into my house.  There are all manner of decanters, glassware, mixers, and, of course, corkscrews cluttering it up. Yet I still peruse cooking and wine gadgetry catalogs with the eagerness of young Ralphie in "A Christmas Story" looking for his Red Ryder BB Gun.
But I have become more discerning now about what works and what doesn't, what is worthwhile and what is – to put it bluntly – trash.
For example, I am a purist about wine glasses.   Anybody who gives me colored or hand-painted wine glasses might well find them re-gifted to them next year, or in the hands of a homeless oenophile to use in sharing cheap muscatel.  After all, sight is one of the senses we use in evaluating wine.  If I can't see it, forget it.
Like many people, I love Riedel glasses and have several different kinds.  But they are expensive, so I am often afraid to put them out.   Schott Zwiesel Tritan stemware glasses are a cheaper and more durable alternative.  A set of six Bordeaux glasses will set you back about $60 (price found on Amazon).  (I confess to my heresy that I do keep a set of acrylic stemmed wine "glasses" around for use at parties.  A set of 4 costs around $20, sometimes less.   I also like stemless  glasses for picnics.)
When it comes to wine openers, simpler is better as far as I am concerned.   I detest those two-prong "Ah-So" devices, although I know many who swear by them.   I just can never get the prongs around the cork right.  Screwpull twist-type corkscrews have their place, especially on a recalcitrant cork, and I have a couple of them.  (I keep a travel model in the car; you never know when you are going to run into a bottle of wine.)  Lever corkscrews are not bad, especially ones that clamp to a countertop for stability.
Electric corkscrews? Forget it.  Not worth the batteries.  And those ones that open a bottle by using pressurized glass strike me as downright dangerous if you have a flawed glass bottle.
But time and again I find myself reaching for a waiter's corkscrew, especially the dual-lever model.  In the wrong hands – say, an incompetent waiter – they can be a disaster when someone tries to push the corkscrew forward in the final effort, rather than pulling up on the lever.  That is a recipe for broken corks.  But when used correctly I find this model the easiest and most reliable.  I have about a dozen or so scattered around so there is always one in easy reach.  The so-called "boomerang" model has a nice touch with four little wheels that cut the bottle capsule in a ¼ turn.   Just make sure it has the two-lever action for ease of getting the cork out.
Aerators are a recent hot item.  They are designed to speed up the process of letting a wine breathe.  A gimmick? To a certain extent, yes.  An aerator will not fully open up that dense Barolo the same way time will.  Yet they do help.
Some fit right on the bottle.  (You often see those at large wine tastings.)  Others are held over a glass or decanter.  Cooks' Illustrated – which I greatly respect – highly recommends the Nuance Wine Finer (about $50). It looks like something Harry Potter would use if Hogwarts was a wine academy.  It slides in the neck of the bottle, so it is easy to use.  I can't personally attest to its efficacy, as I have never tried it, but it seems I might have to succumb to yet another bout of gadgetitis and try one out.
I use the Vinturi.  It is the same price as the Nuance, but is a bit clumsy, as you need two hands to use it if you do not have the optional stand for it (worthwhile, IMHO).  It does work in bringing flavors out.  (There are red and white models, but I see no need for two different ones.)  But it is a supplement to aeration.  I use it with a decanter.   If you do get one, get the cleaning brush ($7 at Wine Enthusiast) to get rid of the built-up gunk.  It's an absolute necessity for the Vinturi. They took a while to come out with one.  So I improvised by going to a gun store and getting a cleaning brush for a BB gun.  Worked great. (Take THAT, Red Ryder!)
So what to get the wine freak for Christmas?  Why, wine, of course.   Give a bottle.  And leave the colored glasses at home.  And while you're at it, I'll bet Santa that after hours in that freezing sleigh would surely appreciate it if you left a glass of cabernet instead milk & cookies. I'm sure he's okay to fly and drive. Ho, Ho, Ho!  –Gary Thomas