There's a reason most Oregonians don't leave the state for vacations: they have everything they need right here. The same could be said about Oregon's wines, too – which is what I found when I finally went beyond the famed Willamette Valley region a few months ago.  Along with the enthusiasm and hospitality of the winery owners, two additional elements are contributing to a flourishing winemaking panorama in Southern Oregon: the tempranillo grape and wine clubs.
Southern Oregon's wine-growing area is so different from the Willamette it seems like another country — or at least another state.  Tempranillo is the new star in wines from Southern Oregon, after more than a decade of vine and wine development.  Many winemakers are also working with Rhône and even Bordeaux varietals, but tempranillo would be a good place to start learning about this region.  But first you have to get there.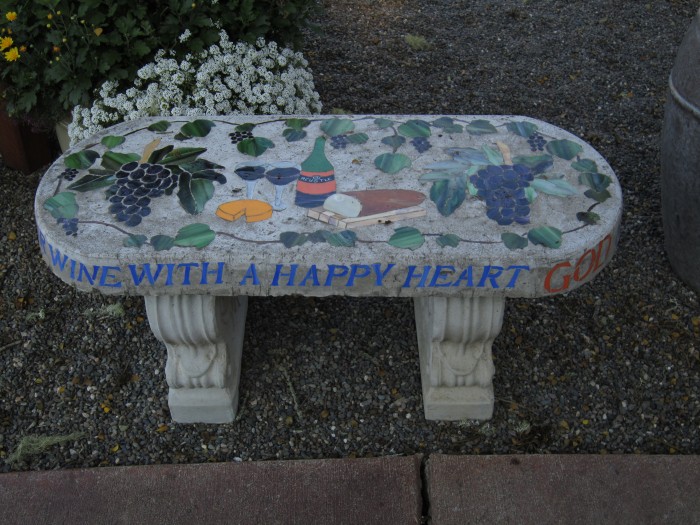 Portland is the one city everyone knows in Oregon, but if you start here, you'll have to drive south for about three hours in order to reach the Rogue Valley and the Applegate Valley wine regions. The vineyards lie in the interior of the state —mainly between Roseburg and Medford— and not along Oregon's famed, rugged coastline.  A series of rolling hills and acres of agricultural land hide most of the vineyards from interstate travelers. To really explore the wines, you'll tour along the smaller country roads, sometimes traveling past endless flat farmlands interrupted by industrial centers, and at other times wending through garden-like pastures and quaint, somewhat down-at-the-heel old towns where coffee in the local diner still costs $1.
There are wineries sprinkled along the way to the southern Oregon vineyards, notably in the Umpqua Valley. For example, the well-known Brandborg winery has its tasting room in the center of the small town of Elkton.  (Elkton proudly became Oregon's 17th AVA in 2013.) Brandborg is also a good stop because right across the street there are a couple informal places to get a nice, old-fashioned country lunch.
But then you want to continue driving south toward Roseburg, the start of the southern Oregon wine regions. (Or at least that's how I did it.) Within the region, I stayed in the cute-as-heck town of Jacksonville for a couple nights.  Travel tip: do stay right in the town where you can window shop along the charming main street on your way to a hearty breakfast or a delightful restaurant for dinner. Restaurants range from reasonable Mexican fare to haute cuisine, and most have local wine lists you don't want to miss.
And it was local wines I was here to discover.  Tempranillo, remember?  I began with the man who started it all, the stately Earl Jones at Abacela winery. He and his wife Hilda came out here in 1994 and planted vines the following year. Jones had observed that this area has a similar climate to Spain's Ribera del Duero and Rioja regions, where great tempranillo is grown. The Joneses began to make wine in 1996, buying in some grapes, but since 2008 all their wines have been estate-grown. Now the estate also grows other grapes including albariño for a white wine, and Portuguese varieties for their Port-style wine.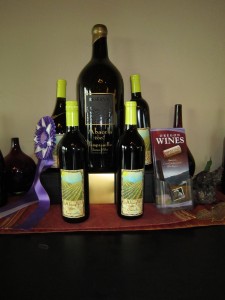 All around this region, winemakers speak of Jones as a remarkable man, not just for his pioneering grape-growing, but because he is so open about sharing his knowledge with others. In fact, he insists on it. Abacela is also in the forefront of sustainability in its growing practices as well as its gravity-flow winery with geothermal heating.  The winery produces around 10-12 thousand cases a year, in a xerisacaped garden setting on a gentle hillside.
During my tasting with Jones that day, the highlights for me were the 2009 South East Block Reserve Tempranillo, made with French oak: bramble, berries and herbs in the aroma, with even a touch of sweet fruit; and the soft, lovely 2005 Paramour, a "Gran Reserva style" Tempranillo with earthiness and florals in the aroma, fruit on the palate, and a super-silky mouthfeel.
Over at Folin Cellars they credit Earl Jones' experience and advice with jumpstarting their tempranillo program. Family-owned, Folin does not like to use cork on their wines; instead they seal all but their rosé with lovely, glass Vino-Seal closures. The Folins have built their aging caves underground to minimize energy costs. Their tasting room is impressive, and they make some great tempranillo as well as Rhône-style wines out in the middle of the Rogue Valley. Standouts here, for me, were the 2009 Tempranillo, an extremely polished wine with secondary fruit characteristics just starting to appear; and the 2010 Misceo, made with syrah, mourvèdre and grenache, which had earthiness, dark red fruit and a bit of spice.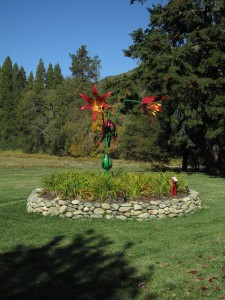 A third winery of note on my Tempranillo trail was Red Lily, another family business. This one is owned by Les Martin and his wife Rachael who is the winemaker.  Though there were red lilies blooming along the walkway when I arrived, that was just a happy accident of the gardening year; the winery is named for their daughter Lily, who has been a star hostess at winery events since she was small child.  The family found this property in 2006 and because they loved Spanish wines, they made 100% tempranillo wines for the first several years. In fact, during the tasting I most enjoyed their 2009 Red Lily Tempranillo, with its hints of vanilla and baking spices and yeast, even anise. The 2009 seemed like it could still age for a while, and the 2005 had a similar spiced profile with a bit of smokiness in the finish and nice tannins; it seemed to ask for food – Spanish food, of course.  Located on a river, the winery also hosts "beach" events by the riverside, which include food and music.
Searching for a white wine, the same wineries that grow tempranillo also seem to have stayed in a Spanish mood and started making albariño wines.  But viognier is big at other wineries like the beautiful Kriselle Cellars with its mesmerizingly tranquil pastoral views. And at the renewable energy-powered Agate Ridge Vineyard, where the wines were finer than the small, homespun tasting room suggested; the building is a renovated, historic farmhouse.
Cowhorn, named after the biodynamic practice, is a lovely place to walk around, with acres of grapes, cherries, asparagus and other fruits and vegetables, and it is Demeter certified.  With this holistic approach to growing, I suppose it's no surprise that they make a great traditional co-fermented (red and white grapes) Rhône-style wine – my favorite being the 2012 Spiral 36: viognier, marsanne and roussanne.
Speaking of responsibility, Steve Ruestle — who founded Ruestle Prayer Rock Vineyards with a specific vision in mind — has an interesting program where he invites wine club members to pick grapes, and then he makes a charitable donation based on the amount of their harvest every year.  Ruestle grows a variety of grapes, and I was surprised to find my favorite was the 2009 Reserve Grunver Veltliner smaragd (late harvest, fermented dry) style.  The grapes were all estate-grown – on a beautiful estate, with outdoor concert and picnic spaces.
In contrast, I also visited Spangler Vineyards, which buys in 80% of their grapes.  This winery seems to make whatever wines they feel like in a given year, and a robust wine club snaps it all up — driven by Patrick Spangler's buoyant personality, I'm sure.
In addition to tempranillo and viognier there's plenty of good syrah in these regions, and there are many other varieties of grapes being grown, often experimentally.  The wineries here tend to be fairly small, most producing only a few thousand cases per year.  Every winery has a tasting room and, of necessity, the winery owners are also in the hospitality business, offering concerts, picnicking and special events throughout the year.
In addition, the wineries have wine clubs, and it's these regular subscriptions that keep them on an even keel, financially.  In fact, many wineries sell almost all of their wines to wine club members, either shipping them within the state or inviting members for exclusive tastings on club pick-up days.  It is the wine clubs that make most of these wineries financially viable.
From the consumers' point of view, belonging to a wine club is definitely a positive: they receive regular offerings from their favorite wineries – wineries they have visited and formed relationships with. It simplifies people's lives in terms of choosing wines to drink for daily meals or weekend occasions, and it provides both pleasant memories and great stories to relate around the dinner table.  As a further bonus, club subscribers often have access to wines not available to the general public.
Note that since so many wine visitors fly in and out of Portland, and limit their wine touring to the Willamette Valley, many wineries from southern Oregon have also opened tasting rooms in the Willamette. Which is great.  But in my opinion there's nothing like visiting the vineyards, talking with the winemakers, and traveling these picturesque roads of farms interlaced with wineries and small towns.