The Lodi Native Project highlights non-interventionist winemaking and individual style.
When I headed off to Lodi for a press visit, I got some ribbing from other wine writers.  All good natured, but if you're already irritated by the stereotypical California style of wine, Lodi might seem to be the worst offender.  "Lotta hot old vine Zin out there, hope you can stand it."  "Are you trying jug wine all week?"
As one winemaker told me, "Lodi is the Rodney Dangerfield of wine world: no respect."  Yet Lodi might be one of the most traditional wine regions in the United States.  It has historically been a region that focused on wine as agriculture, with the grapes exported throughout California for table wine production (not to mention all of the tree fruits, olives, nuts, and its former status as the Watermelon Capital of California).  It was a region established after the Civil War that thrived during Prohibition, since the Volstead Act allowed people to make 200 gallons of wine at home each year and the hearty zinfandel grapes were uniquely suited to long train rides to the east coast.

And speaking of Zinfandel, yes, we did try a lot of old vine Zinfandel and Cinsault, sometimes from gnarled vines that were over 100 years old.  These tastings were conducted in the vineyards, with the winegrowers, off the tailgate of a truck and with the companionship of vineyard dogs.  Sipping and spitting in the dirt gets you in touch with the land in an intimate way.
The long tradition of growing grapes has been very profitable for these families in Lodi (many of whom have been there for five or six generations), and recently they have been making a push to produce their own wines and take pride in the Lodi name.  I had the opportunity to try some amazing wines that would surprise folks who have always associated this AVA with simple juice.
One of the more interesting initiatives is the Lodi Native project. The goal is a celebration of Lodi terroir as well as natural winemaking.  Each winemaker produces their best single vineyard Zinfandel (unless it's an old vineyard with historic field blends): native yeast, no new oak, and no artificial manipulation during the winemaking process. This was a new challenge for winemakers used to adding water, concentrates or other products to achieve a consistent product.  Native yeast was particularly unpredictable and described as "setting up the perfect Christmas dinner before inviting over a couple of homeless people at the last minute."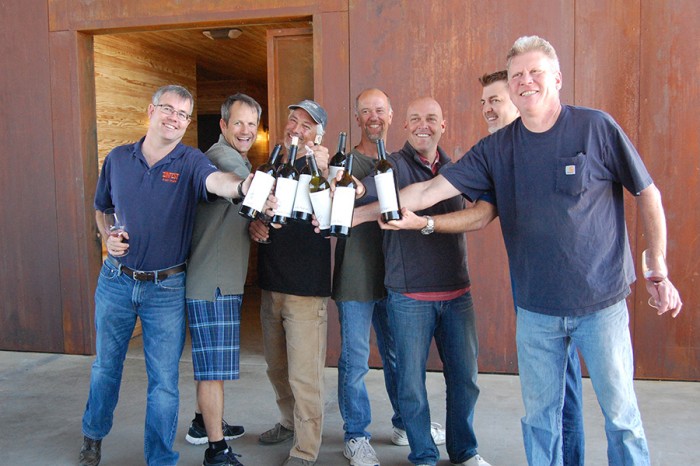 This March the winemakers released their first vintage, from the 2012 harvest.  I had the opportunity to try these six wines ($180 for the full set) on a couple of different occasions, but the best event was with the winemakers and growers at m2 Winery during an al fresco lunch catered by a local pizza maker with his own portable brick oven. Jerk pork, gorgonzola and Asian pear, traditional Margherita…the gourmet pizzas kept coming as we sipped wines with an eclectic group of winemakers and winegrowers.  The joking and camaraderie were infectious and some of our group of writers joined in the game.
My tasting notes are mixed on these wines.  While all are great examples of Old Vine Zinfandel and true representatives of the Lodi terroir, there is a lot of bottle variation.  There are no real flaws and I enjoyed each in its own way, but even the same individual bottle would show differently from one day to the next.  (We also had a barrel tasting of the next vintage, though it's too early to tell how that will turn out.)
Overall, the wines show dark berry profiles with a range of tannins depending on the particular winemaker.  While I am not averse to a high alcohol wine with good balance — and I've certainly been surprised in a blind tasting — I think my favorite was the Fields Family Wines selection, which was the most delicate.  However, each wine had its own character, and each winemaker put part of his personality into his bottle.  I speak often about building a wine culture in the United States, and if there were a way to export the fun and delight of Lodi throughout the country, we'd have bottles of wine on every table in America.
If I learned anything from Lodi, it's that they think in the long term.  The winemakers and growers are not thinking about next year, instead they're thinking ahead to the next four or five generations.  And even though they are producing a premium, labor-intensive product through this project, the prices per bottle are kept low in order to promote the region and show off the potential.  It will be interesting to see how these wines age over the next decade, and I think in the next 10-20 years, people will be bragging about great bottles from Lodi.  The talent is there, the soil is there, but most importantly, they have the solid weight of farming behind them, and that, after all, is what drives the great wine regions of the Old World.
List of 2012 Lodi Native Wines
St. Amant "Marian's Vineyard" Winemaker: Stuart Spencer, St. Amant Winery. Growers: Jerry & Bruce Fry, Mohr-Fry Ranches
Macchia Noma Vineyard "Noma Ranch" Winemaker: Tim Holdener, Macchia Wines. Grower: Leland Noma
m2 "Soucie Vineyard" Winemaker: Layne Montgomery, m2 Wines. Grower: Kevin Soucie
Fields Family "The Century Block Vineyard" Winemaker: Ryan Sherman, Fields Family Wines
McCay Cellars "Trulux Vineyard" Winemaker: Michael McCay, McCay Cellars. Grower: Keith Watts
Maley Brothers "Wegat Vineyard" Winemaker: Chad Joseph, Maley Brothers. Grower: Todd Maley