In Arroyo Seco – a tiny California appellation most of us have never heard of – winemakers have been perfecting a different type of Sauvignon Blanc: musqué.
This particular clone [pronounced Moose-KAY] produces wine that is distinctly different from the traditional French green herb aromas or the New Zealand-style boxwood-scented wines of zingy acidity. Sauvignon Blanc musqué is lively but lighter, with lime and citric qualities de-emphasized in favor of a rounder, gentler style.
Because it is located inland on California's Central Coast, I would have expected Arroyo Seco to be bakingly hot when I visited one early September day. Instead, winds whipping in through the mountain passes south of Monterey made for quite the opposite experience. In fact, this region is one of the Golden State's coolest winegrowing areas. When sun-warmed air rises further inland, chilled gales are drawn to this valley from the cold waters of the Pacific Ocean. (Yes, just like we learned in 8th grade science.) This nippy wind is a daily occurrence, summer and winter; the slanted trees all around can attest to that. But the grapes seem happy.
During my visit I was introduced to many of the dozen-odd wineries of Arroyo Seco, which became an AVA (appellation) in 1983. But wine grapes have been grown here since the early 1960s. For most of this time, a large percentage were blended into other label designations such as "Central Coast" or "California." As I mentioned before, this is a tiny appellation, and less than half of its 18,000 acres is currently planted to wine grapes.
Many growers continue to supply large companies, including J. Lohr, Niebaum-Coppola, Wente and others, some of which also maintain properties here. Increasingly, the large wineries have been requiring higher quality grapes for their wines. Planting and irrigation techniques are being upgraded, clonal selections tweaked, and overall the growers I met seem to be working to a high standard. In addition, many are now vinifying their own grapes and creating their own wines. The numbers are small but growing, and the ones I sampled included some very good cool-climate Pinot Noir in addition to the Sauvignon Blanc musqué.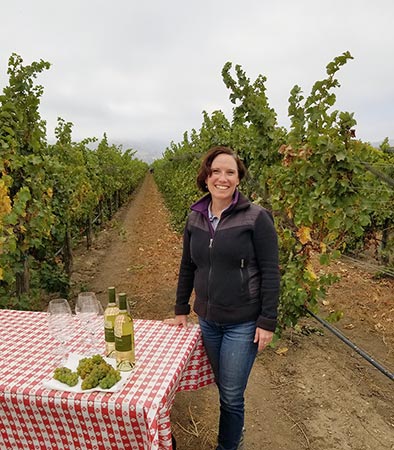 Because Arroyo Seco was carved out of the hillsides by a river over the course of many eons, the area consists of different bands and islands of land, each with its own microclimate. Over the past 40 years, growers have gotten to know these parcels well, so they can pick and choose their own particular "vineyard blends" for each wine. In fact, that is what J. Lohr's white winemaker, Kristen Barnhisel, was doing when we found her watching the harvest that September day in Mike Griva's vineyards.
Living on the farm where his family settled in 1905 to grow vegetables commercially, Griva still has a thriving business supplying some of the biggest names in supermarket vegetable brands, in addition to his acres of wine grapes. I was also able to talk and taste with more growers and winemakers — such as Mike Kohne of Mercy and Mark Chesebro of Chesebro Winery — both among their vines and over lunch in Griva's 100-year-old whitewashed barn.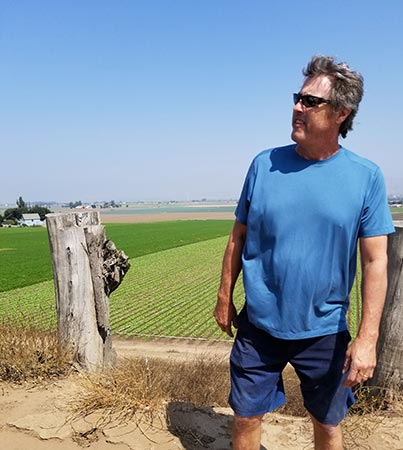 There are four basic types of vineyards, the growers explained. The "bench" is a continuation of the Santa Lucia Highlands. Then there's the small strip of land tucked along a gorge in the valley that catches less wind, thus the climate stays warmer in general. Lower down, on one side of the old river bottom, the vines grow in sand and rock. On the other side, there's a more fertile alluvial plain where some soil mixes amongst the rocks. Between the altitude changes and the contours of this land, these vineyards are each exposed to distinctly different amounts of water, sun and wind.
For Pinot Noir, Mercy and Ventana's 2013 vintages stood out with good fruit and balance. For the Sauvignon musqué, the 2016 J. Lohr and Mercy were favorites (both made with some or all Griva fruit), while Bernardus and Chesebro had different but equally interesting takes.
Arriving home, I was pleased to see some of these bottles in my local store. Trying some of the smaller productions, however, will require a trip to California. It's a great excuse though, as many of these wineries do tend to staff their own little tasting rooms in the picturesque Carmel Valley Village, near Carmel and Monterey.