This is the second in a two-part series on Ruchè this week on Palate Press. See Joe Roberts's profile of some important Ruchè producers here.
The Ruchè wine we're drinking these days is actually a new red wine, produced in seven small towns in northern Piedmont, Italy. It was created in the late 20th century by a priest who wanted to help his small, economically-challenged community.
After World War II, many young people were happy to give up the subsistence agriculture of their home towns in Piedmont to go work for Fiat and other businesses in the nearby cities of Asti, Turin and Milan. Those who remained had a rough time – though the city-dwellers habitually returned home for weekends and holidays, helping with farming and vineyards on their families' lands.
In small towns the economic picture continued to worsen when, only a few decades later, worldwide manufacturing began to move from Europe to Asia, and a jobless population began returning to their family homes.
In terms of wine, the Castagnole Monferrato area of Piedmont many people had continued to grow grapes and make their own table wine (in bulk) for local consumption. But wines from other parts of Piedmont were taking their place on the world stage: Barolo, Barbaresco, Barbera d'Asti.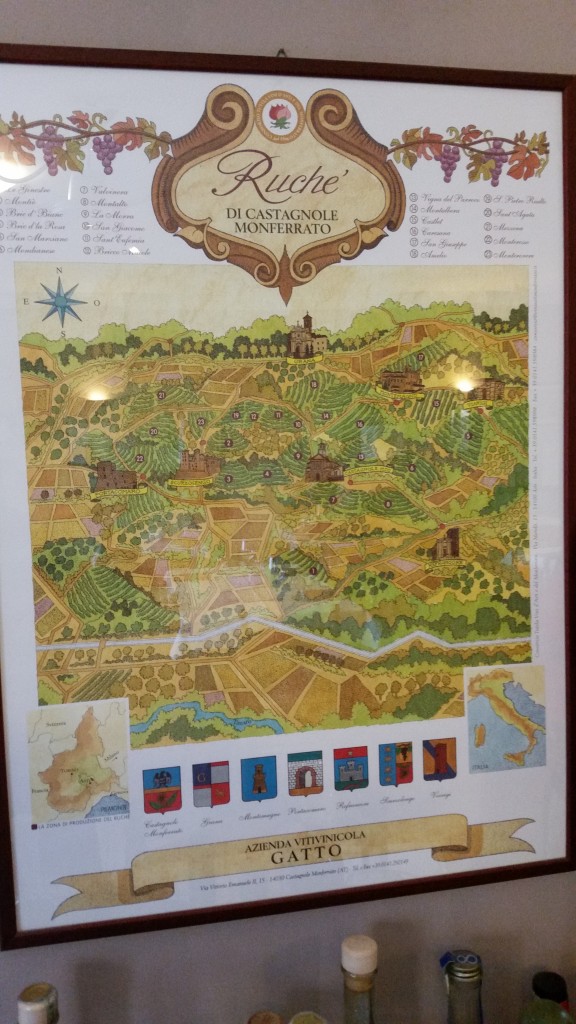 Ruchè has provided one method of making a living in Castagnole Monferrato area. However, no one seems to know how or when the Ruchè grape appeared in this area. Was it from Burgundy? Rioja? The south of France? DNA experts at nearby universities are working on this, but there are no definitive answers so far.
Because ruchè grapes reach phenolic ripeness [ripest flavors and tannins] only after the sugar in the grapes is at a maximum, there's no way to make a naturally low alcohol Ruchè wine; the wine is usually around 15%-16% ABV. It's very difficult to find local, indigenous yeasts that can remain alive in a high-alcohol environment so when fermented naturally, Ruchè would be somewhat sweet. People in this small hilly region of Piedmont lacked the knowledge or resources – or the interest – in altering their production methods; they were content to make sweet Ruchè wine in small amounts and drink it on special occasions.
In order to help out his parishioners there, the local pastor, Giacomo Cauda, decided to try his hand at modernizing the church's vineyards and vinification techniques. He wanted to make a wine that celebrated its local origin: a 100% ruchè wine from Monferrato. He discovered that, by using selected yeasts, he could actually accomplish this. The formerly rare, difficult-to-vinify, sweet wine was converted into a balanced, aromatic, medium-light red wine. And Ruchè became a good wine to pair with Piedmont's hearty cuisine for dinner.
As it happened, there were a number of young producers who had just returned to the area after attending oenological school or working elsewhere. They had knowledge as well as energy, and they persuaded their fathers and grandfathers to let them run the family wine-production business.
Along with the young producers, the priest and the mayor (Lidia Bianco) help created significant category requirements for this wine. In 1987 Ruchè was awarded DOC status, standardizing this wine which is made with 100% ruchè grapes, in a production area that includes seven specific communes (villages) in the Province of Asti: Castagnole Monferrato, Grana, Montemagno, Portacomaro, Refrancore, Scurzolengo and Viarigi. These towns occupy the caps of the hills, and they are all studded with churches both large and small. The people of the area go about their business on narrow roads that dip and rise through towns and fields just as they have for hundreds of years – under the watchful eye of the crenellated stone walls of the hilltop castles built by the Dukes who ruled the region centuries ago.
Then, of course the young producers had to figure out how to sell their wines. They had to start letting the world know that Ruchè wine was aromatic but also dry and more modern in style. They worked hard in the vineyards and began to understand how to tame the prolific vines with specific trellising and heavy winter pruning. Green harvesting in the summers was also introduced to make more concentrated wines.
In 2010 Ruchè di Castagnole Monferrato achieved DOCG status. And more vineyards have started to fill in the small plots of corn and grain and fallow fields that had appeared in between the seven Ruchè villages.
Ruchè wine is distinguished by its aromatic profile, which is always fairly floral: geranium, rose and/or violet. The wine can be light to medium bodied, with some acidic and tannic structure. Fermentation tends to be slow and long: ideally from 10 to as much as 25 days, depending on how low the wine is kept during fermentation. For one thing, the grapes' seeds have a waxy coating on them so they don't start to contribute their tannins to the wine until they are dissolved by a certain percentage of alcohol in the must.
After tasting many polished, dry wines recently, I found it hard to realize that Ruchè is so new – only six or seven years ago, hardly anyone outside of Castagnole Monferrato took any notice of it. A note about recent vintages, though the wines of 2014 show nicely now, 2012 and 2013 were better, and the 2015 vintages promises to be extremely good.
There are now about 30 Ruchè producers who work together to improve their wines and get them out into the world. They travel around Europe, and have started to come to US to introduce their wines. A large amount of the energy to promote Ruchè wine comes from Luca Ferraris, the dynamic head of the consorzio of Ruchè producers; he is a youthful man whose head is filled with great dreams for his region and his wines – visions which he has already begun to realize.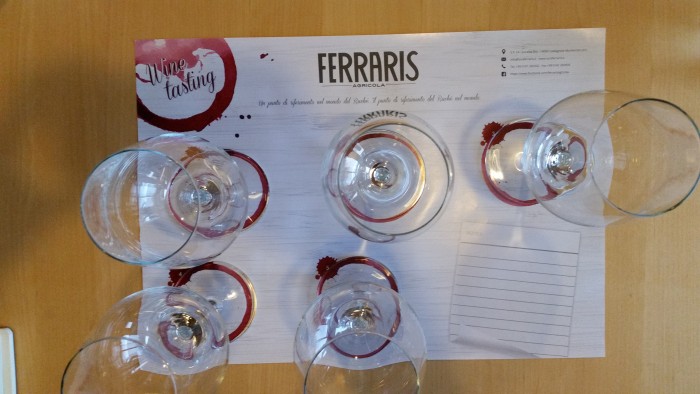 Ferraris is supported by group of notable producers, those who believe in their Ruchè revolution. A number of them took the time to come talk with me and show me their wines and vines (and secret white truffle fields) on a busy weekend in December. Most are from family wineries of various sizes – along with the producers at the cooperative Cantine Sociale del Castagnole Monferrato. Some of the most notable Ruchè winemakers include Marco Crivelli, Amelio Livio (and daughters), Pierfrancesco Gatto, Francesco Borgognone, Marcello Maggiore and Eugenio Gatti, who is also an incredible chef at his La Miraja restaurant. And, of course, the beautiful estate where I stayed, Tenuta Montemagno.
Ruchè would be a good wine for a sommelier who wants to introduce diners to a new kind of red wine. It's lighter in color than many international red wines, and it has a fruit-forward component that modern wine lovers can relate to.
For food pairings try fairly plain, hearty foods ranging from pasta with cheese to braised meats — savory dishes with an umami element. After several days in the region, Antipasti Piemontese is now one of my favorite meal rituals: three to five dishes served before the pasta course. Winter menus include a flan-like savory with chopped fresh, greens (which turned out to be young thistle shoots) smothered in a fonduta melted cheese sauce made with Taleggio or Fontina. Often, a wonderful, rich vitello tonnato is another element, as well as crostone con peperone which is simply roasted bright and yellow peppers bathed in olive oil and served on a small, round piece of toasted bread.
In Castagnole Monferrato it was easy to drink Ruchè as an aperitif and continue with it through a pasta course of tagliatelle with gorgonzola, then a main course of stewed or roasted local beef.  After all that great food, of course I'm eager to get back to this region. But I really do I think I'll need to return every year or so – not just to eat, but to report on all Ruchè production and touristic expansion. These seven sleepy towns may be changing very quickly.