Only half a year ago I was bemoaning the rise and rise of flavoured wines, when in May I found myself in a serious wine tasting being asked to evaluate one. No, it wasn't a "Rosé Pamplemousse", "Girls night out Strawberry Samba" or "Gallo Brothers Wild Vines Raspberry Zinfandel" (I didn't make them up).
I was of course sipping on the world's oldest flavoured wine, Retsina, which is flavoured with pine resin. Those of you who enjoyed Greek package holidays back in the 1980s or '90s probably have conflicted views on the stuff – the nostalgia of good times, idyllic sun, sea and sand on the one hand, regrettable quality, toilet cleaner aromas and splitting hangovers on the other.
Today's Greek wine industry has made huge strides in quality, with Santorini's Assrytiko, Naoussa's Xinomavro and Nemea's Aghiorghitiko taking their place amongst the world's finest wines. Travelling around Northern Greece, I was surprised to discover that Retsina hasn't been left behind. The good stuff doesn't come in half litre bottles, and even has a protected designation of origin (PDO). The PDO is unusual as it is based on tradition rather than geography – Retsina can be made anywhere in Greece or even in some neighbouring countries.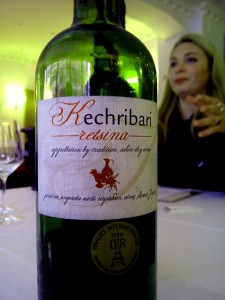 The Retsina Revolution has a lot to do with Stelios Kechris, who started modernising his family's estate in Thessaloniki in the mid-1980s. Kechris was determined to take Greece's most iconic wine, Retsina, and show that it could be a high quality beverage. Forty years later, his dream appears to have come true. The Kechris estate now makes two examples: The "basic" Kechribari is made from 100% Roditis, rather than the lower quality Savatiano that powers most taverna Retsinas. A fairly neutral tropical fruit palate is utterly lifted by the influence of the pine resin, lending it subtle cinnamon, pine and lime aromas. Charming, well balanced and zesty.
Tear of the Pine is the Kechris family's pitch to make a fine wine Retsina. Assyrtiko is fermented in oak, with some lees stirring but no malolactic fermentation. The pine influence here is much more sutble, adding a little extra tension and spice, and an appealing note of fresh rosemary. This is a gorgeously textured wine, full bodied and creamy, but not in any way over the top. Outstanding.
Winemaker Eleni Kechris told me that the quality of the pine resin is a significant factor. Aleppo pine is the norm these days, but there are many variants. Lumps of resin are added to the fermenting must for a few days, leaving an oily residue that must be filtered out after racking.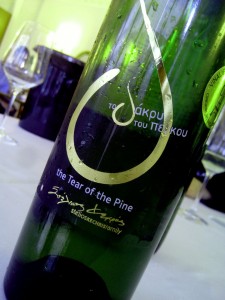 Peloponnese producer Tetramythos takes things a step further – Winemaker Panagiotis Papagiannoupoulos (try saying that after a couple of glasses) hand harvests pine resin in the forests surrounding the vineyard, and ferments the wine in clay amphoras – a nice nod to tradition, as sealing amphoras with resin was where the whole thing started 2000 years ago. Tetramythos's Retsina, like Kechris' is made from 100% Roditis. The interplay between the fresh, citrussy fruit and the herby notes from the pine is lovely. This isn't a wine you need to contemplate too hard, but I found it very moreish. The grapes are farmed organically and a minimal amount of sulfur is added, good for both body and soul.
Retsina is traditionally one of the cheapest wines on the planet, with sub-$3 prices per litre quite common. The wines I've mentioned here will cost a few dollars more, but still represent amazing value. They're versatile when it comes to food, suiting richer cheeses and grilled fish particularly well. They might not be the solution to Greece's debt crisis, but neither will they make it any worse.
Kechris "Tear of the pine" is available from Ball Square Fine Wines in Massachusetts for $20.99
Binnys can ship Tetramythos Retsina to some US states. The wine is available for the bargain price of $9.99
Retsina PDO wines may not list a vintage on the bottle, however all wines reviewed in this article were from the 2014 vintage.