Peter Mondavi of Charles Krug Winery, a luminary of Napa Valley Wine, passed away recently. Palate Press remembers his legacy by revisiting this interview with columnist Michelle Locke from 2015, back when he was only 100. 
Peter Mondavi. Sr. is holding a cork from a 1966 bottle of Charles Krug Cabernet Sauvignon, rolling the blackened cylinder in fingers seamed with age and work.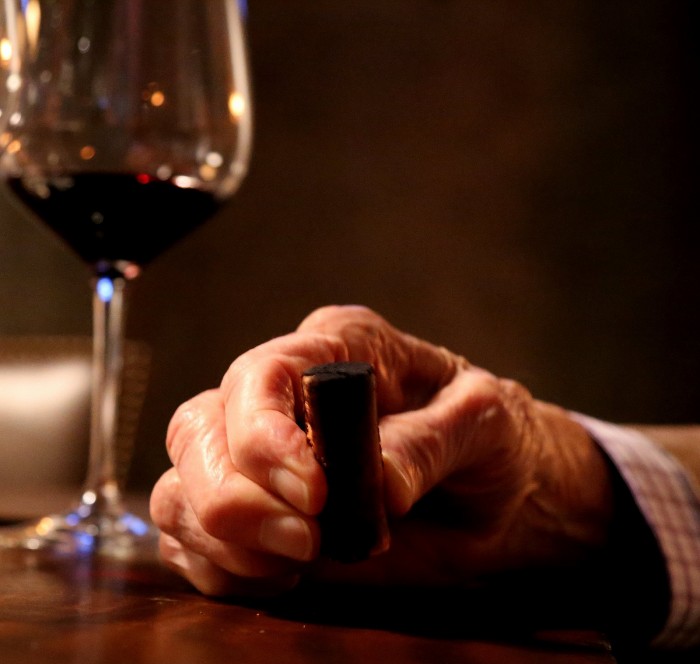 He was 52 when he made this wine and it's held up well, still a rich garnet, savory with hints of dark red fruit and a mellow finish. Mondavi's aged quite well himself, still showing up for work and taking a keen interest in the family business. It's a cliché to ask centenarians what's their secret. But I ask it anyway.
"I love the wine business and I think that's the important thing. My whole life – except 3-1/2 years in the Service – I spent my whole life in the wine business. And I still go in the office every day. That's my love for the business."
When he says his whole life, he's not exaggerating. Mondavi got his start in the business as a kid in the Depression, packing boxes for his father Cesare's grape-shipping business in California's Lodi region. He grew up, went to Stanford and toyed with the idea of becoming an aeronautical engineer. But it was always the wine business that beckoned. He studied economics and business administration at Stanford and winemaking at UC Berkeley before World War II interrupted, sending him overseas.
After the war, Peter joined big brother Robert at the Charles Krug Winery, which Cesare had purchased in 1943. Peter Mondavi was eager to test out his college research on the effects of cold fermentation on white and rosé wines, an innovation in California wine, and the winery also championed aging wine in French oak barrels. Of course, it took a while to get used to the steep price tag – $35 a barrel.
"Thirty-five dollars!" he says with a laugh. "Now it's $1,000, $2,000, who knows what!"
After their father died, the brothers ran the winery together. But they couldn't get on and quarreled bitterly. They would eventually reconcile, but at the time the split was acrimonious and thorough. Peter was in charge at Charles Krug. Robert started his own Robert Mondavi Winery.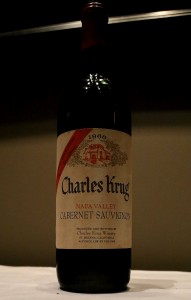 That was in 1966, the year of the wine that's in our glasses on this rainy Napa Valley afternoon. Aged 29 months (!) in barrels, the '66 wine was the product of a cool, wet growing season and rings up at 12 percent ABV, well below today's norms. You get the feeling Mondavi's not totally thrilled with that trend. "OK, I'm going to ask you a question," he says. "What do you think about these wines over 14 percent?"
I reply that I like quite a few of them, including Charles Krug's own Family Reserve Generations Bordeaux-style blend that came in at 15.1 percent for the 2012 vintage and is dark and fruity with a dusting of mocha and a lingering finish.
"They're wonderful drinking," he says, "but the trouble is this: If it's 15 percent, 15.5, and you want a second glass – better be careful. If you drink too much of it… Gee, you kind of lose a real appreciation of it."
Duly noted.
Charles Krug has continued to innovate, buying hillside vineyards and investing millions to replant about half of their 850 acres of vineyards in the Napa Valley. The winemaker is a woman, Stacy Clark, and the fact that that's nothing unusual is another indicator of how times have changed during Mondavi's career. Having women in charge of winemaking was something that was "never even thought of," when he was starting out. "They slowly proved that women winemakers are very good," he says.
The winery, founded in 1861 by German immigrant Charles Krug, has undergone major renovations and now has a warm and welcoming tasting room with glass walls looking into the barrel storage area. Day-to-day operations at Charles Krug are handled by Peter Mondavi, Jr. His older brother Marc runs the family's value line of CK Mondavi wines. (Luckily, the brothers get along just fine.) Meanwhile, Marc's four daughters are all interested in the business, much to their grandfather's delight.
Mondavi Sr. had some health problems about a year ago, but is back on his feet. Typically, he's impatient with the recuperation process. "Dammit, if I hadn't had that problem, I'd really be bouncing around," he says. He may not be bouncing but he still manages the two flights of stairs to his office on a regular basis. If he could go back in time and select a vocation, he'd pick wine. "I have no desire to have any other profession," he says. "Anyway, here I am. I'm plugging away."