I still remember my first Sagrantino wine. It was a relatively rare Sagrantino di Montefalco Passito. And I found it to be a very tannic sweet red wine — hard to drink for someone who was used to the gentle silkiness of my native Recioto della Valpolicella. Fast forward a few decades to this winter, when I was invited to the annual the Sagrantino preview by the Montefalco Consorzio; this year they were previewing the 2014 vintage about to be released. I was curious to see if my memories of Sagrantino would still hold true. Spoiler alert: they didn't. But first, let me set the stage.
Montefalco is a small, beautiful medieval village, with a historic heart protected by mighty walls interrupted by only four gates. On top of the hill, one of its panoramic points is called "the balcony of Umbria"; the view here embraces the entire valley that stretches for miles, from Perugia to Spoleto. It is a green and undulating landscape of rolling hills dominated by expanses of olive trees and vineyards. The village of Montefalco is a small jewel, rich in art (a visit to the Museum complex of St. Francis is a must), monumental churches and mansions — but also many lively wine bars, wine shops and restaurants featuring delectable dishes of the area.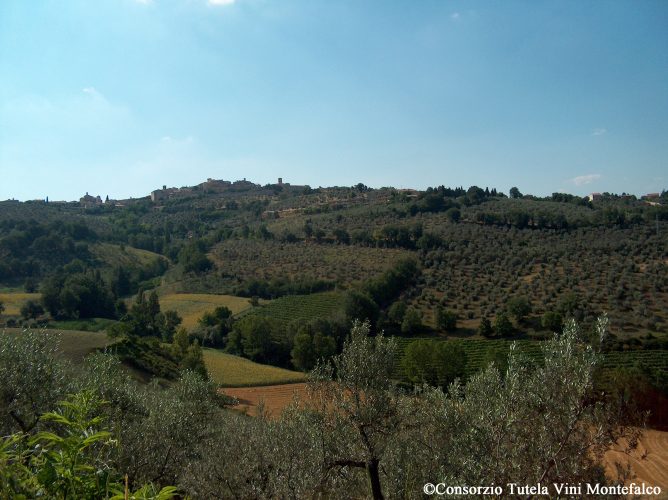 Here you can breathe all the beauty and passion of a land that is translated into wine with a strong personality and eons of history. Sagrantino is the bright mainstay, although we still don't know much about the origin of this grape. According to some theorists, the Sagrantino grape was introduced to Umbria from Greece during the Middle Ages by Byzantine monks. Others claim that it comes from Asia Minor, brought to Italy by the Franciscans. The only thing unquestionable seems to be its link with the Church. The name of the grape variety "Sagrantino" may derive from the word "sacro" or sacristy, referring to a ritual context such as wine for the Mass celebrated in the Catholic Church, which would have been the way this wine was used in the past.
Beyond the debate about its origins, there is no doubt Sagrantino thrives in Montefalco, here in the heart of Umbria; this is the territory of choice for this vine. And, historically, for notable viticulture in general. The Romans grew grapes here and their famed chronicler Pliny the Elder mentions in one of his writings a particularly valuable grape, called Itriola, which was produced here, in what were then called the Bevagna and Piceno districts.
Despite the fact that viticulture has been practiced here ever since, documentation is rare. It is only as late as 1549 that the "Sagrantina" grape is mentioned in an official document, in an order for grape must by a certain William, a Jewish merchant from Trevi.
Later, when the Umbria Wine Festival was first held in 1925, the town of Montefalco was recognized for its leading role in the cultivation of specialized vineyards, due to an average annual production of 65 quintals of grapes per hectare.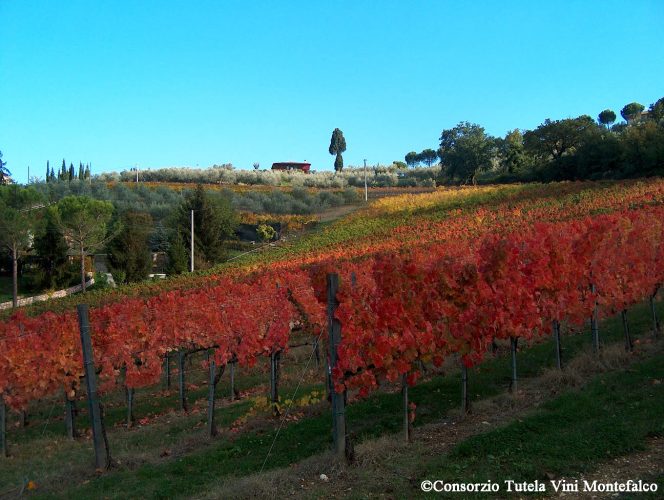 Quite curiously, until then Sagrantino had had always been produced only in a sweet version. But in the following years, with the changes in people's tastes in wine, this type of wine encountered increasing difficulties in the market. According to local tradition, Sagrantino was the traditional wine for the Easter meal, the sweeter style pairing well with roast lamb.
The first attempts to commercially produce a dry wine date back to the early 1970s. The process was successful, and in 1979 the "new" dry Sagrantino gained DOC (denomination of controlled origin) status, and later reached the highest (guaranteed) status, DOCG, in 1992.
Nowadays, there are 1,828 acres of vineyards cultivated with this grape. The Montefalco region, though, which covers about 1,062,055 acres, is not limited only to Sagrantino. It also includes DOCs Montefalco Rosso and Montefalco Bianco (the two most common) as well as Montefalco Rosso Riserva and the newly created Montefalco Grechetto.
Montefalco Rosso DOC wines are made with a blend of red grapes: mainly Sangiovese with some Sagrantino and small amounts of other authorized red grapes. Montefalco Bianco DOC is made with 50% Trebbiano Spoletino, blended with Grechetto and other authorized white grapes. In 2017, almost 2 million bottles of Montefalco DOC (red and white) were produced, and less than 1 million of Sagrantino di Montefalco DOCG. As with most high quality Italian wines, even those of Montefalco are widely exported and end up on the tables of consumers from over 30 different countries — in particular, the USA, Germany, China, Switzerland, and they are soon to arrive in Singapore, Puerto Rico and Korea. Strangely, in the rest of Italy, Sagrantino di Montefalco is treated almost like a "foreign" wine: mainly available in high-end restaurants and shops. Only about 30% of Sagrantino is consumed in Italy.
After all that history, I hope you're now curious enough to find out what this wine tastes like. Well, the Sagrantino preview allowed me to taste many wines of the 2014 vintage – both barrel samples and bottled – and my takeway was that none of them were hard to drink any more. Yes, the Sagrantino grape remains the most tannic variety found in Italy, but over the years the producers have learned how to handle it, so nowadays the wines are much more approachable, more well-balanced and interesting than in the past. So, if you are planning to try some Sagrantino – maybe with a plate of red meat or some cold cuts – here there are my recommendations (wines from different vintages):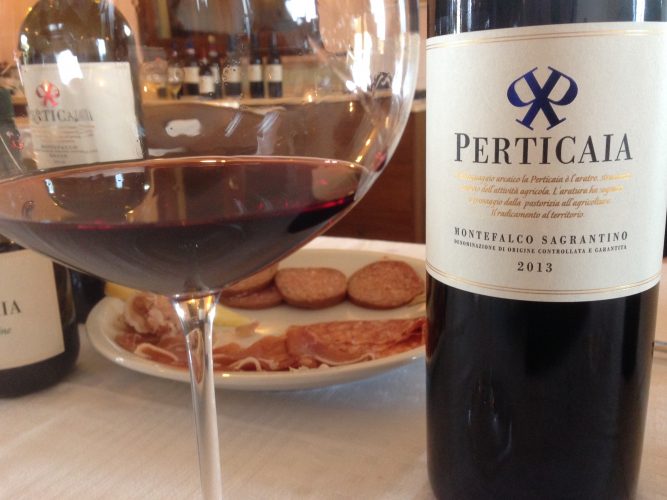 2014 F.lli Pardi "Sacrantino" Sagrantino di Montefalco DOCG: this wine has an amazing bouquet of flavors of balsamic herbs, quinine, gentian, rhubarb. On the palate it is starkly firm, but the wine is well balanced and very clean.
2013 Perticaia Sagrantino di Montefalco DOCG: this Sagrantino has floral flavors, with scents of dry hay. The vintage was very tricky to handle, but the outcome is nice: it's drinkable, with tannins that remain lively but well incorporated.
2004 Scacciadiavoli Sagrantino di Montefalco DOCG: although some wines can be very pleasant in their youth, wines like Sagrantino often need plenty time to give their best, so if you stumble upon an old vintage don't let it get away. This 2004 by the Scacciadiavoli winery has very dark aromas, with flavors of plums, licorice, ink, quinine. Despite its age, on the palate it is vibrant, fresh, very drinkable and interesting and with a lively acidity: perfect for a juicy steak.