'Tis the season for Oscar parties. If you really want to impress your friends during this Sunday's festivities, don your tux or gown, get behind the bar, and whip up some of these cocktails inspired by some of the nominees.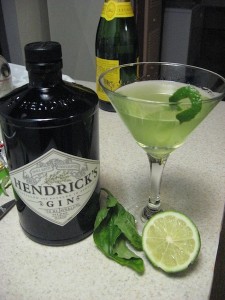 The George Clooney
3 oz. Hendrick's gin
Juice of ½ lime
Fresh basil
Muddle the basil in a shaker. Add ice and gin and juice the lime. Stir, strain, and serve up into a cold martini glass. Garnish with a twist of lime and/or a basil flower.
George Clooney is the epitome of A-list. He's got class and style, but he's down to earth, too. He's the guy who bought his friends a dozen motorcycles just so they could ride together. He'd invite you to his posh Italian villa just so you could have a drink on the porch and watch the sunset. That's the inspiration for this spin on the gimlet. Hendrick's is a very classy gin, infused with rose and cucumber in addition to the traditional juniper. The basil blends with the cucumber and also reminds one of enjoying a cool drink with a fresh Caprese while relaxing at said Italian villa. If this cocktail is any measure, this could be Clooney's year for the Best Actor nod.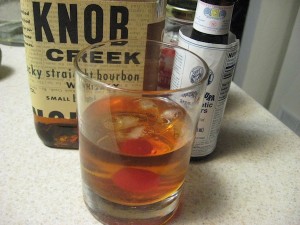 The Brad Pitt
3 oz. bourbon (I used Knob Creek)
2 oz. cherry brandy (or kirschwasser)
dash of Angostura bitters
splash of maraschino cherry juice, to taste
Stir and serve on the rocks garnished with a cherry.
Brad Pitt, in contrast to his cool-as-a-cucumber Ocean's 11 co-star, has a bit of a wild side. His characters often have a mischievous and slightly psychotic streak about them from Inglourious Basterds's Lt. Aldo Raine to Fight Club's Tyler Durden. A strong bourbon like Knob Creek will give you a kick, with smooth cherry influences to keep it in check. In any case, this spin on a Manhattan will make you at least feel like the Sexiest Man Alive.
The Jean Dujardin
¾ flute of champagne (or other sparkling wine)
½ measure St. Germain elderflower liqueur
½ measure Chambord black raspberry liqueur
Mix gently in order, adding the Chambord slowly to create a colorful gradient in the glass.
This French actor was more or less unknown in the States until his breakout role in the silent film, The Artist. As such, his cocktail is stereotypically French, with a twist. For this incarnation, I used an $11 sparkler from the Côte d'Or. If you're going to make it into a cocktail, please don't use the good stuff.
The Melissa McCarthy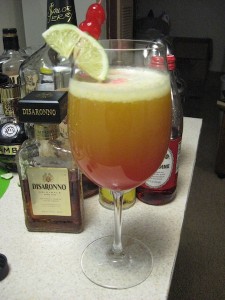 6 oz. pineapple juice
3 oz. dark (or spiced) rum (I used Sailor Jerry)
1 ½ oz. amaretto
Top off with orange juice
Grenadine sunrise
Shake with ice, serve in a large wine glass and slowly add grenadine to produce the sunrise effect.
The show-stealer from Bridesmaids deserves a show-stealing cocktail. It's a mix between a Bocce ball and a rum sunrise and is just as loud and proud as the actress herself. Bring your sweet tooth!
The Meryl Streep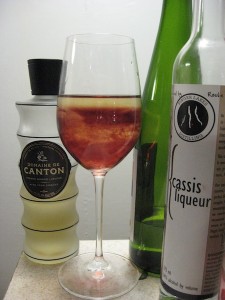 ½ glass Riesling (preferably from New York)
1 ½ oz. cassis liqueur (I used the cassis liqueur from Finger Lakes Distilling in upstate NY)
½ oz. Domaine de Canton ginger liqueur
Mix and serve in a white wine glass.
She's an American original and so is this cocktail. And before I get any flak about using wine for cocktails, just shut up and try it. It needs a cool-climate Riesling: one that still has its characteristic lively acidity. Take care not to drown out the aromatic white wine with the liqueurs. They should complement the gingery and flowery notes of the Riesling, not overwhelm. It's this complicated mix of sugar and spice, strength and subtlety that keeps Ms. Streep showing up nominated on the red carpet again and again.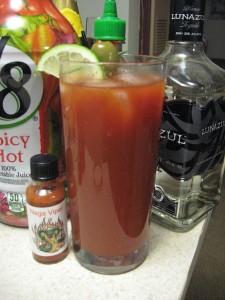 The Rooney Mara
3 oz. tequila (I used Lunazul silver)
a generous dose of hot sauce (I used Sriracha and Naga Viper) to taste
juice of one lime
Fill with tomato juice (I used V8 Spicy Hot)
Shake and serve in a Collins glass, garnishing with an olive.
The Girl with the Dragon Tattoo has intrigue, suspense, and ass-kicking/name-taking. I guarantee that this cocktail will provide at least one of the three. If the tequila doesn't get you, then the Naga Viper (or Sriracha if you're a total wuss), like the film, will surely leave you breathless. Perhaps best saved for the Monday morning after the Oscar party…
---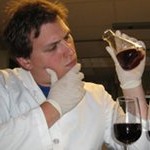 Tom Mansell is the Science Editor here at Palate Press and a member of the Editorial Board. He has a PhD in chemical engineering from Cornell University, where he also learned to love the wines of the Finger Lakes. He is also the Science Editor for The New York Cork Report. Tom is currently living in Boulder, CO, where he is a researcher at the University of Colorado. Follow him on Twitter @mrmansell.