April, 1320 A.D.: A small group of knights was riding in the countryside of Valpolicella (near Verona) with their prince Federico della Scala, one of the Lords of Verona. They were heading to the top of a hill, were once an ancient castle stood, and now there was a small church dedicated to Saint Mary. Here Federico proceeded to the investiture of the first knights of the most important wine of his time: the Recioto. The Sovereign Order of the Ancient and Most Noble Recioto was born; it was an honor created to reward the most virtuous noble people in the name of the most valued product of the country .
A few centuries later, in April 1979, this ancient order was revived by a number of winelovers: among them was Angelo Betti, "inventor" of the annual mega wine expo Vinitaly, a man who traveled in the highest circles of wine.  Since then, every year several prominent men and women — entrepreneurs, wine producers, artists, etc. — are awarded the title of "Knight of Recioto della Valpolicella," a tribute to historical significance and the prestige of this noble wine.
Despite this, the wine (which is sweet and red) is currently not as successful as it should be in the worldwide market.  The truth is it's very difficult to produce a good Recioto della Valpolicella, because there are very few harvests of high enough quality — even fewer than those for producing the rare, great Amarones. And selling Recioto in foreign countries that are unfamiliar with the wine is a challenge that more and more producers don't want to face. They say that Amarone della Valpolicella and Valpolicella Ripasso are much more easier to show and to match with food, so why complicate your life?
But if you consider yourself a real wine lover, you cannot ignore Recioto della Valpolicella. It is not simply a "sweet wine;" it's a sensorial experience, an emotion that originated in ancient times in Valpolicella. In the past Recioto was a highly sought-after wine. In the beginning of the fourth century, for example, the Roman statesman and writer Flavius Magnus Aurelius Cassiodorus Senator, who served Theoderic the Great, king of the Ostrogoths, wrote a very famous letter to the Venetian government, asking them to provide for the table of his king a particular, very special wine: the Acinaticum, the ancestor of current Recioto (please, be patient with my humble translation from ancient Italian):
"…. Acinatico is [the name of] the wine, and from the acino [grape berry] takes its name…This is pure, singular in flavor and so regal in color that you would believe that the purple [royal fabric] took origin from it, or the purple itself expressed its liquor. You can feel in it an amazing sweetness, and its density is supported by I do not know what firmness, and it's so round that you would say it's a meaty liquid, or a beverage to be eaten…"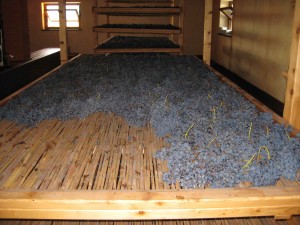 Being a sweet wine, the Recioto's fermentation is stopped when the producer decides that the right balance between sweetness, acidity, tannins and alcohol has been achieved. If the fermentation goes on, and all the sugar in the grapes is turned into alcohol, you get an "escaped" Recioto (escaped from the control of the cellarmaster!) — a sort of Amarone, maybe too smooth, with a little bit of residual sugar.
Due to this (and other technical difficulties) and to the generally small demand for sweet wines in the world, many wineries in Valpolicella have stopped producing Recioto. As a consumer, I think this is a serious mistake, because a wine like Recioto della Valpolicella could be an amazing key to open the wine world to a neophyte: who doesn't love sweet stuff?  If millions of people accompany their meals with Coca Cola, do you think that they cannot appreciate a chilled glass of Recioto della Valpolicella? Anyway, for the Holiday Season, here a few suggestions for enjoying the (rare) Recioto della Valpolicella available in the US market:
2004 Corteforte "Amandorlato" Recioto della Valpolicella Classico DOCG, $47.99 (375 ml). This is a particularly rare type of Recioto, not too sweet: I would recommend it as an aperitif. This would be a glass of "welcome to my home" for your guests.
2008 Ca' Rugate "L'Eremita" Recioto della Valpolicella DOCG, $35.99 (500 ml). A very sumptuous wine, rich with floral and fruity flavors, complex and long in the finish; it deserves an "important" meat, like a roast with cranberry sauce.
2010 Tommasi "Vigneto Fiorato" Recioto della Valpolicella Classico DOCG, $22.87 (375ml). Fine ruby color in the glass, with aromas of cherries and plums. In the mouth this wine is round and correctly sweet. The classic pairing is with a butter pastry like the Italian pastafrolla (shortbread), but I believe you will also enjoy it with a casual meal of cold cuts.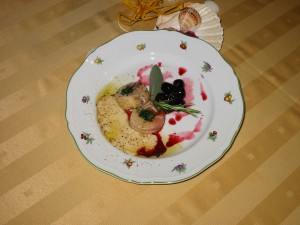 I know, wines like these are very expensive. But they are worth the money. And if in 2014 you are planning a journey to the Valpolicella region of Italy, to find the best Recioto della Valpolicella there is only one golden rule: visit only producers who love to drink sweet wines!