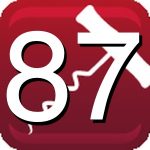 The nose is fresh-sliced strawberries floating in strawberry soda. Strawberry and watermelon move toward maraschino cherry from attack to mid-palate. Touches of vanilla and sweet cherry are kept in check by dry leafy herbs. There is a little RS, but this is no 1977s white Zin. This is a joyful, happy, quality table wine. Drink with a good hot dog, the more spicy chili and onions the better. Recommended. 87 points.
WHO: Trinitas Cellars
WHAT: Zinfandel (40%), Carignane (40%), Cabernet Sauvignon (15%), Merlot (5%)
WHERE: California, Mendocino
WHEN: 2011
HOW MUCH: $20
Trinitas is offering Palate Press readers a 10% discount on all their wines. Shop Trinitas Cellars and use promotion code "PalatePress" to get the discount.