Over the years of being a little piece of this planet's fauna I've worked out a few dislikes. Let us be honest here. Parsnips are the work of the devil, as are mushy peas. Bill Nighy, Gordon Brown and Nick Griffin are certainly not on my Christmas card list and I really don't care if I never hear a Beatles tune ever again. Prog Rock is pretentious rubbish and I can't abide reality television and bananas.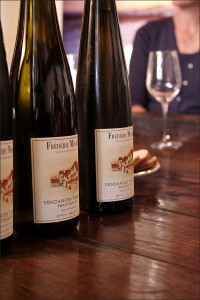 I also don't like Riesling.
If truth be told, I drink because I like alcohol! Why on earth would I buy a Mosel Riesling that holds 10%, 8% or, shudder, just 7.5% alcohol? That's not wine, it is little more than poncy grape juice. Add some spritz, a mineral edge "from the terrior" and you've got German Riesling.
I fail to understand why this grape variety is deemed the epitome of wine. When the late lamented Wine Magazine gave Dr Loosen 2007 Bernkasteler Badstrube Riesling Kabinett (£11.99 Majestic in the UK) the honour of multiple awards and badges (including White Wine Maker of the Year 2005 in the International Wine Challenge), what were those judges on?
Some old fart once wrote about loving a couple of glasses of aged Riesling in his garden on a springtime morning. Which is even worse than the fresh citrusness of a young wine; if I wanted kerosene I'd nip down at the petrol station, thank you very much. And what's with the morning drinking thing? Mornings are for nursing the hangover or cracking open some bubbly for goodness sake!
I marginally prefer the fuller style of Alsace Rieslings. Weightier, drier, more textural in a food-friendly way than those Rieslings from across the Rhine, with some producers actually producing something drinkable. Don't let on, but Rieslings from the likes of Domaine Frédéric Mochel (such as their Riesling Grand Cru Cuvée Henriette 2004) and Domaine Pfister (look out for Pfister's Grand Cru Silberberg Riesling 2007) are not bad at all.
Being a firm proponent of blends over single varietals, especially for red wines, goes for white wines too. If I could afford them (they retail for around £50 in the UK), then the mixed blends in the distinctive and marvellously labeled wines from Marcel Deiss would be just about acceptable .
If I'm absolutely being forced to drink Riesling then I'd plump for a Howard Park every time. Yes, when first released their Riesling has that spritz and sherbet-edged flavours but adding the tropical fruit and New World structure at least marks it out as something of quality.
What this Riesling-hatred boils down to is the weight of the wines. If its light and crisp then I'm not a fan. A little sweetness is fine in a Pinot Gris is fine but not in a flinty Riesling, thank you. If it also tastes of something akin to petrol, then that too puts it firmly on the dislike list—much like the American word "gotten" which I detest and those idiots who chat over the spittoon at wine tastings.
In addition to not giving a fig about German Riesling vineyards being grubbed up for a nice, new, modern bridge I also don't like Merlot.
–Andrew Barrow  is the author of Spittoon, one of the top wine sites on the internet. A member of the prestigious UK based Circle of Wine Writers and WSET Diploma holder it would appear that total immersion in the online world of wine (with a sideline in food)  is just a step away.