A decade ago, New Zealand's Central Otago region seemed like the next place for a wine boom. In the 1970s, there were no wineries. There were only six in 1990, but five years ago, there were more than 50.
But the boom has stopped, and reality is setting in. The region consistently makes very good Pinot Noirs; you can count on a nice fruit-driven wine with plenty of freshness for $40-$50. The problem is, how big is the international market for those?
You don't read about the economics of wine very often because it's not romantic. You expect to read about how beautiful Central Otago is, like a Western movie in some places, Lord of the Rings in others.
You expect to read about Central Otago's UV light, highest of any winegrowing region, a product of how far south it is, under the ozone hole. Clouds are a saving grace for photography; all the most beautiful shots of the region are taken when it's overcast. When the skies are clear, which isn't all that often (this is Pinot country), the light is wince-inducing, and probably makes the grapes thicker-skinned.
You expect to read how the chilly nights preserve the grapes' acidity; how Central Otago manages to get the bright berry flavors you might expect from California with the freshness you expect from Burgundy.
Pinot Blues
Or you might expect to read about the human element. I played actor Sam Neill's record albums. He wasn't there, but we had dinner in his apartment at his Two Paddocks winery, and I wrested control of the turntable. Sam's got a nice collection of blues on actual LPs, many bought used with the purchase price stickers still on them. The blues felt appropriate after some of the local stories I heard.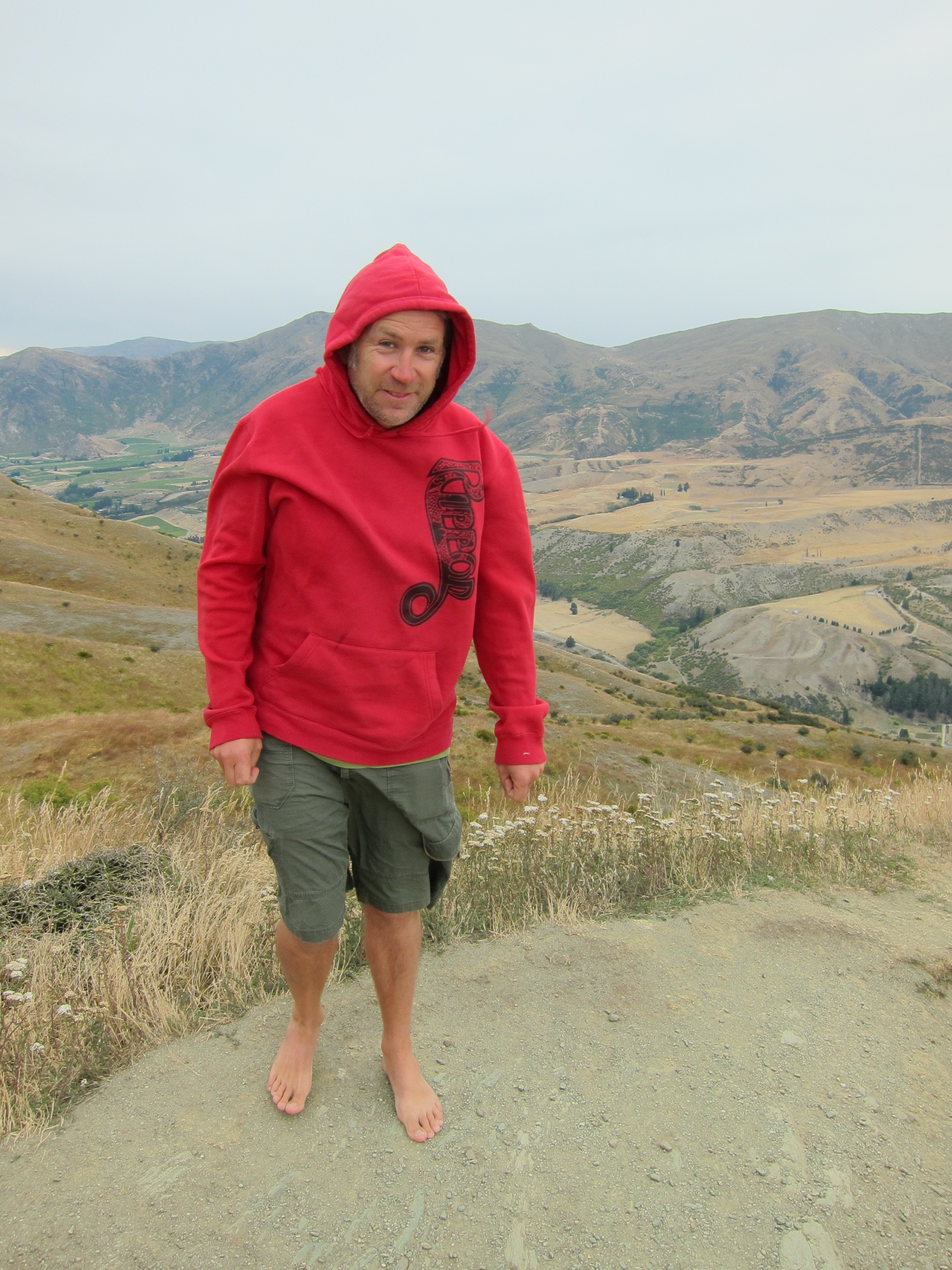 The first vintner I met was Nick Mills, a purist who makes wines dictated as much as possible by the land, climate and vintage at Rippon, which might be the single most beautiful vineyard site on this Earth. It would be easy to leave out the money and write a standard wine article just about him and his wines.
Mills' father Rolf singlehandedly put Central Otago on the wine map, selling off parcels of his great grandfather's farm to finance his experiments with vinifera vines in the 1970s, when nobody nearby was growing them. Neighbors farmed sheep and grew cherries. Everyone thought Central Otago was too cold and too remote for viticulture. There was no infrastructure, and no market for the wines either. But Rolf was a wine lover who had inherited a huge tract of farmland, and he thought vinifera was its highest and best use. So he soldiered on, planting a little of everything, trying and usually failing (in the early experiments) to make great or even good wine. This is the atmosphere Nick Mills grew up in, in a rammed-earth house on the property.
Nick Mills was a mogul skiier and a good one; he was New Zealand's champion in mogul freestyle, but just before the 1998 Olympics, he blew out his knee. "That altered my path," he says. Grieving over his lost career, he went to France and drifted to Burgundy, where he ended up spending four years. During that time his father Rolf died and Rolf's beloved winery — which by the mid-'90s had become one of New Zealand's best and most distinctive — also drifted, with a caretaker winemaker giving up on organic viticulture, and manipulating the acid levels of the wines.
Nick came home in 2003. I cannot imagine what that drive was like, but I can tell you what it was like for me, when he picked me up in Queenstown.
He was barefoot on a chilly day; I thought he was part hobbit, but he had the gravity of an elf departing Middle Earth. On the way to Rippon, we drove through a little town with an international hotel, a main street, a school, etc. His father had sold off all the land — an entire town's worth — to finance his wine business.
"We were always selling in desperation," Nick Mills said. "Land was always sold at bottom dollar."
We arrived at the vineyard and he cleaned my shoes, even though I hadn't worn them in another vineyard for at least six months. Rippon doesn't have phylloxera yet, but Central Otago does. And Mills believes his own-rooted vines tell a different story through their wine than vines grafted onto rootstock.
"The truth of the vine is all in the genetic material that would go to the next generation, so it would know how to survive in the environment," Mills says. "Sugars, fruit flavors, all of that, are to attract birds. They're the key to the individual grapes, but not to the terroir. For me, terroir is expressed in texture and feel and form, not fruit flavors and all that stuff. The great wines, the great terroirs are all distinguished by texture."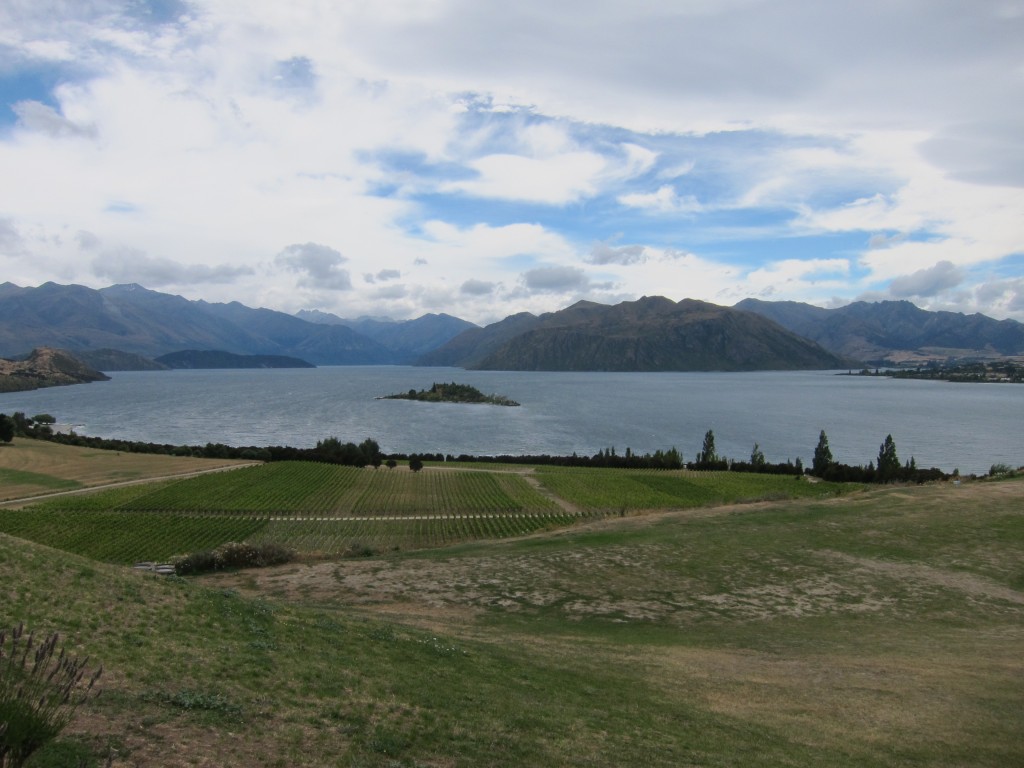 Mills says the reasons his wines are delicious are the same reasons the winery is so beautiful. Lake Wanaka, in the background, provides a moderating influence on temperature. The surrounding mountains provide the right amount of rain shadow; the gently sloping hills prevent water from accumulating. It's a beautiful place to live and work; you can see the pull it would have on you, even halfway around the world.
Shortly after he returned from France, Nick Mills found his mother crying at her desk. "She said two weeks orders paid at the same time. 'We're in the black for the first time,' she said. 'Your father never saw it.' " The profitability lasted exactly one day.
Rippon still makes some of the best and best-regarded wines in Central Otago, and it still isn't profitable. It's not because the wines are underpriced. Rippon Tinker's Field Pinot Noir 2010 is terrific, with precise mouthfeel that feels like the schist on which it was grown. It's $117 in the U.S., making it more expensive than almost any U.S. Pinot Noir. Maybe it's a fair price, but it's not a price Americans are willing to pay.
Stories about the money can be blunt in a way that stories about terroir cannot. Here's an ugly truth.
What's the best deal?
Rudi Bauer, the first professional winemaker in Central Otago in the early '90s, took Rippon to its high level before leaving to found his own winery nearby, Quartz Reef. He knows Central Otago Pinot Noir as well as anyone in the world.
And he says, "I think Oregon's best Pinots are still better than New Zealand's best Pinots. Theirs have more depth, more dark keys, more lows on the palate. Ours are more transparent. If you look at the perception of people in the U.S., if you have an Oregon Pinot for $35 or a Central Otago Pinot for $35, people will buy the Oregon Pinot."
Yet at that price level, U.S. customers are often wrong. For $35, it's hard to beat a Central Otago Pinot Noir. They're consistently fresh, with great food-friendly acidity and good berry fruit. They're delightful.
It's the climb from very good to great — emotionally moving, complex, almost defying description, the heights the best Burgundy and U.S. West Coast Pinots can reach — that is so hard for Central Otago's wineries to make.
And that's a hard distinction for consumers to understand. People often ask me, "What's your favorite wine?" They never ask a more relevant question, "What's your favorite wine if I'm going to spend between $30 and $40?"
"In any blind tasting in the world, Central Otago will have the highest average, because of consistency," Bauer says, mirroring my own impression after tasting dozens of them. "To bring in the elusiveness, we're not there yet."
Mills did a 20-year vertical tasting last year of Rippon Pinots in San Francisco, and moved nobody; he's down on the California market now. "You beat your head against the wall for so long," he said.
You could say, who cares about the U.S. market? But the answer is, pretty much everybody. New Zealand needs to export its wines because the entire population of the country is 4.4 million, about the population of Kentucky. And like Kentucky, New Zealand is not a land of wine drinkers. It's arguably an even more export-driven wine industry than neighboring Australia.
Luckily, Americans love New Zealand wine. Sales grew by nearly 15 percent last year, according to Nielsen, and Americans pay a higher average price for New Zealand wine than for any other country but France.
That average price: $11.06. You can get a nice bottle of corporate-owned, industrially farmed, large-cropped, machine-harvested Sauvignon Blanc for $11.06. You're not getting a small-cropped, hand-harvested Pinot Noir.
This doesn't mean it's impossible to make money in Central Otago Pinot Noir. Peregrine manages to do it, says sales and marketing head Simon Swa. Peregrine makes 30,000 cases a year. It blends all of its Pinot Noirs rather than issuing pricey single-vineyard bottlings. It has a chic tasting room close to the vacation capital of Queenstown. Rather than try to sell its wine all over the world to boost international prestige, or all over Asia as many New Zealand wineries do, Peregrine concentrates on Australia, New Zealand and the U.S.
And its wines sell for just under $35 in the U.S. The wines are great value for that. Peregrine Central Otago Pinot Noir 2011 has nice structure, with a clean, restrained feel. It's graceful, not fruit-driven but with enough raspberry notes to satisfy. It's a very good wine, as good a Pinot Noir as you can expect for $35. Peregrine has embraced very-goodness.
"We're never going to take the U.S. by storm," says Peregrine winemaker Nadine Cross. "But we are profitable at the size that we are."
Maybe Central Otago should never have had a wine boom. If you're Sam Neill, you can afford to run a delightful biodynamic property because you want to live there. Central Otago is like that. It's a marvelous place. It had a major gold rush in 1861 that introduced it to the world, and there's still a working gold mine there. Literally. Not in Pinot Noir.