When wine drinkers think of Portugal, it's usually Port or cork. Touriga Nacional and Roupeiro don't roll off the tongue like Merlot or Chardonnay. But the coastal European country is riding a surge of attention for its previously dismissed table wines.
The sweet fortified wines and bottle stoppers may be the country's claim to fame but over the past few years the 200 varietals and 13 growing regions are making a name for themselves. And, the wines are turning up in bigger quantities in wine shops across the United States.
Wine exports have exploded to France and the United Kingdom while nearly doubling in dollar value from 1995-2005 in the United States.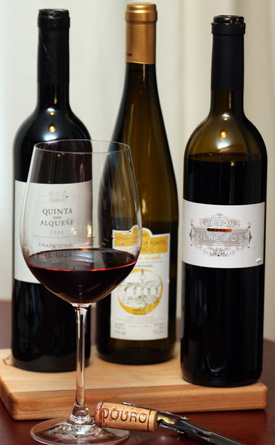 "The architecture, art, food, light, scenery is exquisite," says Indianapolis-based wine writer, television veteran and retail wine shop owner Jill Ditmire, recalling a 2007 visit.  "We spent several days in the Douro Valley tasting wines from small family-owned operations. The red wines were blends of the grapes used to make Port but the 21st-century-thinking winemakers are using them to make individual and blended bottles."
Douro, in northern Portugal, is the country's premium wine region. It is a beautiful part of the country with steeply terraced vineyards of mostly Touriga Nacional and Tinta Roriz. Touriga Nacional is used to make the Port wines. But recently more effort has gone into producing table wines of big flavor and tremendous value.
"Big, bold, rich, lush with lots of black cherry, black berry, black pepper notes plus some minerality—which seems strange until you see the soil," Ditmire notes. "It's like slate, finely ground.  Portugal is experiencing old world winemaking kicked into gear by the new generation."
The native grapes produce inky-colored wines with dark berry characteristics. Most tend to be big flavored wines with some spice or earthy notes.  A good value wine from the region is Barco Negro 2005 Douro red , a blend of  Tinta Roriz, Touriga Franca, and Touriga Nacional, found at $12- $15.
The Dao region is just south of Douro. The wines are dry and tannic. That's exactly what you'll get from Grillos 2007 Vinho Tinto with 75 percent Touriga Nacional. The floral characteristics really jump out of the glass. The price is $11-$13.
A personal pick from the Portuguese wines was Quinta Do Alqueve 2006 Tradicional. It's a blend of Touriga Nacional, Tinta Roriz, Trincadeira and Castelao for $11. It comes from the Ribatejo region, in central Portugal.
The country's whites may be a little further along than its reds. The Vinho Verde region, in the northern coastal area, is known for its Alvarinho—or Albarino, if you prefer.
"I thought [Vinho Verde] just meant young, fresh wine made from Albarino grapes," says Ditmire, an AWS certified wine judge. "Vinho Verde is a region, and yes the white wines are young and fresh, but can be made from any white grape.  While sampling a sumptuous seafood lunch in Porto, I enjoyed three different styles of Vinho Verde. One was slightly effervescent; another steely, mineral, clean; and another had a sweet mid-palate uplift. All had similar flavors of citrus but so different and yet perfect with the seafood."
Tasting wine for wine writing is called "research." So, after lengthy research I can safely declare that the $10 Portuguese Vinho Verde is Casa de Vila Verde white wine a great choice. It's crisp, refreshing, great with seafood or by itself. Most of Portugal's whites are low in alcohol, this one was no different at 11 percent.
The red and white selections are exploding in wine shops everywhere. Easy to find at price points under $15, Portugal's bottlings deliver big flavors that surpass the "bang for the buck" value standard so many consumers are seeking.
Howard Hewitt is a former newspaper editor and now a College marketing guy. He writes a newspaper column about wine and blogs about value wine at Grape Sense – A Glass Half Full.