Some people go ga-ga shopping for shoes or handbags; others go gonzo for wine. The point is that shopping for something you love can and should be fun! With that in mind, Palate Press would like to shine some light on some of our favorite wine merchants. Below you will find a geographically and stylistically diverse array of places where shopping for wine is simply an excellent experience. The list is by no means exhaustive. Like many of our articles, think of it as a conversation starter. We'd love to hear where you like to shop and why.
– Edited by Elizabeth DeHoff
NORTHEAST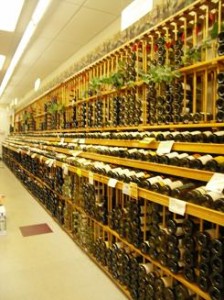 Busa Wine & Spirits
55 Bedford Street
Lexington, MA 02420
(781) 862-1400
Parked modestly in a 2-store shopping mall is one of the best wine palates I've encountered: Belinda Morgan, wine director of Busa Wines and Spirits, in Lexington, Mass. She remembers everything. I've been at trade tastings with her, and she can go through 40 wines in a row, sipping, analyzing and, most impressively, remembering each one. She has no agenda other than getting you what you want—for dinner, for a present or a party. Then, if you want to start exploring, she's right there with several more suggestions. She also knows her customers in this fairly affluent town: The wines are reasonably priced, always augmented by bargains as well as special-occasion selections. The three-store Busa chain also carries beer, spirits and cigars. – Becky Sue Epstein
Lebanon Co-op Food Store
12 Centerra Parkway
Lebanon, NH 03766
(603) 643-4889
Store Hours: Daily 7:00 a.m. – 9:00 p.m.
Don't be fooled by the "co-op" moniker; this is a $60 million a year enterprise and the go-to grocery spot for residents of the upper Connecticut River valley, home of ivy league Dartmouth College. Dan King, wine manager for the Lebanon location, has fashioned a department with remarkable depth and breadth. With particular expertise in French, Northwest Coastal, and California wines, his knowledge of Italy, Spain, and the antipodes is also unsurpassed. Always spot-on in his recommendations, he effortlessly offers wine pairings for any dish I can conjure. His wine store within a store is a local treasure, not to be missed. – Meg Houston Maker
Federal Wine + Spirits
29 State Street
Boston, MA 02109-2723
(617) 367-8605
Federal Wine in Boston has the incredible Len, the first to computerize all his tasting notes—not that he needs to, with that brain. This is an old-fashioned shop in the Financial District where you wend your way through to the cellar in search of great bargains, but also finding historic stocks of all the finest wines. They offer tastings, too. – Becky Sue Epstein
Lower Falls Wine Company
2366 Washington Street (Route 16)
Newton Lower Falls, MA 02462-1440
(617) 332-3000
Consistently, some of the best free wine tastings are held at Lower Falls Wine Co. You can taste unique and even expensive wines that you might not get a chance to try anywhere else. The store stocks an excellent selection of wines from all over the world and the staff is very knowledgeable. I rarely leave this store without buying a case of wine because I find so many interesting choices. – Richard Auffrey
Martignetti Liquors
Brighton store: 1650 Soldiers Field Road
Brighton, MA 02135
Phone: (617) 782-3700
North End store: 64 Cross Street
Boston MA 02113
(617) 227-4343
The Brighton (Boston) location is as big as several bowling alleys. It's known for wines, spirits and beer, with good pricing, different discounts every month, and a fine-wine department headed by George Bades. The North End location is fun for authentic Italian drinks of all kinds. – Becky Sue Epstein
Chambers Street Wines
148 Chambers Street
New York, NY 10007
(212) 227-1434
Just a few steps from the Chambers Street subway stop, Chambers Street Wines is the place to go to explore the wonders of older wines, particularly those from Germany and Italy. They do a lot of estate purchasing and always have a few great Bordeaux and Burgundy selections, but the real wonder comes when Jamie starts talking about his love of aged Rieslings or Barolos. The entire staff is knowledgeable and incredibly accommodating. If you are just visiting New York, do not hesitate to ask for a restaurant recommendation and the perfect bottle to take with you to dinner. – David Honig
324 East Ninth Street
New York, NY
(212) 505-7253
There are only three all-Sake stores in the U.S., and this shop, located in the East Village, is a must stop for sake lovers, or anyone interested in sake. They carry about 100 different sakes, shoju and plum wines. The owners, Rick and Hiroko, are very knowledgeable and personable. They have frequent free Sake tastings and can help you select a sake that will appeal to your palate. Whenever I visit NYC, I always stop here to load up on sake. – Richard Auffrey
Sherry-Lehmann
505 Park Avenue
New York, NY 10022
(212) 838-7500
Even on swish Park Avenue, you can find wines for every taste and budget. Sherry-Lehmann looks like a boutique and runs like one, too, with sales assistants who roam the store and order up wines for customers from their behind-the-scenes storerooms. But those sales assistants are there to help you, and their knowledge of the wine in the store is first-rate. Excellent selections of wine from the Loire, Beaujolais and Spain rub shoulders with more expensive offerings from Burgundy, Italy and Champagne. A varied selection and excellent service make this shop stand out. – Deb Harkness
Tinto Fino
85 First Avenue
New York, NY 10003
(212) 254-0850
Walking into this store is much like stumbling across a cozy wine bar in Spain, with big, comfortable sofas and the gentle beat of Miles Davis' "Sketches of Spain"—it's a rarity! But when you do find it, as we did with Tinto Fino, you want to shout it out to the world. Located in the East Village, Tinto Fino manages to pull off a modern yet intimate design and features approximately 250 Spanish wines, divided by region and priced affordably. If you're looking for a fresh bottle of Fino, a unique Cava or an interesting bottle from Somontano, this is the place to come. Moreover, as Tinto Fino is run by a dynamic team that travels across Spain annually looking for rare treasures, you can also follow their adventures on Twitter. – Gabriella Opaz
Frankly Wines
66 West Broadway
New York, NY 10007
(212) 346-9544
@franklywines on Twitter
Not yet 2 years old, Frankly Wines is the domain of Christy Frank, who worked for LVMH before opening up this matchbox-sized shop in Tribeca. The store leans a bit toward Southern Hemisphere wines, but Frank's greatest strength is good old-fashioned editing with an eye on value. She has jammed the store with bargains, even at higher price points. Lack of size is no problem here; there's still plenty to suit diverse tastes, tighter budgets and even the most jaded collector. She turned me on to a great Roger Perrin 2007 Côtes du Rhône 3-liter box for $39 that I milked for about four weeks. She has a knack for shaking some real deals out of the NYC woodwork (a Chateau Musar vertical comes to mind, and a 1985 Lafon-Rochet for $50). And she is always ready to suggest something just a little bit different, à la Bonarda from Argentina and Tannat from Uruguay. – W. R. Tish
Astor Wines & Spirits
De Vinne Press Building
399 Lafayette (at East 4th Street)
New York, NY 10003
(212) 674-7500
@astorwines on Twitter
Moving into its new location, two years ago, gave Astor Wines the opportunity to improve just about everything in its store, from the amenities to the layout and the general presentation of wines. The range of available wines is remarkably vast, with everything from the "Top 10 under $10" to bottles from smaller, more exotic wine regions: Aosta, Switzerland and Lebanon have their place alongside California, Tuscany and Long Island. The "cool room," meant to protect sensitive bottles, is a haven of natural wines and older vintages of prized crus, while a refrigerated section holds a vast selection of sakes. It may not be the warmest, most personal store, but it's hard to think you won't find what you're looking for, whether it's cheap Argentinian Malbec or a prized Barolo. – Rémy Charest
MID-ATLANTIC
The Winery
317 South Washington Street
Alexandria, VA 22314-3627
(703) 535-5765‎
Don't let the small size and lack of a Web site for The Winery fool you—inside you'll find a carefully picked out and thoughtful wine selection. The owner, Jane, is always in the shop and always greets you as you walk in the door, offering assistance. Jane's tastes lean toward mine—I often feel like I am walking into my own wine cellar! Her suggestions are always spot-on and she has a nice range of prices. The selections change routinely, and it seems like a lot of care goes into each and every bottle. – Sonadora
MIDWEST
Colonial Wine & Beverage
8389 Mayfield Road
Chesterland, OH 44026
(440) 729-7303
Bob Eppich and Patrick Kohn are two excellent wine buffs, and while Colonial Beverage might be a bit off the radar for many Cleveland natives, I highly recommend the scenic 15- to 20-minute drive from suburbia to visit this shop. An enormous selection greets you right at the door, but everything is very well organized and you can find wines from almost anywhere in the world rather quickly. As they mention on their site, they really do carry a wide range of bottles anywhere from $4 to $400. Offering great sales throughout the year, Colonial also hosts a number of public and private tastings that offer a great opportunity to taste a wide selection of wines at a reasonable price. – Ryan Reichert
Cork & Cracker
2126 East 62nd Street
Indianapolis, IN 46220
(317) 722-9463
Ashley Lockwood and husband Rob Ventura actually have two Northside Indianapolis stores. The second is at 4000 West 106th Street in Carmel. Ashley worked in wholesale and retail wine sales in Los Angeles and Chicago from 1998 to 2005. She is very knowledgeable and works hard with under-$15 inventory. She also has found some real gems below the $10 price point. She has one of the biggest selections of value wine in Indianapolis in a shop that's just 1,000 square feet. Her recommendations stretch to great New World wines to grapes new to many consumers. Their selection of wines extends beyond 400 labels. – Howard W. Hewitt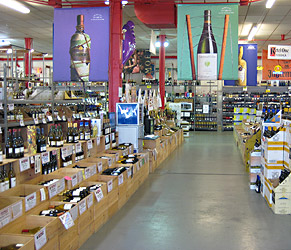 1910 South Jefferson Avenue
St. Louis, MO 63104
(314) 865-0199
10800 Lincoln Trail
Fairview Heights, IL 62208
(618) 394-9800
George Randall has some superb, well-aged French classics in his stores, but he also has a mammoth selection of spirits in a large, mostly undecorated warehouse-style building in South St. Louis. He offers regular tastings, lots of bargains, more shelf space than almost any other shop in the area, and experience in dealing with peculiarities of beverage commissions in two states. A fan of old cars, George has a 1955 Thunderbird as the resident artwork in the Missouri store, and he knows wine better than most. – Joe Pollack
The Wine Merchant
20 South Hanley Road
St. Louis, MO 63105
(314) 863-6282
12699 Olive Boulevard
St. Louis, MO 63141
(314) 469-4500
"Need cheese to complement that wine?" If the answer is yes, the first stop is at the Wine Merchant's main store, where the cheesemongering is magnificent. A young, enthusiastic, intelligent staff of wine geeks with excellent taste leads regular tastings and classes. Owner John Nash has visits from winemakers, importers and others with wine skill; he understands wine and budgets and is an expert at matching products so that pleasure on the palate is not overpowered by pain in the pocket. – Joe Pollack
Western Reserve Wines
28300 Miles Road
Solon, OH 44139
(440) 498-9463
Kathi Hays runs a small boutique wine shop just east of Cleveland, Ohio. With one of the best selections of French and Italian wines in northeast Ohio, Kathi also carries wine from many other popular new and old world locales. Kathi is delightful to work with and always has that special bottle to add to any tasting—the only place in Cleveland I can find a great bottle of Sekt. With excellent wine tastings every Saturday, you can sample a different selection every week for only $5. Also, as a regular bi-monthly feature, Kathi puts together a special selection called "10 under $10" that spotlights some really great bargains from her selection (now and then she'll change the numbers up, i.e. "12 under $12," but it's always a selection of lower-priced bottles). Western Reserve also uses an excellent customer database that tracks all your purchases, so you'll never forget that bottle you bought last Thanksgiving that helped everyone get through their obligatory helping of Aunt Mildred's giblet soufflé. – Ryan Reichert
Whole Foods at Cedar Center
13998 Cedar Road
Cleveland, OH 44118
(216) 371-5320
I wasn't "blessed" ("cursed" if you ask my bank account) by Whole Foods until two or three years ago, but I think most major metro areas have one. That said, the wine department at this location in the University Circle district has one of the best selections and staffs in Cleveland. Maggie Harrison is the wine specialist on staff and, while modest, she damn well knows her stuff. Always eager to talk wine with her customers, Maggie really makes everyone feel welcome and does a great job at turning down (and sometimes off) the snobbery you can get in wine shops now and then. With wines from every part of the world, I find many unique bottles here. This is my go-to place when picking up wine for myself, as a gift, or arranging a tasting. – Ryan Reichert
Wine and Cheese by TCC
24104 West Lockport Street
Plainfield, IL 60544
(815) 436-3499
This store was opened in 2004 by "Two Clueless Chicks"—Beth McNichol and Anna Denys, a couple of commercial bankers with a love for wine and cheese who wanted to create a haven for other "clueless" wine lovers to learn more. The selection is small but carefully chosen, with the majority of the inventory landing in the $15 range. TCC's cheese menu is fantastic, and the wine-by-the-glass list changes regularly. For suburban Chicago, this is a one-of-a-kind spot to enjoy a glass or pick up a bottle for dinner. – Erin McGrath
TEXAS
Put a Cork in It
2972 Park Hill Drive
Fort Worth, TX 76109
(817) 924-2675
Owner Chris Keel is my kind of wine guy—self-taught and knowledgeable, anything but snobby, and customer-oriented. This small shop near the TCU campus has an eclectic mix of quality wine, both cheap and not so cheap. – Jeff Siegel
The Tasting Room at Uptown Park
1101-18 Uptown Park Boulevard
Houston, TX 77056
(713) 993-9800
This wine bar/retail operation is almost too big for words at 8,000 square feet, and parking is a nightmare. But the staff knows wine, the selection is a step up from most of these kinds of places (though there aren't enough Texas labels), and prices are competitive with the discounters. – Jeff Siegel
Houston Wine Merchant
2646 South Shepherd Drive
Houston, TX 77098-1534
(713) 524-3397
Unlike many of Houston's "trendy" retail/wine bars or super-warehouse stores, this 25-year-old gem features both fine and boutique wines, and a knowledgeable staff that treats every customer as if she's special. Free tastings Fridays and Saturdays with an open-house feel. The store puts out a monthly newsletter, and offers Bordeaux futures for the collector. I've personally schlepped cases owner Scott Spencer donated for charity galas. – Amy Corron Power
Chelsea Wine Bar
4106 Nasa Parkway, Suite F
El Lago, TX 77586-6245
(281) 326-5282
We can't say enough about this Clear Lake-area retail/wine bar. A favorite hangout for NASA types and area boaters, this lakeside treasure offers more than 60 wines and 60 beers, free Wi-Fi, cheese boards, flatbread pizza and paninis, all served by friendly, extremely knowledgeable staff. Parking can sometimes be challenging on weekends due to the shared parking lot with another area hot spot, Boondoggles. Live music, daily specials and never a corkage fee. And if you're lucky, you might see Mayra open Champagne with a sabre! – Amy Corron Power
WEST COAST / SF BAY AREA
Beltramo's Wines & Spirits, Menlo Park
1540 El Camino Real
Menlo Park, CA 94025-4111
(888) 710-9463
(650) 325-2806
Located halfway between San Francisco and San Jose and in operation since the late 1950s, the family-owned Beltramo's carries an incredibly large selection of fine wines and was one of the first Bay Area wine merchants to specialize in imported wines. I've shopped around the South Bay and the Peninsula, and I've yet to find a more knowledgeable staff and better service than I find at Beltramo's. – Russ Beebe
Bottle Barn
3331A Industrial Drive
Santa Rosa, CA 94503
(707) 528-1161
Located in the heart of Sonoma County, Bottle Barn has been one of wine country's best-kept secrets since 1990. It has an amazing selection from many of the wineries that are less than 30 minutes from its 12,000-square-foot store—and the best prices. I stop in to stock up on special bottles at great prices, as well as to take advantage of their "specials" areas, where you can regularly find amazing finds under $20. You can typically find Sonoma County wines for 10%-30% off winery suggested retail. Many of these are hard to find (except at the winery) and are great deals. – Thea Dwelle
K&L Wine Merchants, San Francisco
638 4th Street
San Francisco, CA, 94107
(415) 896-1734
A legend in the Bay Area since it opened its doors in 1976, K&L features a number of characteristics that make a wine store not just good but great: personal service from their many regional experts; a diverse, real-time updated inventory; and regular one-time back-vintage blowout sales from exciting new producers and longtime stalwarts around the world. Check back often, as inventory and sale lots change daily, or just sign up for K&L's informative monthly newsletter. – Ward Kadel
Blackwell's Wines & Spirits, San Francisco
5620 Geary Boulevard
San Francisco, CA 94121
(415) 386-9463
funwines@blackwellswines.com
This neighborhood wine store in the foggy Richmond District has earned a loyal following. It features wines from every conceivable region, each with detailed tasting notes. There's a bottle for every budget, starting at about $8. What makes Blackwell's memorable, though, is its tastings. Its Saturday lineup (generally about $10) tends to be intriguing—you might encounter anything from Portuguese reds to Argentine whites. But the real fun is at the Wednesday tastings, where visitors are often asked to "guess the varietal." It's a fascinating and educational exercise, and you might just discover a new favorite in the process. – Elizabeth DeHoff
Internos Wine Café, San Francisco
3240 Geary Boulevard
San Francisco, CA 94118
(415) 751-2661
inquiries@internoswinecafe.com
Internos is first and foremost a wine bar; selections are varied and intriguing, and visitors looking to take a bottle home can sample a number of wines before deciding on a favorite. When they do, they'll get $10 off listed bottle prices. Selections include French, Italian, Spanish, Argentine, Australian and Lebanese gems. Put your taste buds in the capable hands of the bar staff; they know what they're doing. – Elizabeth DeHoff
D&M Wines & Liquors
2200 Fillmore Street
San Francisco, CA 94115
(415) 346-1325; (800) 637-0292
wine@dandm.com
If you're in the market for Champagne, brandy or single-malt scotch, D&M is the place to go. The store is tiny and rarely offers tastings, but it features a host of hard-to-find gems. In addition to its sparklers, D&M features spectacular still wines at every price point. – Elizabeth DeHoff
Artisan Wine Lounge & Café
1633 Bonanza Street
Walnut Creek, CA 94596
(925) 280-1633
info@artisanwl.com
Lena Chu and gang have made a most interesting stop in the suburban East Bay community of Walnut Creek. While it's technically also a small-plates café and wine bar, virtually every wine on the list is available by the glass or from the true stars of the space, the Enomatic self-serve wine tasting machines. Load up your card and taste all that you can before choosing your bottle purchases—you'll get 10% off any bottle to go. – Ward Kadel
Traverso's Delicatessen
2097 Stagecoach Road
Santa Rosa, CA 95404-1337
(707) 542-2530
Though they recently moved to their new location in tony Fountaingrove, Traverso's has been a Sonoma County fixture for more than 80 years. Traverso's is a true-blue Italian family-run specialty food and wine store, sporting excellent selections of prosciutto, Parmesan and polenta to complement their stable local Pinots. The wine staff is knowledgeable and extremely friendly—make a few return trips and you'll get recommendations personalized for you the next time you visit. They have great sandwiches, too. If you're in Santa Rosa, it's worth the trip up the hill to seek them out. – Josh Hermsmeyer
Kermit Lynch Wine Merchant
1605 San Pablo Avenue
Berkeley, CA 94702
(510) 524-1524
Going to or coming from Napa or Sonoma, I try to pay a visit to one of my favorite French connections, Kermit Lynch Wine Merchant in Berkeley. I met Lynch many years ago at a wine dinner in St. Louis and ran into him again more recently as I pulled into the driveway of the Peyrauds' winery in Provence. The store, like the man, is an encyclopedia of wine, but the information arrives in such a smooth, comfortable style that one learns without realizing it. The staff is considerate and knowledgeable, and the stock is such that I always leave with a well-priced bottle that also teaches me something about wine in a similarly smooth, comfortable style. – Joe Pollack
Soif Wine Bar & Merchants
105 Walnut Ave.
Santa Cruz, CA 95060
(831) 423-2020
You gotta love a wine retailer with a Le Terroiriste Wine Club! Soif was begun by the former general manager of Bonny Doon and by one of their winemakers. Specializing in biodynamic and organic wines from around the world and wines distributed by Louis Dressner, Neal Rosenthal, Kermit Lynch, and a number of their own local wine dealers and winegrowers, Soif stocks among the most sophisticated and socially responsible bottlings in the Bay Area. (This is Santa Cruz, after all!) And the knowledgeable staff is more than happy to add you to the mailing list for inventory updates, as well as notice of special events and tastings. – Ken Payton
Vinocruz
725 Front Street #101
Santa Cruz, CA 95060
(831) 426-8466
The Santa Cruz Mountains AVA, eighty-plus wineries strong, produce among some of the finest wines in California. Trouble is they are often made in very small quantities. Enter Vinocruz. They offer more than 150 wines from over 60 Santa Cruz Mountains producers (their exclusive focus) such as Ridge, Windy Oaks, Kathryn Kennedy, Mount Eden and Bates Ranch. From well-known wines to hidden gems, Vinocruz has them all. If you can't find it, the chances are very good that they can! – Ken Payton
WEST COAST/LA AREA
Chronicle Wine Cellar
919 East California Boulevard
Pasadena, CA 91106
(626) 577-2549
People in the know travel to Chronicle Wine Cellar for great bargains. Once upon a time, it was part of the wine cellar for the legendary Chronicle Restaurant and held some of Alfred Hitchcock's private cellar. Those days are long gone, and now the shop specializes in an eclectic assortment of less-traveled grapes and bin ends. This is not a store you go to in search of a particular wine. This is a store for browsing, picking up an $8 bottle of Austrian wine and talking to the shop staff about which bottles are their current favorites. Full of local color (and characters), the shop is usually open around 11 a.m. —but call first. Their slogan is, "If the flag's out, we're in." – Deb Harkness
Mission Wines
1114 Mission Street
South Pasadena, CA 91030
(866) 367-9463
Former Patina sommelier Chris Meeske heads up this marvelous gem in South Pasadena. The selection is truly mind-boggling and fairly priced. For grab 'n' go nights, the shop features a large $10/under wall, from which I have never had a bad bottle. A modest bar at the front of the shop features a weekly wine tasting, as well as local Craftsman beers on tap. Once a month, a special Friday night tasting event features a guest winemaker, specific winery or region. I'm a Central Coast kind of gal, and Chris' deep selection of Santa Barbara greats never disappoints. – Erin McGrath
Wine Expo
2933 Santa Monica Boulevard
Santa Monica, CA 90404
(310) 828-4428
@WineExpo on Twitter
Mondo Italia gone gonzo. I was smitten with Wine Expo years ago based on its old-school newsletters, filled with raucous descriptions, eclectic music references and food pairings. When I finally got to the store, it was a genuine thrill. I can't recall being in one shop whose dual foci—Italian wines and bubbly—were so broad yet so deep: humble wines, fancy wines, freak wines, wines with names as long as your arm. The inventory at Wine Expo is not so much assembled as curated. How else to explain the presence of 13 (yes, 13!) fizzy reds? The man behind the wines, Roberto Rogness, snags many of these bottlings to be Wine Expo exclusives on pilgrimages to VinItaly. Wine Expo is about as close as you'll find to a vinous version of Alice's Wonderland. – W. R. Tish
CANADA/BC/Fraser Valley
Whatcom Wine & Spirits
36035 North Parallel Road
Abbotsford, BC, Canada V3G 2C6
(604) 870-6166
Wine expert Rose Siemens manages this privately owned little store out in the eastern reaches of Abbotsford, BC, where city meets country head-on in the Fraser Valley. This is a store ideal for the wine-tasting novice, the wine-collecting aficionado and everyone in between. Rose brings in wines you'll not always find in government liquor stores and will source one for you if you have a special request. She organizes a wine club and writes its newsletter, delivers monthly wine tastings (10 months of the year) known as the "Thursday Night Swirl" and has new product introductions and tastings in-store on Fridays. Add to this her wine blog and tweets (as @GrapeSqueeze), and you'll find a woman who lives and loves a wine-soaked life. – Kathleen Rake
Signature Liquor Store, Abbotsford
40 – 32500 South Fraser Way
Abbotsford, BC, Canada V2T 4W1
(604) 870-5919
Located at the western end of Abbotsford, this store is run by the British Columbia government but is staffed by true wine lovers who are eager to share their passion. While all BC Signature Liquor Stores carry an expanded wine portfolio, offer product tastings, host special events and promise customers an "enhanced shopping experience," the product consultants are what really make the difference. Donna Mitchell in Abbotsford makes wine buying a pleasure. She tastes many of the wines she sells and posts her tasting notes at eye level so everyone can read them. She is approachable and will include you in her e-mailing list for upcoming specials, unique buys or limited quantities. Once, when one of my favorite wines suffered spoiled labels and the store was about to mark them down, she contacted me before she put them on the shelf to find out if I wanted them at the reduced price. It was a win-win: I got more of the wine I love, cheaper, and she pre-sold it. – Kathleen Rake
CANADA/QUÉBEC
SAQ Signature
Complexe Les Ailes
677, rue Sainte-Catherine Ouest
Montréal (Québec) H3B 5K4
Téléphone : 514 282-9445 ou 1 888 454-7007
AND
Place Ste-Foy
2450, boulevard Laurier
Québec (Québec) G1V 2L1
Téléphone : 418 692-1182 ou 1 866 333-0253
The Société des alcools du Québec or SAQ is a state monopoly controlling all sales of wine and liquor in Canada's French province. Among the 400 shops dispersed all over Quebec, two (one in Montreal, one in Quebec City) bear the Signature banner and hold a selection of products that is completely distinct from what's available elsewhere in the network. The Signature Stores hold a real treasure trove of old vintages, small bottlings by old producers, rare spirits and, almost inevitably, a whole bunch of big, 90+ rated wines. Want a bottle of 1963 Taylor Fladgate Vintage Port? It's there. A magnum of 1961 Pétrus? That too. The Marc de Bourgogne is a 1979 from Domaine de la Romanée-Conti, and the Single Malt is 30-year-old Macallan. There are some 20$ bottles by artisan producers interspersed among the pricey offerings, but these two stores are really the closest thing you'll find to a wine lover's fantasy. – Rémy Charest