Eight weeks after the inaugural Oregon Pinot Gris Symposium, I'm wondering if I was in my right mind? Just because the grape grows here, why should it be the flagship white?
The purpose of this June's gathering was to create momentum behind the idea that Pinot Gris should be Oregon's leading white wine along side the much-heralded Pinot Noirs. It was held at Oak Knoll Winery, who organized the event along with Diaz Communications. Through panel discussions, Q&A sessions, input from all sides of the industry, and a massive tasting of many examples of Pinot Gris, the general consensus seemed to be, "Yes, this should be our white wine variety."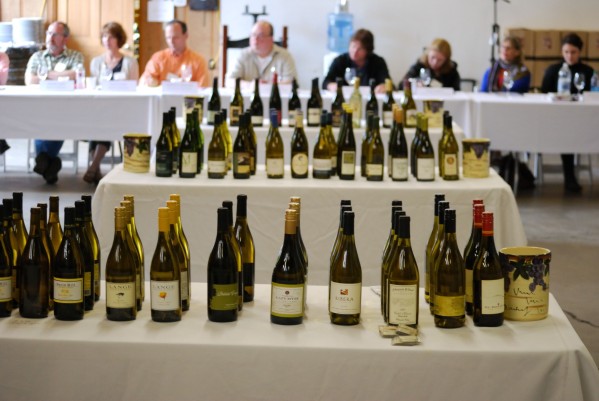 Greg Lint, President of Oak Knoll, told me in an email, "the Oregon wine industry cannot survive on Pinot Noir alone. Other regions have products that create what I call a product line, and are not just out known for and selling one popular single product." This was his primary objective in supporting a rise in Pinot Gris' notoriety.
Since the event I have mulled over writing this piece for nearly eight weeks. Arriving as a skeptic, I was determined to write something renouncing the agenda set forth, but realized it might result in some local outcry. Over the weeks several individual wines and many interviews with local industry leaders slowly molded my perception in the opposite direction. I found myself sitting at my kitchen table, enjoying a Pinot Gris with carry out from my local Thai joint. I was definitely coming around to embracing the variety. Then I came to my senses.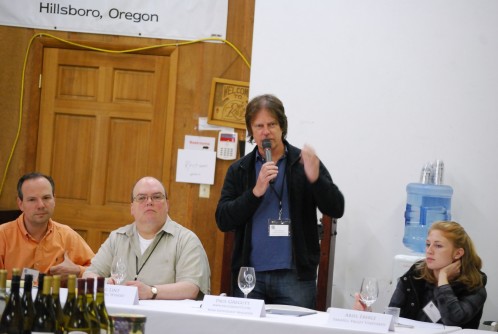 The merits of Pinot Gris? The keynote speaker, Paul Gregutt of Wine Enthusiast and The Seattle Times, highlighted several: lower alcohol, higher acidity, bracing minerality, purity of fruit, little oak expression, and vintage variation. However, the primary issue is that Oregon has yet to define any style that consumers can rely on. While Oregon is a cooler region, pinot gris is in fact a moderately low acid-bearing grape, especially when compared to riesling, chardonnay, and even pinot blanc. Further, within the context of flavors, the wines tend to be fairly neutral—refreshing, perhaps, but not interesting. That said, the best advice Mr. Gregutt gave was to stop comparing Oregon wines to those of other regions, such as Italy and Alsace. "It's time to say 'We make it in the Oregon style.'"
Industry leaders, at the symposium and in subsequent interviews, proclaimed that Pinot Gris should be a focus for two basic reasons: it is abundant—in fact it is the most planted white variety in Oregon—and it is an easy sell given the common marketing around "Pinot country" that is held so highly in Oregon.
Doug Tunnel, owner and winemaker at Brick House Vineyards, recently warned against using total acreage as an index for promotion: "Certainly the argument that there's a lot planted is a recipe for disappointment. In California in 1998 the most widely planted grape was Zinfandel. Imagine Cali grape growers working to designate Zin as the Flagship Red … only to have it overtaken in subsequent years of planting by Cabernet Sauvignon."
Other white wines, while not as abundant in quantity or easily woven into a marketing strategy around "Oregon Pinot Country," provide just as much depth and interest as even the best Pinot Gris being made. And please, do not misunderstand, there is some stellar Pinot Gris being made in Oregon. Several of the wines at the tasting were those which I would highly recommend; it should be noted though, that the majority of those were 2010 vintage wines, a year where cooler temperatures lead to bracing acidity in many whites. In a warmer vintage, forget it.
King Estate Winery, for example, already fully embraces Pinot Gris as Oregon's white wine. They are committed, and produce outstanding wines that get fantastic reviews—but that does not mean everyone should follow suit.
Thomas Houseman, winemaker for Anne Amie Vineyards, included his balanced insight in an interview regarding the creation of a homogenous Oregon style of Pinot Gris. "Working to make an Oregon Pinot Gris is dangerous. But working together to make better Pinot Gris is important." He largely spoke to leveraging the diversity of styles that are made in Oregon, a posit that was supported by some at the symposium, though others argued that this lack of style deterred customers from the varietal.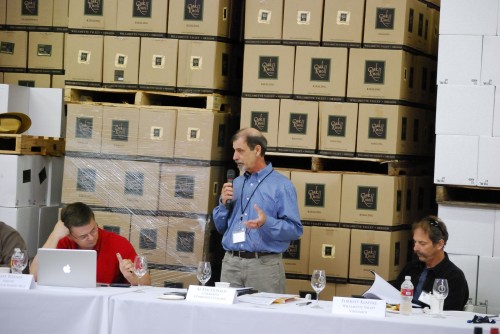 Al MacDonald of Chemeketa Community College's NW Viticultural Center noted that acreage has nearly doubled in the last ten years, approximately 2,700 acres most recently, compared to 1,400 previously. That said, many of the vines planted are still far less than ten years of age. The Eyrie Vineyards have been recognized numerous times for having the oldest pinot gris vines in Oregon.
As for the Pinot Gris wines, an unnamed source indicated that not even Jason Lett, the winemaker at Eyrie, would vouch for the ageability of most older Pinot Gris. In an email though, he claimed to not have enough data to expound on that, having tasted only four older Pinot Gris from their library. Mr. Lett did however note that while he believes Eyrie Pinot Gris will age, others are not made to be held on to. So until other producers are able to use more fruit from more mature vines, it remains to be seen whether Pinot Gris can be marketed as a wine capable of lasting.
The discussion continued with Alex Sokol-Blosser of Sokol-Blosser Winery, and Robert Brittan, owner and winemaker of Brittan Vineyards, discussing soils that were being used. The two agreed that most often the best (in the case of wine, this does not imply "fertile") were being planted to pinot noir. White varieties, namely pinot gris, were then taking a back seat in site location. Yields are often unchecked, and vigor can be an issue. Mr. Brittan asked, "If we're not going to give it a chance, and put it on good soils, how are we ever going to make good wine out of it?"
Criticism of selling Pinot Gris arose, and the critique expanded with comments about selling Oregon's white wines in general. Given than Pinot Noir is the darling of Oregon many seem to lead with that when pitching their wines to distributors or restaurants. Ryan Lumaco of Odom-Southern Distributors of Oregon, challenged winemakers to lead with their white wines. Being someone who is passionate about white wines from the Northwest, I would have to strongly agree. Noted enthusiasm from sales people and producers and increased education around white wines could do much to increase the "product line" that Oregon has to offer, diversifying from Pinot Noir.
Pricing also was brought into question. This seems to be an issue not only with producers, but also hospitality and sales professionals. Erica Landon, sommelier and educator for the International Sommelier Guild, outlined that issue in an email recently: "There is certainly a hurdle to overcome in terms of price point. The consumer has been trained over the years to expect Pinot Gris below $20 retail with most priced under $15, and frankly, most should not be priced higher. However, if a producer is interested in producing a higher quality Pinot Gris the production costs will rise and therefore translate to the cost of the bottle."
Outside the conference, others took the debate a step further. Several of those interviewed questioned why Oregon should focus on any one white variety, when so many that do well here. Perhaps the most influential argument being that of pioneer David Adelsheim, who does support Pinot Gris wines, but does not believe it should be Oregon's white wine focus.
"There isn't—and there is no need for—a single flagship white wine. Chardonnay, pinot blanc, and riesling are all amazing when grown in great vineyards here and thoughtfully vinified. What about albariño, aligoté, arneis, and auxerrois—just to mention the A's? There's a whole alphabet of northern European white varieties that could produce exciting wines in the North Willamette Valley. And even more in Oregon's warmer climate regions. But no region that is known for a red wine is also known for an unoaked, dry white. Bordeaux has its Sauternes, Burgundy and parts of California have Chardonnay. But they are sweet and oaked, respectively."
This sentiment was echoed in part by Charles Humble, director of marketing for the Oregon Wine Board, calling varieties like chardonnay, riesling, and pinot gris the "Oregon great whites." Though noting the vast improvements to Pinot Gris wines in recent years, he concluded, "in the end, Oregon is all about quality. So why do it if you're not going to be the best?"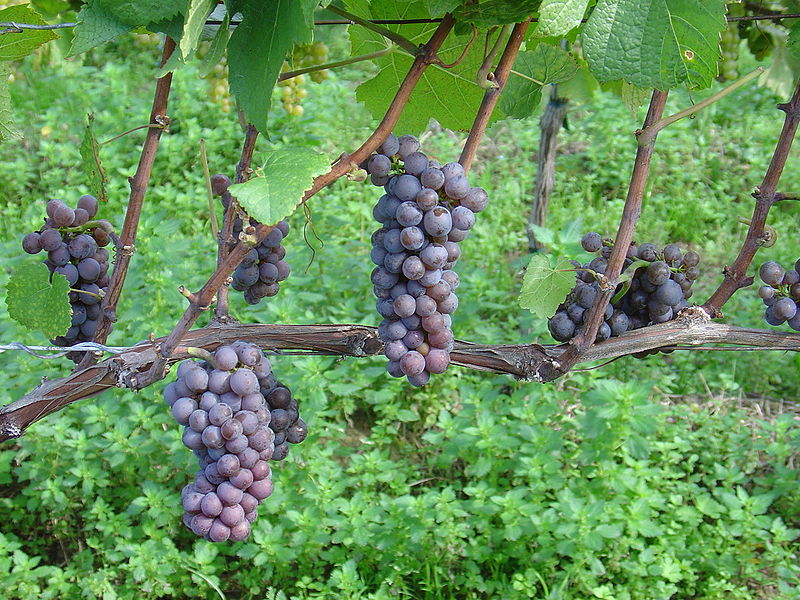 Moreover, pinot gris is not considered, outside Alsace, as one of the original "noble" varieties (those white grapes being chardonnay, riesling, and sauvignon blanc; the red including pinot noir, merlot, and cabernet sauvignon).
"Among white varietals, I believe both riesling and chardonnay can achieve such heights of complexity and flavor. Pinot gris … not so much. Why would we as an industry tie our horse to a grape that produces large amounts of highly quaffable wine of fairly workmanlike character?" notes Mr. Tunnell.
As you can see, I do not support Pinot Gris as the best option for Oregon's flagship white wine—especially just because there is more pinot gris planted than any other white variety. Having to make a choice of any white varietal, I would support Riesling, and believe it has the best chance of becoming an amazing champion for the Oregon wine industry.
The stylistic diversity that Riesling offers is so far beyond that of many other white wines. It is naturally high in acidity. It pairs with so many different foods. It requires little to no oak influence. It can achieve immense levels of flavor of fruit and minerality derived from terroir. All the qualities outlined for Pinot Gris and then some. While Riesling still has perceptual misgivings by many consumers as always being a sweet wine, if given the right context (and food pairings), it is not difficult to sell.
In the end, perhaps being "Pinot Noir Country" (even if this is much to southern Oregon's chagrin) is not a poor decision for marketing our state's vinous capabilities. Much of the rest of the world is still just tuning in to the fact that Oregon even makes wine. Oregon's Pinot Noir will get people's attention, and beyond that it is our work to make other amazing wines—red, white, rosé, sparkling, sweet, dry, and more—and charm them with our stories and our passion. That will keep them coming back.
[author] [author_image timthumb='on']http://palatepress.com/wp-content/uploads/2012/05/ryan-reichert.png[/author_image] [author_info]Having grown up in the midwest, Ryan Reichert followed his passion for wine to the Willamette Valley region of Oregon. Always the explorer seeking to learn more he has travelled around the United States and through France, Spain, and Italy. He holds the Advanced Certificate with Distinction from the Wine & Spirits Education Trust, is a French wine enthusiast, a certified Spanish Wine Educator, and is working towards certification as a sommelier with the Court of Master Sommeliers. Ryan is the creator and author for Northwest Whites, a site dedicated entirely to the white wines of the Pacific Northwest. You can also learn more about Ryan on his personal website. Ryan lives in Portland, OR.[/author_info] [/author]