In February 2012 a group of French winemakers gathered together to organize an original collaborative wine tasting at Vinisud, a wine trade event in Montpellier in southern France. They called themselves "The Languedoc Outsiders" and for their debut tasting, they presented a mind-bending experience. When event invitees stopped by to taste The Outsiders' wines they were given a set of images. Odd images, not of vines or bottles or even food…unexpected images for a wine trade event.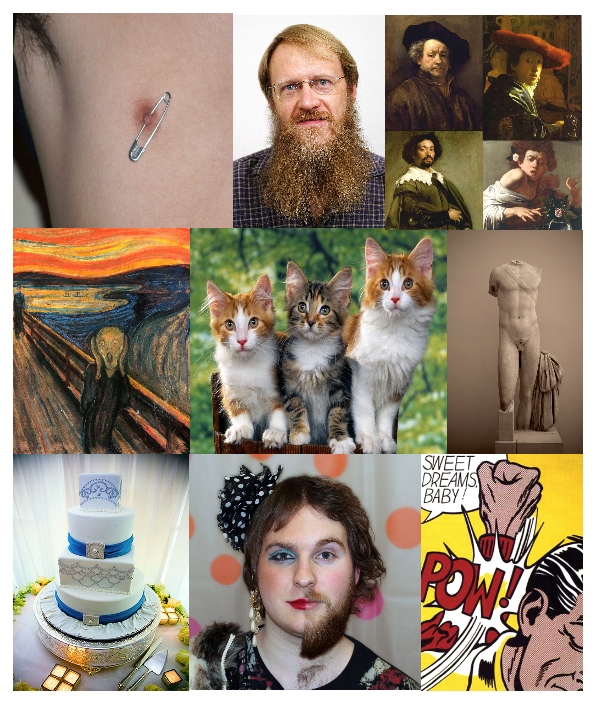 Guests were invited to taste through the full range of Outsider wines, but were relieved of the burden of describing the experience through wine terms.  Instead, for example, when tasting a mouthful of unexpected flavor, an image of a pierced nipple could be referenced to convey discomfort. A row of fluffy kittens could illustrate a familiar and friendly taste, but nothing exciting. Artistic classics from the masters could express balance and complexity.
This technique of innovative and creative collaboration felt right for the winemakers involved in The Outsiders. As their name suggests, they don't have a habit of working and creating in typical fashion.  They tend toward the edges, excited by adventure. None of the member estates' founders are native to Languedoc. They are outsiders by form from the UK, Ireland, Scotland, the Netherlands, Switzerland, New Zealand, Australia, Sweden, the USA and Bordeaux (though French, a very different wine region from Languedoc).
They are outsiders by function as well; many of them had never created wine until making the decision to move to the south of France for purpose of becoming a second-career winemaker. The group includes people that once made a living in nursery school teaching, business management, advertising, sales and marketing, strategic planning, TV production, property construction, investment banking, finance and taxation. All traditional professions; now they come together under an icon reminiscent of 1968 Paris protest posters and call themselves Outsiders.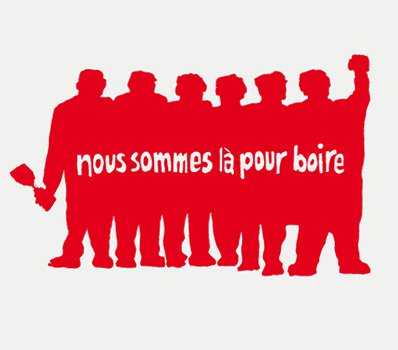 For those who seek an atmosphere of creativity and diversity, Languedoc is a satisfying place to settle and make wine. Decades ago, the rugged terrain was a metaphorical reflection of the area's rugged outlook on winemaking with little regard to typical French devotion to AOP. Now the tone is changing as more producers are tending towards exciting and substantial AOP wines. This makes for an exciting time to be a part of an atmosphere of enhancement, rather than establishment. The Languedoc Outsiders are of the persuasion that first-generation, outsider winemakers have a definite place at the table when it comes to participating in the local wine community. They are welcome to play in a field that is planning a future without hang ups for tradition.
Languedoc rests in a diverse terroir cradled by the Mediterranean and capped by the Pyrenees Mountains. Spanning three French départements, the region encapsulates 18 appellations. Wines made here comprise various combinations of soil, grapes and climate. This puzzle of circumstances bows deeply to vignerons who are willing see these inconsistent influences as abundance rather than inhibition.
Combined with its neighbor, Roussillon, as a regional AOP, the Languedoc exists as a segment of the largest wine producing in the world. A wide variety of grapes thrive here, but the most common varieties of the region are Grenache, Syrah, Mourvèdre, Cinsault and Carignan for red and rosé wines and Grenache blanc, Clairette, Bourboulenc, Viognier, Picpoul, Marsanne, Roussanne, Rolle and Ugni for white wines. Charles and Ruth Simpson, Outsider members and owners of Domaine Sainte Rose, chose the area for the sense of opportunity, a reasonable setting for a newcomer to "earn a living from wine".  They also make a promise to consumers; they promise to make wines that "both surprise and delight you and that we will change your mind about the Languedoc region's ability to produce exceptional wine" This makes a compelling statement for the potential of the new Languedoc.
The Languedoc makes a generous offer to startup wine estates. There is room here to leave a footprint. Nicole (a Spanish plumber's daughter) and John (a guy from Kentucky) Bojanowski say they fell in love with one another and the idea of making their own wine in Languedoc. The two started with a single hectare in 1999. Now proprietors of organically-certified, Outsider estate Clos du Gravillas, Nicole and John create wine from 15 varietals and state their raison d'ȇtre: "making sincere, elegant wines from unloved or unknown grapes and thus retelling the story of Languedoc".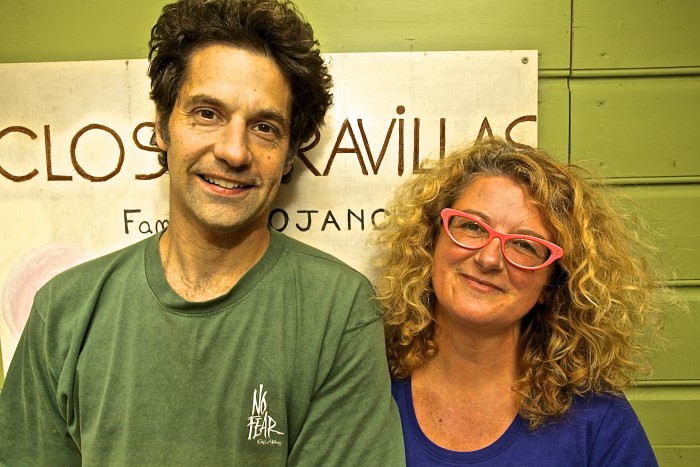 Philosophies and methods occupy a wide scope: biodynamic, traditional and organic methods can be found within the group. Many of the members find Languedoc to be an untainted space for Earth-friendly practices. Brits John and Liz Bowen bought Domaine Sainte Croix in 2004, which they run organically.  The Bowens say the decision to plant roots in Languedoc is "borne out of respect for the environment and also to achieve the highest expression of the sensational terroirs of the domaine."
The Languedoc Outsiders came together under the inspiration of Louise Hurren, a British wine professional living and working in Languedoc.  In conversation, people would ask her if she was familiar with so-and-so from Ireland or the lady from Sweden that makes wine…simply being an outsider herself, she was able to draw connections to other expats doing exciting things with wine.  Though the group generates wine of great variety, Louise believes that The Outsiders is very much about the strength of the members, individuals that share a wavelength of thinking freely and cultivating an environment where high quality is a given.
There isn't a communal wine, or a communal wine-making pattern; each member maintains their own estate and winemaking business. Outsider members are located primarily in a 100 km radius south and west of Montpellier. They meet regularly to plan next steps and share successes and struggles. They also share lunch followed by a tasting session of affiliate wines. This is an important part of the collaboration, an expression of the full potential and diversity within their union.
The group functions with strength and ease; making connections comes naturally. A creative mindset seems to occur innately (or perhaps is the impetus) among expats and individuals applying familiar skills in an unfamiliar environment.  There is a clear sense of willingness to trail blaze, be patient and enjoy the ride. Group member Graham Nutter of Château St Jacques d'Albas, maker of a well-curated slate of AOP Minervois wines, told me,
"…Minervois [was] chosen for climate and lifestyle as well as area's turnaround potential. Turnaround [is] slow though, rather like changing course of a VLCC oil tanker, but still surviving on lifestyle. Transition from a multinational company environment to being an independent vigneron not evident, [it] takes time and change in behaviour. Have to be hands-on and become a multitasker, but very [it is] satisfying and time certainly doesn't stand still. "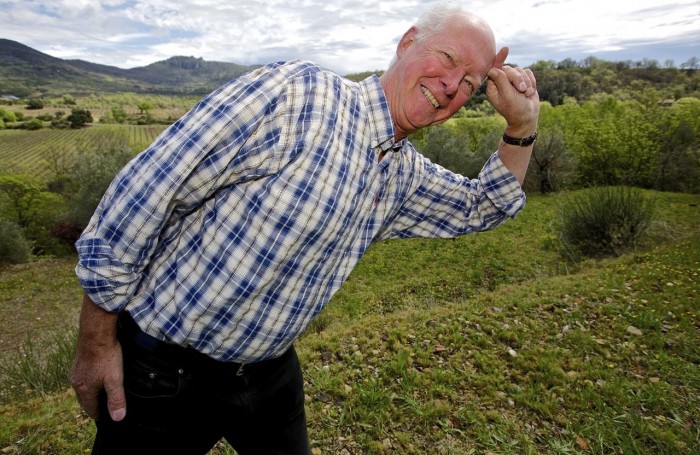 Some of the members find the Languedoc to be a collaborator in their lifelong dream. Marcel Bühler and Carrie Sumner are partners at Domaine des Enfants. Carrie describes their work: "We do not perform 'winemaking', rather, our wines are the exact result of what the vineyards create, thanks to our work during the year." Carrie hails from Oregon and Marcel is Swiss. They share that working in Languedoc fulfills their childhood dreams of becoming winegrowers.
Outsider winemakers accept this lifestyle as not only a dream but as a challenge. Though many of the members have achieve a high level of success including high scores, positive press and industry awards, the energetic message of this group is that true success comes from, simply, making wine in Languedoc. Beatrice and Sebastien Fillon of Domaine le Clos du Serres say they "chose this new occupation to rebuild their lives, to abandon a lifestyle where speed was of the essence, which seemed more and more unreal".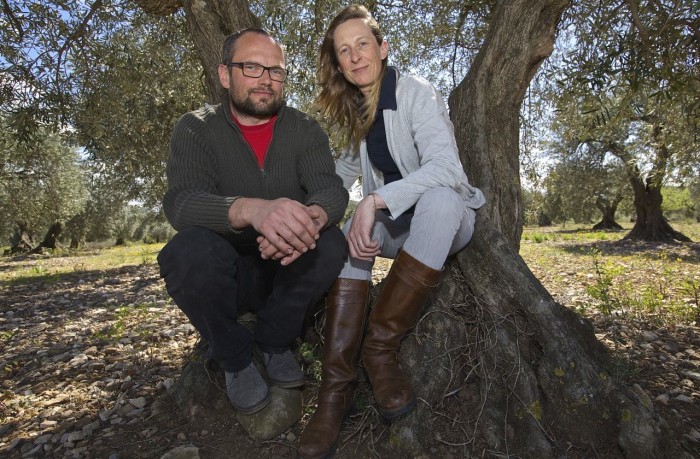 The Outsiders see a symbiotic advantage for themselves as vigneron-businesspeople as well as the landscape of winemaking in Languedoc as the global perception of the product enters a new phase. For Franco-Australian couple Karen Turner and Emmanuel Pageot of Domaine Turner-Pageot their stated aim is, "to battle for the recognition of high quality wines from the south of France and challenge preconceived ideas."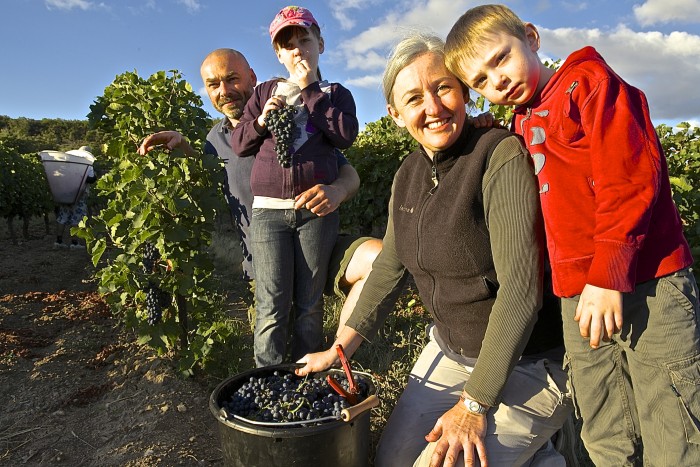 The tasting in Montpellier was encouraging for the members of The Languedoc Outsiders, proof that the momentum continues to build as the member estates become recognized as the face of winemaking in Languedoc. Domaine La Madura, for example, recently completed the construction of a sleek new tasting cellar to welcome more guests. Jancis Robinson hails Château d'Anglès as as one of her "favorite producers of the Languedoc". Brigitte Cehvalier of Domaine de Cébène hosted journalist Andrew Jefford when her estate was featured as one of the "Best of the South".  The group has participated in Vinisud for several years. They've been included in Terre du Vins tastings and hosted their own events in Dublin and Edinburgh. The Outsiders hold tastings and gatherings at La Panacée, a funky art gallery space in downtown Montpellier. They keep busy: making wine, sharing the story, living the dream.
As I was working on this story, Jan & Caryl Panman of Château Rives Blanques reached out to me to share that they were recently served their very own Blanquette de Limoux at 36,000 feet above the Atlantic, on a KLM flight to France from Houston. Caryl's thoughts on this experience reflect my impressions of the wine of The Languedoc Outsiders: "It's taking off, so to speak."
All photos courtesy of Ken Payton/Languedoc Outsiders.