Imagine you are overlooking a sweeping landscape of vineyards, whether it is in the Willamette Valley, Paso Robles, or the Southern Rhône. Have you ever stopped to think where the grape vines come from? Do you plant them from seed? Buy them in a pot like a tree? Not exactly.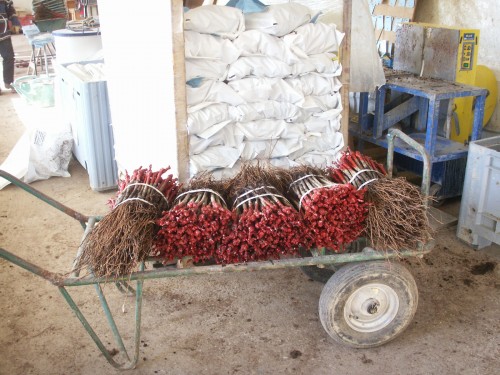 Meet Lilian Berillon, from the Vaucluse region, in the South of France, the man behind the most unique grape vine nurseries in France. To be clear: no one is growing grapes vines in the same way as Berillon. In the past three years he has completely reinvented the art of growing grape plants.
The most common way to purchase grape vine plants is from a nursery that grows the vines from cuttings which are then grafted onto disease resistant root stock and subsequently sold as dormant plants that resemble sticks. This is not your typical nursery though; Berillon is a man who lives and breathes grape vines, who always wants to go one step further, making his plants that much better. "In fact," he says, "our business as we currently run it, is the only one of its kind. Often in agriculture employers lack qualified staff to support them as they grow their business. That is why, with the help of Pierre and Katia, (his two university-qualified employees) we have given ourselves the tools we need to accomplish some very special things."
Upon meeting Lilian Berillon for this first time, it's his passion for the plants that stands out the most. Driving up to his unassuming nursery not far from some of the greatest vineyards in the southern Rhône, you would never guess that this is one of the most dynamic and qualitative grape vine nurseries in all of France. In 2007, Berillon made the bold move to convert his nursery to organic and biodynamic practices, something almost unheard of in this industry. Due to requirements by the French government to treat the plants against glassy winged sharp shooters, they are not fully organically certified, but Ecocert, a regulatory body that is responsible for organic certification still comes for regular visits and consultations.
Better grafts and better vines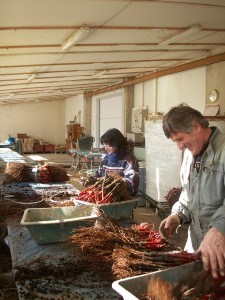 A third generation pepiniériste, or grape vine nurseryman, Berillon started out working with his father and a few other associates in a nursery that offered the typical clones and root stocks available in the area. "After a couple of years in the business, I found it uninspiring, I knew I had to find a different way of doing things. My grandfather always worked in a traditional way, grafting the plants by hand, and I wanted to try to do the same."
Berillon left the group to start out on his own, his father deciding to join him in the venture. One of the first things they decided to change was the technique used to graft the vines onto the rootstock. Virtually all nurseries do this with a machine using a graft called omega.  Visualize the Greek symbol omega—Ω—and you can imagine how the vines are cut in order for them to fit together like a puzzle piece. Berillon wanted to return to the traditional grafting method referred to as English-style grafting, wherein a large cut is made by hand into the rootstock and the vitis vinifera is cut into a V-shape and inserted into the cut. This greatly increases the contact area of the plants to be grafted together, so that there is a higher likelihood the graft will take, since the sap can flow more freely due to the higher surface area contact.
Grafting methods were only the beginning. Berillon wanted to go further to offer better plants, and the only way to do this was to start doing séléction massale. This is the ancient practice of propagating cuttings directly from old vines, forgoing the cloning process. In the past, this was the only way grape plants were reproduced. As technology and viticultural practices advanced, cloned grape plants became more and more popular, ensuring higher yields and more uniform production. According to Berillon, most French grape growers completely abandoned the séléction massale process from the mid-seventies onward. He was determined to bring this practice back, convinced that without great plants it is impossible to make great wine.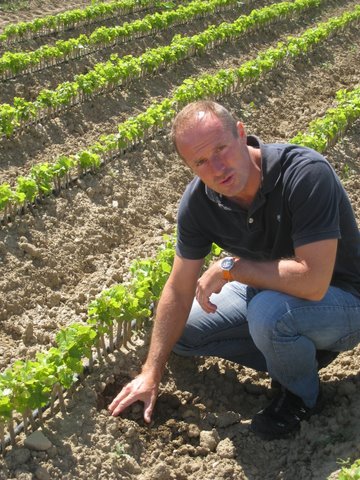 "At the very beginning we were mainly in the southern Rhône and Provence, then a few growers in the Northern Rhône called us, then from Burgundy, the Maconnais, Champagne, and so on." he says. Berillon quickly developed a serious reputation among grape growers—his list of clients is impressive and prestigious, though he treats it with the utmost discretion.
New from old
This enabled him to acquire cuttings from some of the oldest vineyards in the region—from the syrahs of the northern Rhône to the grenaches of Châteauneuf to the mourvèdres of Bandol. But it wasn't only the staple varieties that interested him, he also wanted to preserve and propagate plants from older varieties that seemed to no longer be in fashion. Thus he now can offer varieties such as counoise, clairette rose, carignan, vaccarèse, grenache gris, and many others. He often recommends that his clients plant small blocks of many of these old varieties in order to help balance their blends. As the region gets hotter and hotter, grenache-based wines are higher and higher in alcohol. By using varieties such as carignan and counoise as blending grapes, the finished wine can have higher acidity and lower alcohol.
In 2007 he undertook a major restructuring project, bringing on an ampelographer—an expert in grape variety identification—and totally transformed his plantations. He no longer uses heavy plastic to suppress the weeds growing between the grape plants, preferring to remove them manually so that the roots go deeper into the ground. This ensures that the soil is as healthy as possible, without the use of chemical herbicides. Practices such as this are costly and virtually unheard of, but he's committed. "I undoubtedly have more debt than any other nursery in France, but I am lucky that my bank is backing me, that they believe in what we're trying to do."
It is the next step he took, however, that really raised eyebrows and caused many colleagues to consider him just plain crazy. He decided to develop a trellising system for his rootstock vines. Normally the rootstock vines are planted and left to grow on the ground, the plants fanning out in all directions in what looks like a vineyard gone wild. The nursery then waits until the first freeze for the leaves to fall off and then harvests the wood. Berillon has trained his rootstock on trellises, bringing in teams of workers that remove all of the suckers by hand on each of the shoots, each of which can grow to be up to five meters long. All of this is done to optimize the quality of the wood, resulting in a healthier plant over the long term.
What's in your vineyard?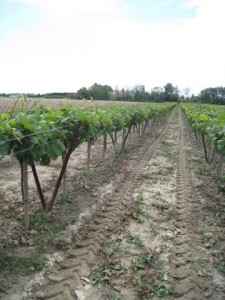 The final phase of Berillon's new project is perhaps the most exciting. After being contacted by several large wineries (some of the best in France) as well as many other smaller ones, Berillon is now developing a personalized service wherein he or one of his two colleagues will come to the winery, identify and select the best wood from the best vines, and help the winery to create their own private nursery. This is advantageous because Berillon is limited as to how many plants he can grow, simply due to the sheer amount of labor involved. This way they can identify the old varieties directly in the vineyards and select the vines that will be the most suited for propagation. During the month of August, his team will take cuttings of the wood so that the winery can preserve their oldest, most valuable asset: their vines.
Berillon is already working with wineries in Bordeaux, Champagne, the Loire Valley, and Burgundy—overall, virtually all of the major wine growing regions in France. His reputation has now reached far beyond France; he has clients in Tuscany and Priorat and even got a call from a winery in New York State. This is the work that he is truly passionate about now, the preservation and conservation of old grape varieties. Just what will he come up with next?
---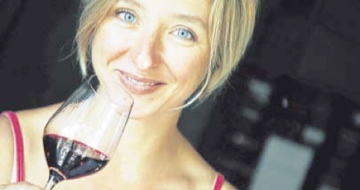 A Colorado native, Amy has worked in wine over 15 years. Straight out of university she moved to France to work in the vineyards and study winemaking in the village of Gevrey-Chambertin. Under the tutelage of people like Genevieve Bartet, Bruno Clair, Sylvie Esmonin, and Kyriakos Kynigopoulous she discovered a love of France and its wines. While in Burgundy she also had the fortune to meet and befriend French wine journalist Michel Bettane, who took it upon himself to teach her the fine art of wine tasting. California was the next stop where she worked for the American importer Kermit Lynch for several years, greatly reinforcing her tasting skills. In 2005 Amy and her husband purchased five hectares of vineyards and created a small winery (La Gramière) at their home in the Rhône Valley. She is also the Southern Rhône correspondent for the Bettane & Desseauve's French Wine Guide.