The Languedoc wine region did not live up to my expectations, and that worked out just fine.
Set in the south of France, Languedoc does not have the name-recognition of Bordeaux or Burgundy. And what reputation it does have is as a producer of inexpensive, rustic reds. So I went expecting a fairly industrial landscape of mass-produced tannic titans.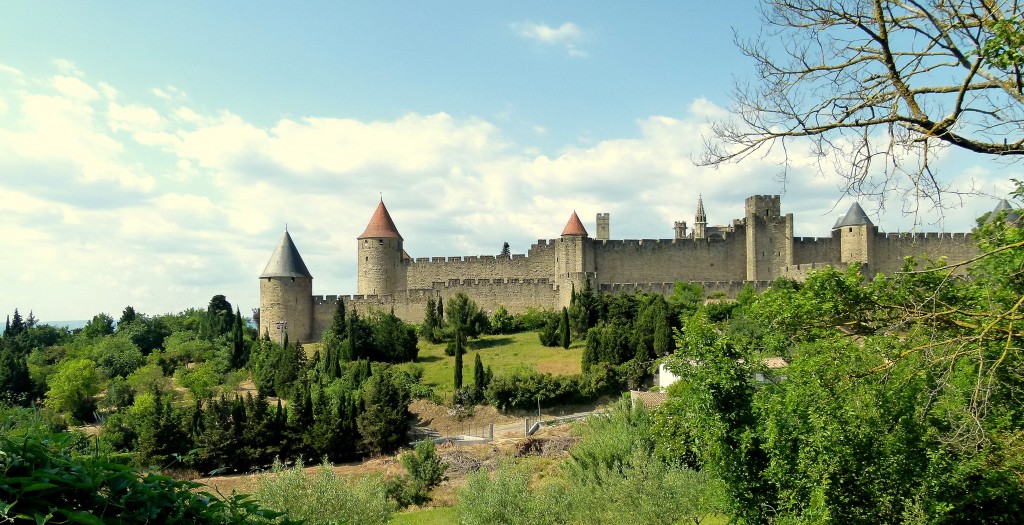 Wrong and wrong. What I discovered were strikingly beautiful and diverse terroirs, lots of delicious whites and rosés, and wineries that range from major players to maman-et-papa operations.
My trip to the Languedoc earlier this year was arranged by the CIVL (Conseil Interprofessionel des Vins du Languedoc) the local governing body for wine.  The organization is engaged in explaining the region's recent effort to create a multi-tiered ranking system similar to that of places like Bordeaux. The relatively young effort seems to be still a work in progress as producers decide whether to adopt the new classification system, which is being done on an appellation-by-appellation basis.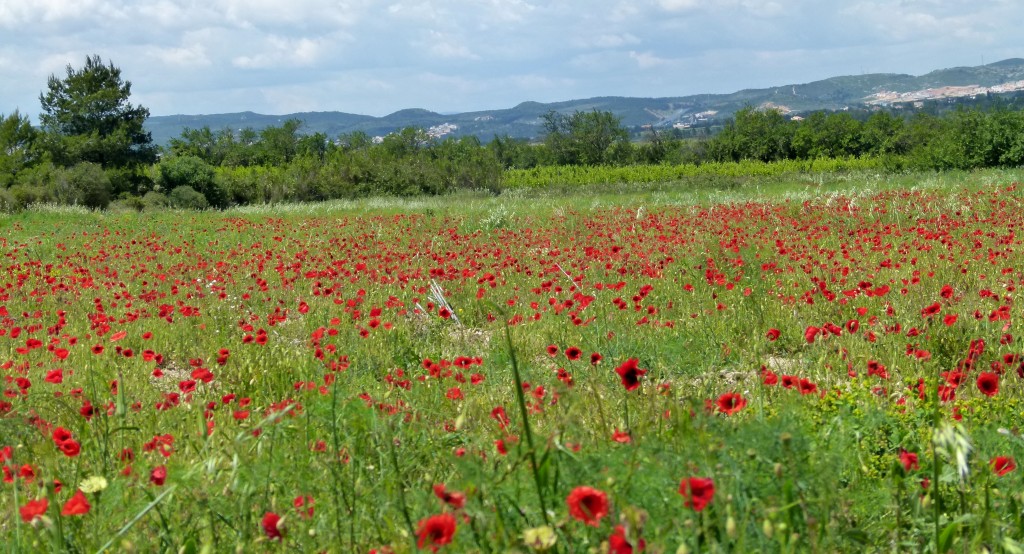 My introduction to the region began with a hike through the vineyards of the La Clape appellation organized by the exercising epicurean group known as Les Sentiers Gourmands. I knew I was not in my adopted hometown of Berkeley any more when the walk began with everyone being issued a knife, fork, and wine glass the better to partake of the refreshments stationed along the way. Take that, trail mix.
I was tickled by a sign at the foot of a mild incline exhorting us to have "Courage!" and even more taken by the glasses of rosé poured at various tasting stops and made of  Grenache, Syrah, Mourvèdre, and Cinsault grapes. Light, fruity, and smooth, these wines couldn't say "summer!" any louder if they came with an inflatable beach ball.
Another delicious discovery came on a visit to Picpoul de Pinet, an appellation on the edge of the Thau Lagoon on the Mediterranean coast known for its oysters. The local wine, also called Picpoul de Pinet, is sold in a distinctive green bottle decorated around the neck with the raised outline of waves to heighten the maritime link. Not surprisingly, this wine goes very well with oysters and other seafood, although it also makes a good aperitif.
"There is a feeling in this appellation—very fresh, like the wine. When you open a bottle of Picpoul de Pinet in New York or San Francisco you get to have that feeling," said Claude Jourdan, winemaker at Domaine Félines Jourdan. Jourdan, one of three women winemakers I met on the trip, took over that job from her mother in 1996. "In our family, women make the wine," she said.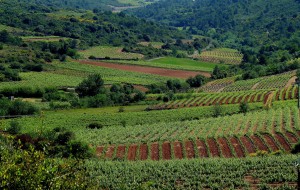 History lurked around every corner.  In one area, we heard the legend of the local mountain, (Pic Saint Loup) named after one of three brothers who took off for the Crusades, all in love with the same woman. They survived, but returned to find that she was dead. Disconsolate, each retired to a mountaintop and lived the rest of his life as a hermit. Obviously, these were guys who could have used match.com, but a sweet story nonetheless.
At Château de Paraza we learned about engineer Pierre Paul Riquet, who stayed here while working on the Midi Canal connecting the Mediterranean to the Atlantic during the reign of Louis XIV. The château was beautifully furnished with antiques and included a room that may have been slept in by the king—a room equipped with a very short bed.
In Carcassonne we got a peek at medieval life as we explored the restored walled city, a marvel of turrets, ramparts and towers topped with pink and gray cones straight out of a fairy tale.
Meanwhile, in the tiny village of St. Jean de Minervois, in the Minervois appellation, history on a smaller scale took place; I sampled my first cassoulet at Auberge de l'Ecole de Saint Jean. In one meaty, crusty, hearty bite I understood what all those people who go to the South of France and become rather boring about the food were talking about. This place had a backstory, too. Brigitte and Patrick Grau, who run the auberge, were young sweethearts who split up when she went overseas to pursue a career as a chef. Some years ago, she returned to open the restaurant; he was working in local business supplies, and the rest was history.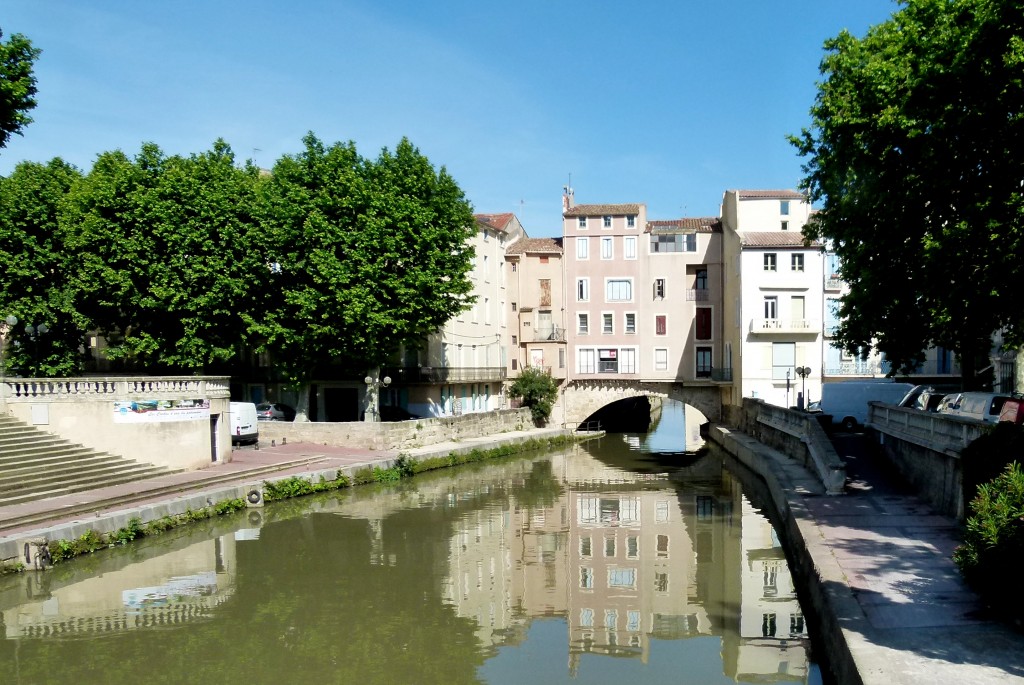 I also had the perfect wine to go with the cassoulet: 2007 Clos du Gravillas Lo Vielh, a red made with old-vine Carignane. Clos de Gravillas is run by Nicole Bojanowski, a native of Narbonne, and her husband, John, who is from Kentucky, although you would never know it to hear his French. Carignane is one of those problem child grapes; allowed to grow unchecked it produces harsh, tannic brews. But if the vigor is kept under control, something that happens with old vines, it can be turned into something special.
As the end of my five-day trip neared, my head was full of contrasting impressions. Wineries ranged from down-home to upscale. At one, we found a chicken strolling near our feet; at another, a pair of smart, scarlet-soled Louboutins went tapping across the courtyard. And the vintners were just as diverse, from former banker Pierre Bories, who left the world of high finance to take over his family's Château les Ollieux Romanis, to ex-rugby player Gerard Bertrand, who presides over several estates including the showplace Château l'Hospitalet which features lodging and an elegant restaurant.
Like many before me, I returned from the Languedoc determined to incorporate some of the region's values into my daily routine. I would make time for flavorful, relaxed lunches. I would draw a line between work and leisure. This lasted until my first hard-core deadline saw me hunched over the keyboard gnawing on a peanut butter sandwich.
But a few days later, with the pressure of work lifted, I tried again. I walked down to the local deli and picked up a loaf of fresh bread and a bottle of rosé. I took both, along with some good butter, out to the backyard and sat for a moment while the sprinkler did valiant battle with the scrub grass of a Berkeley summer. I raised the glass to my nose and smelled the delicate, red berry aromas. I took a sip. It was, as they say, très bien.
Tasting Notes
Domaine Félines Jourdan Picpoul de Pinet 2009. Starts out with fresh citrus aromas mixed with a little peach and has a zippy, tangy taste of lemon and lime underscored by a touch of honey. A natural match for oysters and other seafood.
Domaine Félines Jourdan Les Fruités Languedoc Blanc 2010. This wine is 95% Roussanne and five% Piquepoule and it smelled of white flowers and peaches. It tasted fresh and lively with some citrus, a little peach and a nice nuttiness on the finish.
Ollieux Romanis Rosé 2010. A blend of Grenache, Cinsault and Mourvèdre grapes, this wine is a very pretty powder pink. It smells of bright, fresh red berries and tastes fresh and fruity with a hint of sweetness. Well-balanced and elegant.
Clos du Gravillas Lo Vielh 2007. Lo Vielh means the old one, which in this case refers to the old-vine Carignane that goes into this wine. A beautiful wine with a floral, violet perfume and an intense taste of dark red fruit rounded out with soft tannins.
Chateau des Karantes Blanc 2010. This wine is 54% Bourboulenc, in keeping with the regulation that white wines with the La Clape appellation be at least 50% Bourboulenc, blended with Roussanne, Vermentino and Grenache Blanc. Starting with aromas of flowers and citrus, this is a big, fruity mouthful with tropical fruits, including a hint of banana. A good balance of sweetness and acidity and the kind of wine that will go with a lot of foods, including hearty cheese dishes.
Gerard Bertrand Cigalus 2009. Chardonnay blended with Viognier and Sauvignon Blanc. Aromas of white flowers, honeysuckle and peach. The taste is lush and round with a buttered caramel feel but enough acidity to keep things fruity and lively. As an unabashed Chardonnay fan, here's what I wrote in my notes: loved it!
---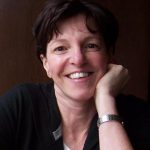 Michelle Locke is a freelance lifestyles writer based in the San Francisco Bay area. She blogs at
Vinecdote
.