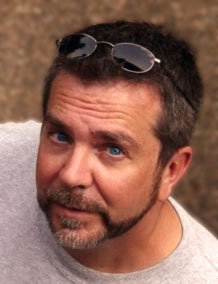 Joe Power is a husband of one and father of two. By day, he does cheap website design and development, slaving away for the man, and by night he cooks, drinks and writes. This blog reflects his passion for wine and food as well as the fact that he is one opinionated bastard with a penchant for sharing said opinions.
If for some strange reason you feel the need to know more about him, here is some entirely trivial information about him.
» Born and raised in Toledo, OH.
» Currently resides in Houston, TX.
» He is enrolled in International Sommelier Guild courses at the University of Houston.
» Thinks lifting weights is "fun."
» Can cook.
» He's a dancer!
» Makes his own beer.
» Music lover. Mainly listens to old Punk, Jazz, and alt-Country these days.
» Avid football fan.
» Loves Detroit sports teams.
» Tolerates, and is semi-tolerated by 2 dogs and a one-eyed feral cat.
» Claims to have invented the apostrophe.
» Drinks some.