I have loved the region of Bordeaux ever since I first set foot in it. The enchanting châteaux and mythical grand houses rising from tailored landscapes, the beautifully cared-for vineyards on gently rolling hills interspersed with cobbled historic villages felt magical to me on my first hot, summer visit, and they still do now – even when I'm shivering through cold rain or spending hours in a car on tiny, twisting roads to get to the next tasting. And when I'm concentrating on wine tasting, it is fun to be right there in Bordeaux with the chance to evaluate the wines myself, and to be one of the first people in the world to do so.
Maybe you've read about the exciting new 2014 vintage of Bordeaux wines – or maybe not? Perhaps you're wondering how all the tasters who went to Bordeaux early this spring can make definitive judgments about these wines now, when the wines won't even be declared finished enough to be sold for two years or more (and optimal drinking time might be decades away)? How do the advance tasters get the wines to taste? And why do they do it – every year?
The "why" is the easy part. Historically, each spring Bordeaux's top wines have been judged by experts in the region in order to set prices for the current vintage. If the vintage was particularly good, and people bought them in advance, the buyers were able to get them a lower price in advance of their release. When the wines were released on the market a couple years later, a great vintage's reputation would have caught up with it, and prices were a lot higher. In other words: if you trusted advance tasters (merchants and other Bordeaux experts) and bought the wines a few months after harvest, then you would have gotten your wines at a discount.
In the ten years or so that I've been going to taste Bordeaux wines "in advance" (which are called en primeur tastings) everyone has been complaining that this system is antiquated, and that it no longer works. In fact, several studies have reported that buying the highest-rated wines en primeur does not make anyone a profit anymore. So why continue with this advance evaluation? One reason is that because Bordeaux wines do vary from vintage to vintage, these early wine evaluations continue to influence worldwide pricing for each vintage.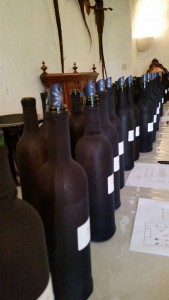 Pricing and Promotion
Yet over the past decade, Bordeaux has been accused of random inflation in their wine pricing – which has, in fact, been happening. But in a global environment where prices of all goods and consumables seem to increase every year, this price creep has seemed inexorable, whether the Bordeaux vintages were average, slightly better or slightly worse than average.
However, recently something different happened, something that had not occurred for many years: there were two "difficult" vintages of bad weather in a row: 2012 and 2013. But Bordeaux's prices did not seem to reflect this. It is true that at the very top level in Bordeaux, even a bad year can be partially salvaged by meticulous – and expensive – vineyard and vinification practices. For the 2012 and 2013 vintages the Bordeaux producers were very reluctant to slow the upward trajectory of their wine pricing. At the same time, most buyers were not receptive to acquiring much more Bordeaux, having splurged on the great 2009 and 2010 vintages. Even when the less-great 2011 vintage appeared, there had been enough merchants and consumers acquiring the wines, especially in Asia. Not too long before this, the Asian market had begun assiduously acquiring Bordeaux wines, with so many in the new upper class there thrilled to have the means to do so. This trend was also fed by the great Bordeaux promotion machine.
Which leads us to another reason why the en primeur system keeps going: it also functions as a wonderful promotion for the region, an endorsement of the exalted status of Bordeaux and its top wines. Speaking of "top wines" it should be noted here that the wines we taste during en primeur week are only the top wines of the region, those producers who belong to the Union des Grands Crus (UGC) of Bordeaux. (More about the individual wines later.)
Advance Tastings: Here's How It Works
During the en primeur week – traditionally the first week of April – about 100 invited international media people spend their days in a carefully scripted travel ballet crisscrossing the region's five main areas for their tastings. In the same ballet there are also thousands of buyers tasting some or all of the UGC wines at their own centralized tastings. Piggybacking on this are an increasingly ridiculous number of simultaneous tastings set up by other wine groups in the region, some sub-regions, organic wineries, and more.
As a member of the media, I find the UGC tastings to be wonderfully organized events: everything set up for speedy tasting of dozens of wine: neat, labeled rows of bottles, clearly laid out tasting places, spacious, well-lit tables, even dozens of electrical cords for our laptops snaking along the tasting room floors.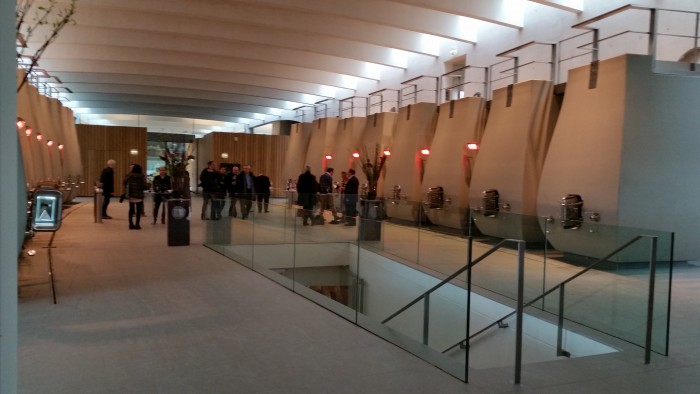 Invitation Only – Or Not?
However, in addition to the UGC tastings there are some invitation-only top tier winery tastings. These are UGC member châteaux who choose not to participate in the group tastings. Formerly this was only a handful, but recently this number has been sneaking up. In past years, I've made convoluted arrangements in order to try to get to them all – in the slivers of free time before after the official UGC tastings. This year I decided to do things differently and not go to any of the invitation-only châteaux partly because I don't like to rent a car and drive through the winding countryside roads while sampling masses of wines per day but mainly because I don't see why certain producers should decide to make their wines difficult to access.
I was mulling over my decision when this thought occurred to me: how many people do I know who actually buy these wines? But maybe that's not the point. These invitation-only châteaux have been considered iconic, some older and some newer to this status. Their wines are aspirational: if we can't afford to buy one of the handful of most expensive wines, maybe we can aspire to a bottle of their second-tier wines, or one from nearby châteaux.
But if I find it too hard to get to these non-participant châteaux, you (the readers) won't hear about them. And if you don't hear about them, these châteaux will begin to lose their status. How can they continue to be iconic if people don't know them? So aren't they just shooting themselves in the foot by staying out of the organized tastings?
In an informal poll of my fellow journalists I found just as many staying away as there were trying to get to the invitation-only châteaux this year. Incidentally, there are plenty of iconic châteaux who participate in the general UGC tastings, and don't make it difficult to get to their wines.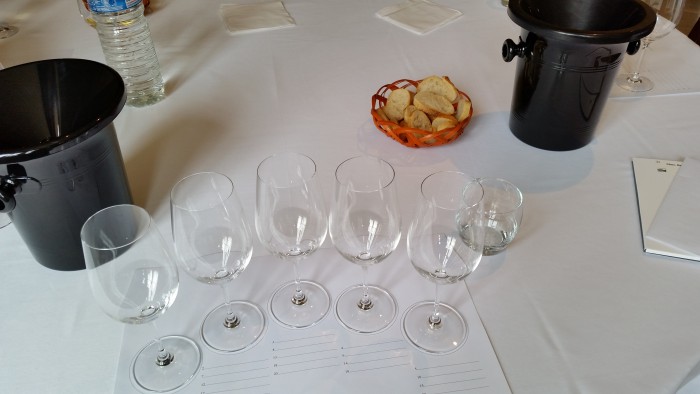 Variability
And here's where I would like to mention one more element in the tastings, one that many people complain about – albeit in a low, background mutter: variable samples. For example, the Château Nairac sample I had during the UGC tasting was not wonderful, but when I ran into the legendary British taster Steven Spurrier later, he told me his had been great. And at the Château d'Yquem tasting, many of us found that the samples also varied. It made me wonder how many times this happened.
This got me thinking about bottle variation. During the UGC events I tasted blind, which means I did not know which wines I was tasting. At the end, I opened my envelope with the list of wines and noted down each Château next to its number. After the first day if there was a questionable sample of a wine I was familiar with, I asked to taste from another bottle, and sometimes I was pleasantly surprised. I should have remembered to do this from the beginning, because years ago, the illustrious French critic Michel Bettane had cautioned me about this, advising me to taste samples from several different bottles during our early-morning stop at Cheval Blanc.
It was the same this year at Cheval Blanc, so much so that when I mentioned this to a friend who had retired to the anteroom after an uninspired sampling, the critic went back in and tried several more samples, and told me his whole outlook on this vintage of Cheval Blanc had changed. Interestingly, no one I asked has had an explanation for this phenomenon. All the samples supposedly come from the same source at the same time, in each cellar.
The 2014 Vintage
Over all, this seems to be a vintage where there is plenty of fruit as a component, also nice lively acidity, and some structure: wines that will be bright and very good to drink in a relatively few years, and may not age as well as other vintages.
This vintage was very good for Sauternes & Barsac, one of my favorite regions in the world. As the rest of my Bordeaux experience showed, the 2014 wines are fruity and lively, and we can expect them to be ready to drink in a few years. Some of the wines are in an earlier developmental stage than others; Château Climens, for instance believes in showing their unblended barrel samples to those who visit the château.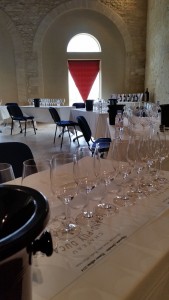 Of those I tasted at the UGC Sauternes & Barsac tasting, here are my top wines: the châteaux de Fargues, d'Arche, de Myrat, Doisy Daëne, Doisy Vedrines, Lamothe Guignard, Rieussec, Guiraud, Suideraut, Sigalas Rabaud, Suideraut, Clos Haut-Peraguey, Coutet and d'Yquem.
In the tasting of Graves and Pessac-Léognan white wines, there were quite few superior samples, including: Domaine de Chevalier, and the châteaux Carbonnieux, Haut Bergey and Larrivet Haut-Brion. Château La Louvière was quite modern, while the châteaux Olivier, de Chantegrive had apparently been caught in a transitional development phase, as may have been the case with Châteaux Ferrande and Malartic-Lagravière.
My most notable Graves and Pessac-Léognan red wines included many of the same names: the châteaux Olivier, La Louvière, Carbonnieux, Ferrande, La Tour-Martillac, and Domaine de Chevalier. Here, Château Malartic-Lagravière had a quite modern appearance, while Château de France seemed to have powerful, slightly overripe fruit.
At the tasting of UGC wines from Moulis, Listrac and Margaux, there was a variation in styles. On the more modern end of the spectrum of the best were Château Kirwan, Rauzan-Gassies, Siran, Branne Cantenac, Desmirail and Giscours. The Château Cantenac and La Tour de By were top classic wines at this point, while several others were catching up in their development, including the châteaux Clarke, Fourcas-Dupré, Fonréaud, Fourcas Hosten, Poujeaux and Angludet.
Further north, we tasted the wines of Haut-Médoc, Pauillac, Saint-Julien and Saint-Estéphe. There was a plethora of very good wine here, including: the châteaux La Tour Carnet, Beaumont, Belgrave, Camensac, Branaire Ducru, Léoville Barton, Haut-Bages Libéral, Talbot, Léoville Poyferré, Batailly, Grand Puy Ducasse, Clerc Milon, Pichon Longueville Comtesse de Lalande, Ormes de Pez, Phélan Segur and Mouton Rothschild. Two of the more modern wines were Château Gloria and Château Cos Labory.
Our final UGC tasting was of Saint-Emilion and Pomerol, beginning with aforementioned wonderful Château Cheval Blanc, and including the excellent châteaux Cap de Mourlin, Clos Fourtet, La Gaffelière, Larmande, Larcis-Ducasse,Pavie-Maquin, Villemarine, Le Bon Pasteur, Clinet, Troplong Mondot, Beauregard, Gazin and Petit-Village, with Château Franc Mayne in a more modern style.
From my point of view it's as much fun trying to get my mouth around the names of some of these châteaux as it is their wines. I hope you enjoy this, too.