How many wine appellations are there in Italy? More than 300. There are so many that most Italian people don't know about all of them.
For context, the law which established the "appellations of origin" for Italian wines was published in 1963. A few years later, in 1966, the very first DOC (Denominazione di Origine Controllata) appellation was in established; it was for the wine Vernaccia di San Gimignano. In 1980 the three first DOCG (Denominazione di Origine Controllata e Garantita, the most important grade) appellations were awarded: to Brunello di Montalcino, Barolo and Vino Nobile di Montepulciano.
In the following years, many others have been added to the list, and almost every year a new appellation is declared. Although each of them deserves attention, the latest one is a bit different, because it seems to be the largest appellation reserved for a grape that is well-appreciated in many countries: pinot grigio.
Amongst all the grape varieties in the world, pinot grigio has had a startling amount of development in recent years. In 2000, world cultivation of pinot grigio was less than 46,950 acres. Just ten years later it had leapt to 107,491 acres. Italy is the most important producer of this grape, which is mainly concentrated in three regions: Trentino, Veneto and Friuli-Venezia Giulia. In 2015 those regions produced the 85% of all Italian pinot grigio, thanks to their total 51,425 acres of vineyards.
Because the top Italian white wine consumed in the United States is still Pinot Grigio (followed, of course, by Prosecco), the news of a totally new appellation reserved only for this grape is so important: it's an additional quality guarantee for consumers. The aim, in fact, is not only to produce grapes according to the new and more stringent rules but also to track the entire production process, from the vine to the final bottle of wine. This way, there won't be any more room for bottles of wine of dubious origin, and it will dynamically reduce the risk of counterfeit pinot grigio.
In order to better clarify the details of this new "Super DOC" which is going to encompass approximately 3,000 producers in three wine regions, 450 bottling companies and more than 59,000 acres of vineyards and 250 million bottles of wine (i.e., half of the Pinot Grigio production of in the world!) I interviewed the producer Albino Armani, leader of the group of producers who lead the initiative of this project.
Why did you feel the need to create a totally new appellation solely for pinot grigio, and who, in particular, wanted it?
"Italian Pinot Grigio is currently a very successful wine, with a huge volume of production," replied Armani. "For this reason, the producers themselves felt the need to adopt an effective legislative instrument in order to drive the growth of this wine in the world. The name IGP (Indicazione Geografica Protetta or Protected Geographical Indication, formerly IGT or Indicazione Georgrafica Tipica) is not enough anymore because it's a lower level than the DOC. So, the producers wanted to create the new DOC Pinot Grigio Delle Venezie. It was important to do that because the DOC allows a perfect safeguard in traceability of the wine from the vineyard to the bottle.  And it protects consumers with a governmental insignia that will be put on each bottle."
How did you accomplish this?
"We eliminated Pinot Grigio from each regional IGT. From now on, a producer who wants to make a wine with pinot grigio will have to label it as Pinot Grigio DOC Delle Venezie – no longer IGT Veneto, or other IGTs that we had gotten used to. With just one exception: IGT Vigneti delle Dolomiti. Producers of Pinot Grigio in the province of Bolzano didn't accept the new DOC, so wine made in that region will still be labeled as IGT."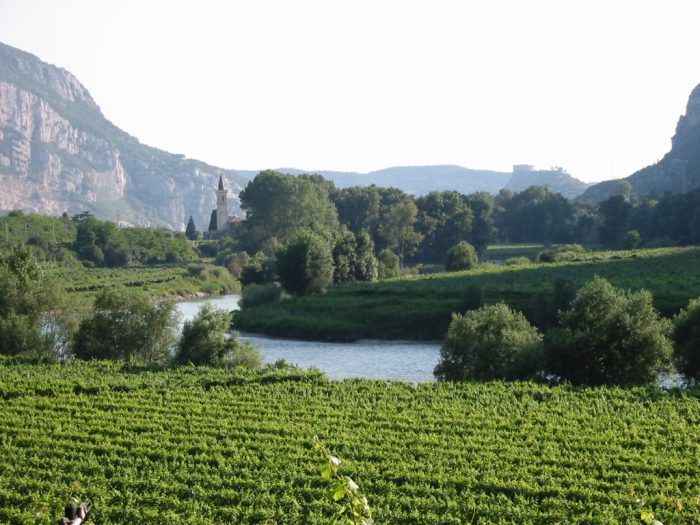 What have been the biggest difficulties in creating the new denomination?
"Putting together three Italian regions with different visions, sensibilities, viticultural stories… and persuading them to adopt one unique vision. In the end, though, we made it." (This is a short reply which doesn't show that actually it has been a long, patient and nerve-wracking effort to harmonize different attitudes and ideas and find the right settlement for everybody. It required countless trips back and forth throughout the three regions, along with endless meetings with producers and politicians.)
Now, talking about wine consumers, what will change for them in US market? Will the Pinot Grigio DOC wine be higher quality than Pinot Grigio IGT? Will it cost more?
"The quality of a wine doesn't only depend on its DOC, although the DOC helps to improve it," Albino Armani explained. "All Pinot Grigio from Northeast Italy will have to be tasted by tasting commissions before being bottled. The tasting commissions will be inflexible, rejecting any wine not fitting the proscribed organoleptic and chemical characteristics. In this way, they will also drive all the producers towards ever higher quality standards. However, I don't think that this process will affect the final price of the bottles – or, at least not too much."
A commitment to their consumers is shared by every Pinot Grigio producer, from the smallest ones to the most renowned ones, like the famous Santa Margherita Gruppo Vinicolo: "We totally agree with the new regulatory reorganization for the Pinot Grigio, because it should lead to a greater guarantee of quality wine available to the final consumer and for the various players in the production chain," stated Ettore Nicoletto, Santa Margherita CEO. "We produce more than 12 million bottles of Pinot Grigio. Most of them are…DOC…and this is the most tangible evidence of how the appellation of origin is always the basis of our strategic vision."
Pinot grigio is very important for the Italian Agricultural Ministry, too – the agency that approved the new DOC so quickly. However, due to bureaucracy, it's unlikely that the American wine lovers will see bottles labeled "Pinot Grigio DOC Delle Venezie" on the shelves within this year; it will take a bit more time. Anyway, the path is outlined. Although a new DOC inevitably means stricter rules of production and a lot of work for the producers, nobody doubts the importance of more guarantees to the consumer – even the producers of other typical wines… On the horizon, it seems that something new is going to happen for grapes like Ribolla Gialla, Nosiola, Corvina, to name just a few.
But that is another story, and I'll tell you about it another time…