Beaumes de Venise and its neighbors – Lafare, La Roque-Alric, and Suzette – are Southern Rhône winemaking villages, a part of the Beaumes de Venise AOP (Appellation d'Origine Protégée). Here the landscape is shaped by the vineyards, which are grown in terraces stitched into the slopes and valleys of the Dentelles de Montmirail, a distinctive rocky range that is also home to the wine regions Gigondas and Vacqueyras.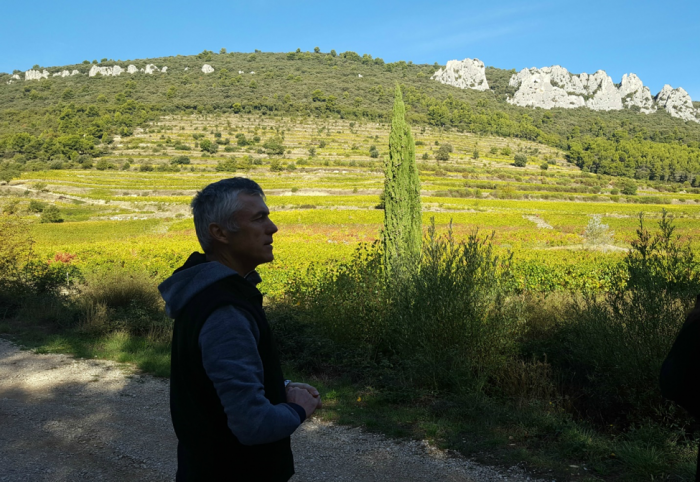 This year the Christmas market, Marché de Noël Authentique, is held at the local cave cooperative. Traditional Provençal holiday treats such as hot wine, chestnut picking, local truffles and foie gras will be available, as will the regional specialty: Muscat de Beaumes de Venise. This fortified wine is a historical treasure, carefully cultivated and vinified. Famous worldwide and enjoyed year-round, this wine enjoys a special spot in Christmas traditions as it is festive, tasty and elegant.
Wine Made By Local Artisans
Many of the families that live here are vignerons or work at a domaine, and though there is a strong method of tradition, there is a precise and vital energy when it comes to winemaking. In fact, this energy is the tradition, conveying a constant sense of openness and freshness, reflected in the taste of their wines.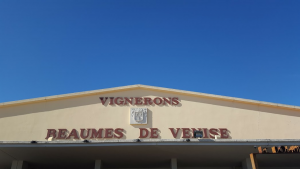 Inside, the co-op itself expresses the refreshing style of Beaumes de Venise. It is breezy and beautiful (think polished glass and twinkling chandeliers) and houses Le Dolium, a restaurant with a polished and elegant vibe. It was there that I was introduced to Rickman Haevermans, Director of Marketing and Development of Rhonéa, the co-op group that represents the vignerons of Beaumes de Venise (as well as the Vignerons de Caractère, located nearby).
Rickman's job is to tell the story of the hundreds of artisan winemakers that contribute to the cave co-op. The best way to learn this story, it turns out, is from the front seat of a 4×4 vehicle, which Rickman drives with confidence, a functional requirement to access the terraced vineyards of Beaumes de Venise.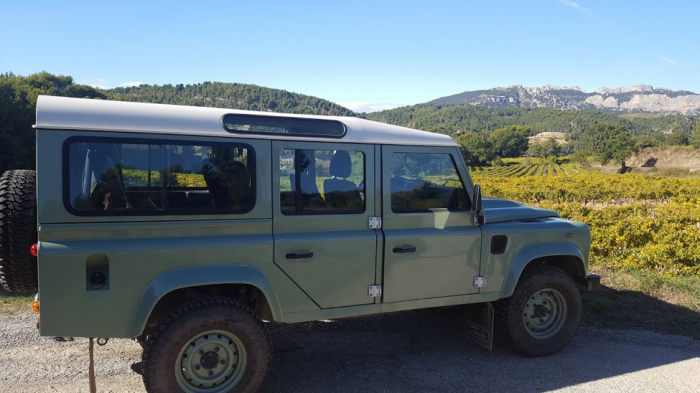 Lacy Mountains: The Dentelles de Montmirail
The Dentelles de Montmirail are, in basic terms, a set of mountains. From some angles they bear a toothy expression and if one's French isn't up to snuff, it's possible to believe that the term Dentelles is a mouthy expression. Actually it means lace, and the illusion of intricate negative space characteristic of the namesake fabric is an apt description of the landscape. There are terraces, wedges, cliffs, slopes and plateaus – all covered with vineyards. Now-you-see-it, now-you-don't perspectives make it entirely possible to get lost on the winding roads and pathways through the villages and vineyards.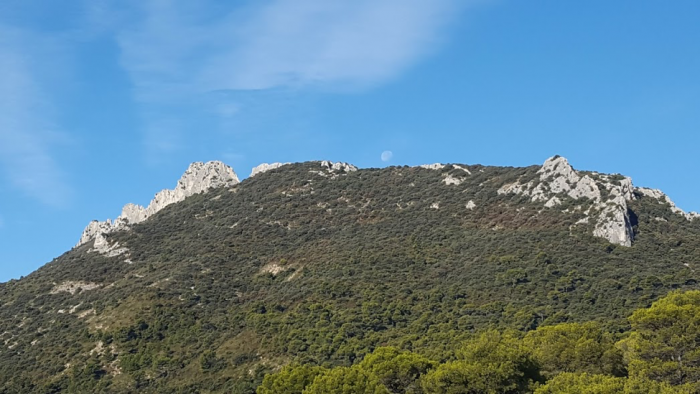 A geological shift 100-230 million years ago pushed up Earth's inner soils and deposited them into a graduated landscape. The soils of the Dentelles are complex and fascinating, and they produce wines that reflect this. They are also teased by the Mistral, an overly generous wind that frees the vines of moisture and rot and injects a certain fresh vitality in the wine. Soil and wind: the conversation of the day as our 4×4 squeezed and bounced and wound through the beautiful patches of vineyards, each owned by an artisanal grower.
The terroir of the area is also heavily influenced by garrigue, the herbal scrub that grows wild in Mediterranean areas such as Provence and the Southern Rhône Valley. Lavender, thyme, juniper and rosemary combine to create a dusty pungency which is baked into the soil and can be detected in a whiff of the wind.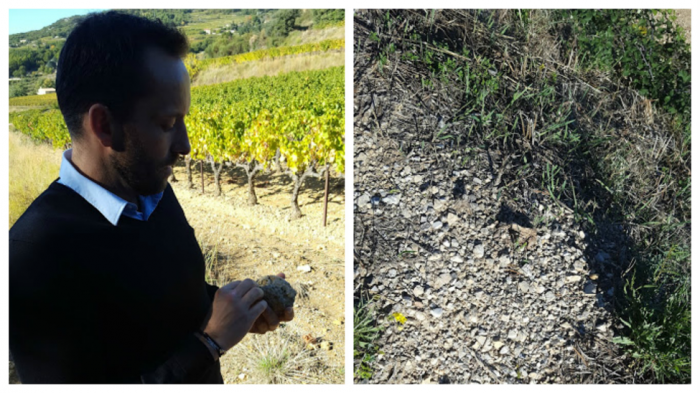 Preserving Terroir
The 4×4 ride ended at Domaine La Ferme Saint-Martin, a tasting room with a seriously tremendous view. There, 25 hectares (62 acres) of vines are planted south-facing, terraced from 200m to 600m (650-2,000 feet). The domaine is nested at the top where a rock ledge lined with garrigue creates a windy vantage point to view the scene: the stone buildings of Suzette, cypress spikes, tidy vine rows, the Dentelles… a sample of the entire region in one eyeful.
Inside the domaine, a different setting waits: soothing stone, a simple worn wood bureau and rustic artwork. Thomas Julien, a partner in the estate, offers a tasting in a tucked-away back room with simple metal chairs and a thin table. Fun facts: he has visited all of the appellations in France and he plays the accordion.  With his tannin-stained hands and wind-swept hair, Thomas looks like a person one would trust on a wilderness hike, but he's got a certain steady style that is expressed in his wines.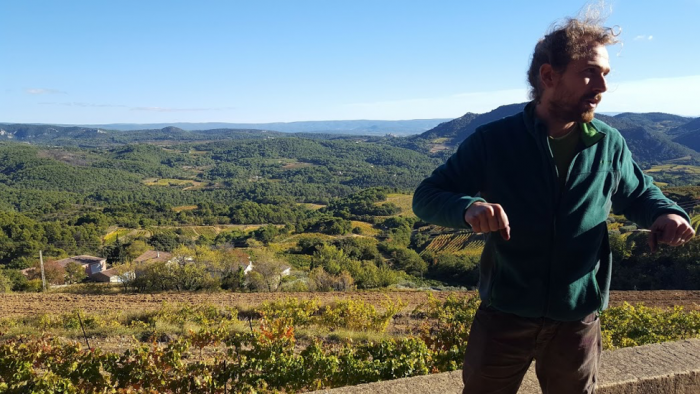 It's all organic at La Ferme Saint-Martin, but the dedication to environmental preservation goes well beyond pest and mildew prevention. As Thomas moves through his portfolio of wines, it emerges that he's looking for unique genetics lost in the current environment of AOP requirements which state that grenache and syrah must together count for at least 80% of the grapes in this zone. There are around 18 other varieties permitted, but grenache is the huge leader, and Thomas doesn't want it to crowd out the old-time vines that once grew here. He's working with the National Conservatory of Grapes as well as with elderly locals. "To find the vine, the old men say look here, here…" He tells me.
Beaumes de Venise Classifications
Earlier in the day, I had met with winemaker Patrick Soard and his daughter Justine at their estate Domaine de Fenouillet. Patrick and his brother Vincent are fourth generation winemakers with a quiet reputation for excellence. During my visit it was important to Patrick to show the natural setting of the vineyards which includes an ancient chapel with a sweeping view of the kingdom of Beaumes de Venise. While crediting his father and brother for their work, he also looked to the future, speaking of the day when Justine and her cousin would take over the domaine. The estate hand-harvests most of their vines. It is certified organic, and is a member of the group Vignerons Indépendents.
Domaine de Fenouillet makes Muscat de Beaumes de Venise, which is a specific Vin Doux Naturel (natural sweet wine) that earned AOP status in 1943 (Beaumes de Venise red wine gained AOP status in 2005 and several winemakers are also hoping for a white wine status in the near future). Some background on what's what with classifications: The Rhône Valley has a graduated classification system, with Beaumes de Venise occupying a place at the top. Côtes du Rhône is the most general regional classification and covers wine from 171 communes. Next are the 18 Côtes du Rhône Villages which include wine from 95 communes, with or without their geographic names eligible for the label. Most distinctive are the 16 Crus, the most famous of which is Châteauneuf-du-Pape. Beaumes de Venise shares the same status as this celebrated region for both its Muscat de Beaumes de Venise as well as its red wines, each with its own guidelines.
I'd heard the term mythical applied to the Dentelles and I'm stealing the word to describe the Muscat de Beaumes de Venise. It isn't just a sweet dessert wine. The sweetness imparts body, depth and structure. The flavors are rather muscular, lacking any impression of a sugary presence.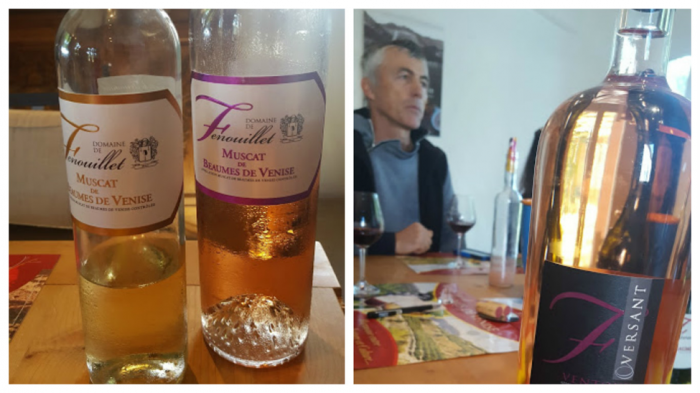 Beaumes de Venise is a place of evocative surprises, intense depth, incredible taste and that certain French steadiness in quality. December brings a time of rest, preparation and reflection after a season of harvest. A visit here is a treat for curious travelers, a playful landscape unlike anywhere else. For those staying home for the holidays, a bottle or two of Muscat de Beaumes de Venise will unwrap a Provençal holiday tradition to share with family and friends.