Utter the word "Tuscany," and your mind will likely conjure up images of rolling hills, sunny skies, and the dueling monocultures of olive groves and grapevines. And your mind would be right, because most of Tuscany looks exactly like stepping into a painting, photograph, or landscape shot from Under the Tuscan Sun.
But nestled in Tuscany's northeastern quarter sits an interesting, ironic contrast to that clichéd image: an ancient winemaking area – Terre di Pisa – with a defined DOC that's only five years old. Furthering the irony, this region crafts modern, authentic wines from a landscape that looks like it's straight out of the 1950s, and is now becoming a tourist destination on its own.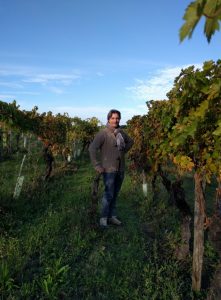 Terre di Pisa's main hub, Pontedera, is famous more for Vespa production than for fine wine. While the rest of Tuscany has succumbed to those ubiquitous olive trees and grapevines, this relatively recent DOC is still home to sunflowers, olives, strawberries, wheat, and undeveloped woodlands. All of which is to the benefit of the expanding areas of grapevine plantings, according to Matteo Cantoni, one of the proprietors of Fattoria Fibbiano, a winery that his family purchased in 1997, which has buildings dating back well over 500 years. "This diversity of agriculture creates a unique microclimate," he told me during my visit.
If there's a winemaking theme in Terre di Pisa, it's "forward to the past." Wine has been produced here for about 2,500 years, dating back to when Pisa was a critical region for the Etruscans (whose tombs can still be found in the area). Most of the vineyards sit on sandy clay soils that are topped off with ample mounds of ancient calcareous seabed material in the form of complete coral, seashell, and oyster fossils. In the right spots the vine roots can reach down over ten meters. "Here," Cantoni pointed out, "you [literally] walk on the shells." Cantoni helps to oversee one of Tuscany's oldest such vineyards, planted to sangiovese and colorino vines that are over one hundred years in age. "This is history," he noted about the region. "This is who we are: no money, and a lot of work!"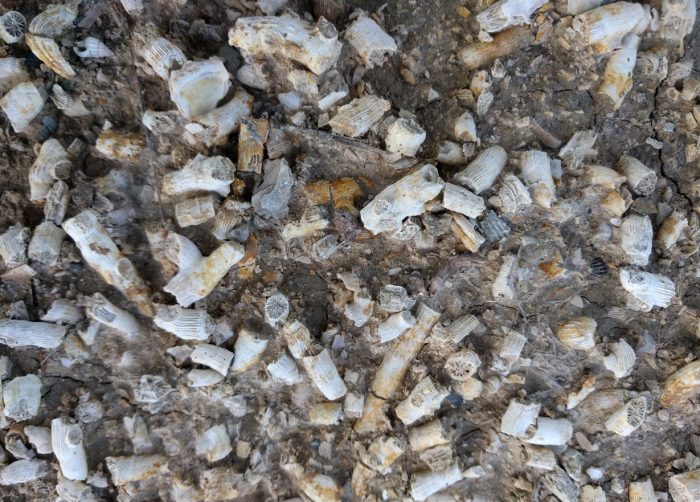 Interestingly, Terre di Pisa's ancient soils and old vines are often paired with modern winemaking operations that are quite young by Italian standards. The Sangervasio winery takes its name from San Gervasio, built in the mid-700s, though the current family ownership dates back only to the 1960s, when high-yield production was the norm. But in the mid-1990s owner Luca Tommasini began to focus on crafting modern, clean, fine wines, as well as organic certification, and high-density plantings – a decision that was not well-received by his family. "For the first green harvest," he recalled with a laugh, "There was a war: everybody against me!"
Something similar happened at the winery Pietro Beconcini Agricola, on the northeastern edge of Terre di Pisa, near the hillside hamlet of San Miniato. The winery is now headed by second generation winemaker Leonardo Beconcini, who works vineyards littered with ancient sea fossil remains. There, he tends ungrafted Tempranillo vines that are nearly 100 years old — likely brought by pilgrims who traveled along the area's via Francigena, part of an ancient series of roads linking Santiago de Compostela, Rome and Jerusalem.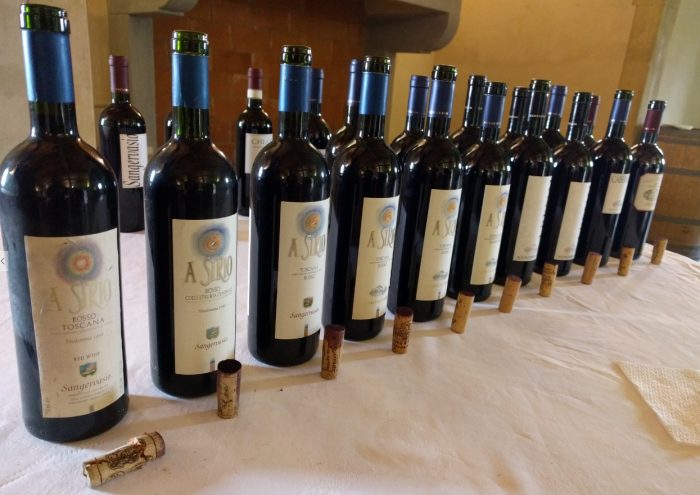 The most dramatic example of the amicable defiance of Terre di Pisa's wine producers comes courtesy of Podere Marcampo, founded by military-man-turned-famous-chef Genuino del Duca. Initially, when del Duca purchased his countryside estate in 2003, he envisioned producing wine for his restaurants, but later expanded to sell wine commercially. According to his daughter Claudia, their wine-growing was a triumph of will and passion over reason. The Marcampo property is prone to erosive landslides, requires irrigation and hand harvesting, and sits on salty soils with rock-hard blue clay that calls for vine clones that don't develop deep root systems. "When we asked a consulting agronomist what could grow here, he said 'not even fava beans,'" she told me when we toured the estate. In this case, the links to the past happen inside the winery: they favor tonneau, and they don't inoculate with yeast, so fermentation times are "a little tricky, and longer."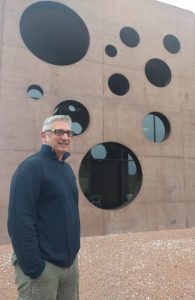 It's at Podere la Chiesa winery, that Terre di Pisa's congruence of the modern and the ancient is at its most visceral. There, former information technology worker Maurizio Iannantuono and partner Palma Tonacci have built an award-winning, ultra-modern, stylized winery and tasting room to help vie for a share of the Pisa, Florence, and Volterra tourist traffic. Iannantuono has international varieties like malvasia, merlot, and cabernet sauvignon growing on these ancient soils.
"This area is one of the new frontiers of red wine in Tuscany," Iannantuono told me, and the irony was not lost on either of us. "This land," he declared, in what might have been a friendly, us-against-the-world dig at the rest of Tuscany, "is still authentic."
Here are some of the most interesting wines hailing from the Terre di Pisa area:
2015 Fibbiano "Fonte delle Donne" White (Toscana, $17)
Fibbiano focuses on indigenous Tuscan grapes, and this white is a combination of colombana and vermentino. While much of southern Tuscany's Vermentino can seem bloated and overripe, here it provides minerality and pithy structure that support the aromas of flowers, chalk, peaches, cream, and the mouth-filling tropical fruit flavors.
2012 Fibbiano "Ceppatella" (Toscana, $55)
This red is made entirely from sangiovese grown in one of Tuscany's oldest vineyards, much of the vines being over one hundred years old. Tight and intensely chalky, there are deep plum and cranberry fruit notes that peak out after several minutes in the glass, along with brambly dried herb and leather aromas. In the mouth, this is soft but vibrant, with a fantastic texture that's balanced between the linear acidity and the focused, persistent tannins.
2011 Podere la Chiesa "Opera in Rosso" (Terre di Pisa, $NA)
This Sangiovese spends 24 months in tonneau, and it's a wine that's best described as authentic and alive. There are substantial cranberry fruit, sage, orange peel, and lavender aromas, along with ample amounts of chalky minerality. The wine is silky but doesn't lack for freshness, lift, or focus.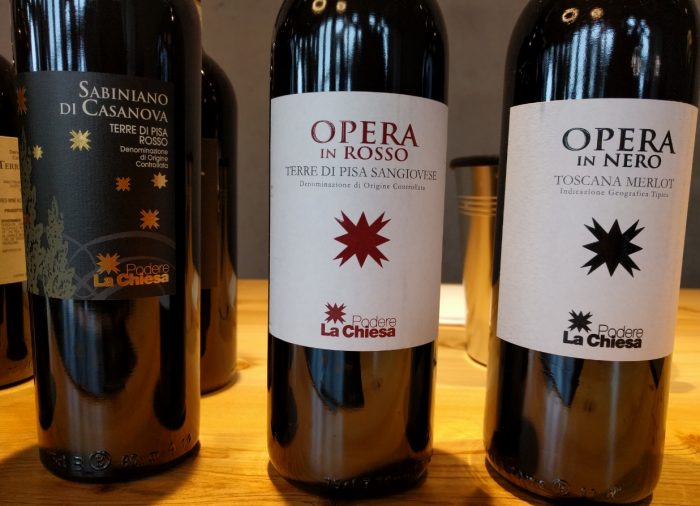 2011 Sangervasio "A Sirio" (Terre di Pisa, $50)
One need only go back to the stunning 2003 vintage of this wine to see how well this sangiovese dominant blend ages (5% cabernet sauvignon was usually included, but from the 2015 vintage on it will be 100% sangiovese). Earthy, with aromas of sweet tobacco and dark cherries, this red comes on strong and then retreats to more subtle mineral and dried herb notes. 2011 was a warm year, and you can feel it in the ripe dark fruit flavors and grippy structure. Toast, smoke, and leather lead out a long finish in what ends up as one of the bigger, impeccably crafted Terre di Pisa offerings.
2010 Pietro Beconcini Agricola "Vigna alle Nicchie" Tempranillo (Toscana, $45)
The wine takes its name from an old Tuscan dialect word for seashells, the inspiration coming from the abundance of fossils that define the area's vineyard topsoils. The nearly 100-year-old vines yield a deep, complex, and concentrated wine. Everything about this red is big: the power, the heat, the spices, the dried cherry flavors, the herbal and tobacco notes, and the acidity. It's reminiscent of the modern, big style of Rioja wines that came into prominence in the last fifteen years in Spain, only with much more of a sense of authenticity.
2014 Podere Marcampo Severus (Toscana, $NA)
This Sangiovese is spicy, earthy, and nuanced with orange peel, dried sage, and dark cherry aromas. It's vibrant, too, with juicy cranberry fruit flavors and lovely, long finish. Hedonists will unfairly describe this as too thin, but given its liveliness, there's little surprise that a restaurateur crafted it. It seems as though it would be a magical pairing with high-end pasta dishes.