Earlier this fall I ate at a restaurant that I had been looking forward to for months. We had researched the chef, read the reviews online, consulted our calendars, googled driving time (several hours through beautiful mountainous scenery), and finally, four of us arrived at the restaurant just as the weather cleared for sunset on an early autumn day.
Trees and flowers lined the covered walkway that led us into the warmly enticing, rose-colored building as dusk began to fall. In the tasteful entryway, we were greeted and immediately led to our table in the elegant dining area where the tables were placed just far enough apart to ensure privacy. Water was poured to each person's preference: still or sparkling. Looking around, we noticed the décor was designed with a pleasing balance of rusticity and refinement. We conversed in hushed tones as we waited for our meal. And that's when it all started to go wrong. Not the food – which actually was incredibly charming and innovative – but the experience itself.
Not only has this restaurant received rave reviews everywhere, but the chef has been lauded as one of the most novel and original in the world. Her husband, the wine director, is said to have an incredible cellar and to be able to suggest wondrous wine pairings. Because, luckily, our visit was during the shoulder season – after the summer tourists and before the winter skiers — our wait for a reservation was just a couple of months. Just imagine if the celebrated Hǐsa Franko was somewhere less remote than the countryside near the western border of Slovenia!
As one might imagine, we had some questions about the dishes, which were described very cleverly on the seasonal menu. Various servers appeared but they seemed to discourage questions. So we settled on a six-course tasting menu, and tiny dishes and wines began to swiftly appear at our table.
Being fairly hungry, we quickly finished our first little amuse bouche bites: so beautiful and tasty our eyes opened wide in appreciation when we saw them.
In an amazingly short time, the second set of dishes appeared – so wonderfully designed in color, texture and flavor that we gasped in appreciation.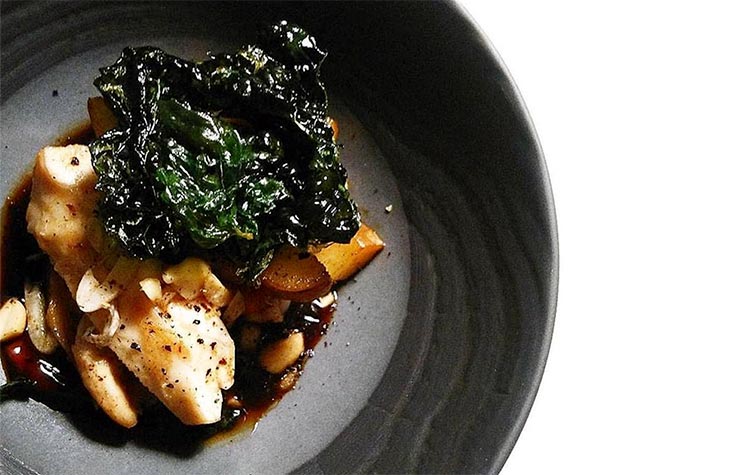 As those plates were quickly whisked away and the next wine appeared, we suddenly realized that we were never going to have a fun conversation with the famed wine director; we had made a choice from an array of wine pairings, and those wines were poured into our glasses and that was that.
Equally, we were never going to have cozy little chats with the waitstaff about the rare ingredients and techniques used in these dishes. As far as they were concerned, we had a set menu and the dishes would be served as quickly as we could consume them. Politely — but placed on our table as if gods had deigned to allow us a few morsels of their manna.
The servers were smug with the knowledge that they were serving state-of-the-art food, each dish more novel than the last. We were expected to gasp reverentially — yet when we did so, they looked down their noses at us. These servers dwelt in this bastion of radically delicious dishes every day, and we were insignificant visitors they condescended to admit for a couple hours, never to be seen again.
At some point I wondered if maybe it was just me, having a paranoid delusion. Yet, when the four of us later discussed the evening, we realized each had independently come to the same conclusion: incredible disappointment that our experience had been ruined by a staff that had no interest in interacting with us.
Luckily this wasn't our only dinner in the beautiful country of Slovenia, and other experiences tended to be the direct opposite of the inexcusable Hǐsa Franko. Take the little trout restaurant Pod Krvavcem we visited while staying in a village near Ljuibljana. Walking  through the doors, it was apparent that a large celebration was going on down the hall in the main dining area. But we were quickly invited into the front room, a small space with a bar and two dining tables by the windows.
Despite the language barrier, we learned that the main restaurant was hosting a 50th wedding anniversary, yet we were still welcome to have drinks at the bar and a meal if we wanted. Menus were pressed into our hands, with some dishes described in English. We were assured that the celebration was winding down and the kitchen had time for us. We peeked into the dining room and saw people of all ages dancing to a live band.
After taking note of a few interesting, regional liqueurs on the shelves behind the bar, we decided to make ourselves comfortable and stay for dinner. From the first charming trout quenelles to the finish with a local apple dessert, we had a warm and wonderful time. The servers and barmen were helpful and encouraging. We relaxed, sipping a local wine. At one point we realized the live band had come in to have their dinner break at the next table, and we saluted each other. Good food, caring servers and mutual respect.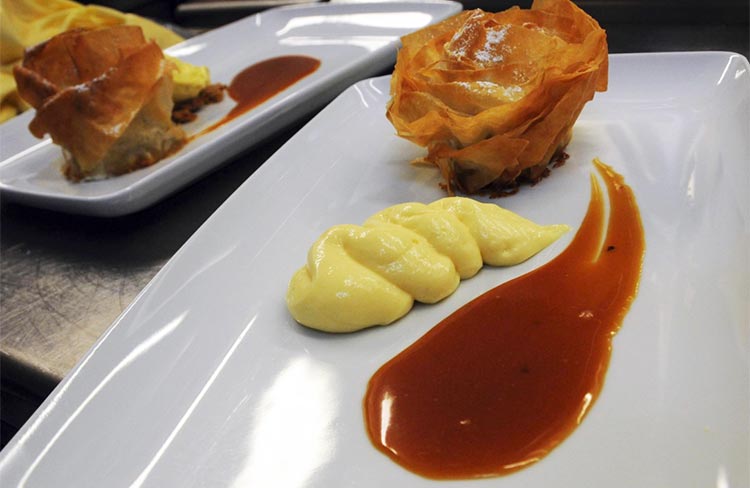 Another day, we went in the opposite direction from our Slovenian mountain base to look for dinner in a different small village. Arriving at what looked like a hotel, we were ushered into a tiny dining area with a few tables and a beautiful, tiled woodstove. One other couple — who also happened to be tourists — was there, so we feared the worst. Instead, the best happened.
Our host at Gostilna Majč (too small to have its own website) was a young man named Ziga Arnež, the son of the family that owns this hotel. During our hearty meal of well-made regional dishes, Arnež explained that he grows all the herbs for cooking in the garden at the side of the building. Later, we learned that his family is working on upgrading their restaurant and renovating rooms to return the building to its original purpose: a modest yet stylish country inn, as in his grandfather's day.
Apparently Rakovec is also a well-known snowboarder who races in the winter and designs boarding courses at various mountains. It all sounds intriguing, but I wouldn't be writing about the restaurant here if it didn't work so well. The food was excellent, and Rakovec and his mother (who cook together) were genuine, enthusiastic and as interested in us as we were in them.
I haven't talked about prices at these restaurants because that's not the point. The point is quality, communication and respect – whatever the venue, whatever the cost of the meal.
Featured Image by Sage Ross; Others courtesy the respective restaurants.