From the Walla Walla Valley:
In July and August over 1,800 acres of grapes were basking in 90 to 100 degree temperatures, making it an early harvest the first week of September in the Walla Walla Valley. And by the middle of the month, the sweet smell of fermenting fruit from the wineries filled the air.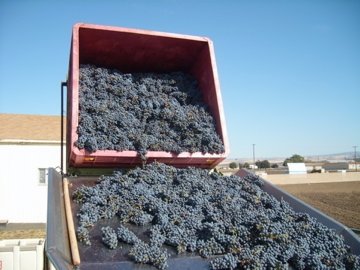 Michael Murr, owner of Garrison Creek Winery and partner of Les Collines Vineyard, said by mid-September they had pulled 1/3 of the crop (Merlot, Syrah, and Tempranillo) from their 240 acre vineyard, but still waiting on Cabernet Sauvignon, the "Achille's heel" of the grapes. Greg Harrington, owner of Gramercy Cellars, claims they picked the best Syrah ever from the Les Collines Vineyard for his winery, as the fruit showed a perfect balance of sugars and acids.
Pepperbridge Winery started the first of their harvest after the hot weekend in mid-September by bringing in around 10 tons of small berry Merlot clusters from their Seven Hills Vineyard, while Mannina Cellars had just pressed their Merlot from a different block leased at the same vineyard.
Overall, Bacchus brought good fortune to several of the vineyards in the valley as they were well ahead of the season with 90 percent of the fruit crushed when the frost hit the valley the first week of October. Mother Nature rendered her verdict to the fruit still left on the vines which were capable of producing high-alcohol wines, as Harrington of
Gramercy Cellars
pointed out. The remainder of the grapes left on the vines were mostly Cabernet Sauvignon and Merlot, but overall the frozen fruit looked very well.
To sum up the scramble to the vineyards to beat the frost, Greg Harrington says, "If you think a freeze is like the romantic movie, A Walk in the Clouds, starring Keanu Reeves – think again. It's more like a high-speed nerve-wracking opening chase scene from the movie, Mad Max."
–Catie McIntyre Walker was born and raised in Walla Walla, WA and is the original Walla Walla wine blogger and "locapour." After almost eight years of cleaning spit buckets and pouring for the masses, she hung up her cork screw to pursue her writing and open her online wine store, Walla Walla Wine Woman.