Venice, Italy, is always, well—Venetian: fascinating, mysterious, noble, and exquisite even when fog shrouds the city. Here on Giudecca, one of the eight interconnected islands in the Venetian lagoon, the luxury hotel Molino Stucky rises gracefully from the sea. The building, a 19th-century granary and flour mill now splendidly restored, is near the famous Piazza San Marco and the city's major attractions. It's also now a major convention center, and recently played host to Italy's Gusto in Scena—Good Taste on the Scene.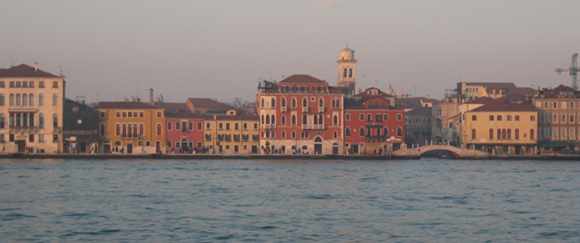 The event, the brainchild of journalist Marcello Coronini, is the first show in Europe to combine three events in one: Chef in Concerto (Chefs in Concert), a gastronomic congress for top chefs; I Magnifici Vini (Magnificent Wines), an international wine tasting; and Seduzioni di Gola (Seductions of the Palate), an exhibition devoted to Italian delicacies.
Chef in Concerto offered attendees a virtual journey through European culinary production. Contests pitted chefs from Italy and Spain on Day One, then Italy and Austria on Day Two. In a great hall fitted with regal Murano glass chandeliers and plush carpets, we followed each chef on a gigantic screen, mesmerized by the intricate preparations.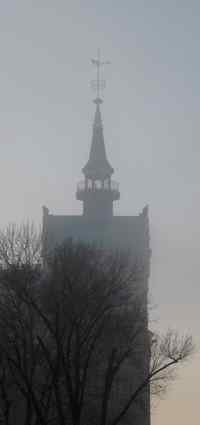 Two chefs in particular caught my attention. Renzo Dal Farra, owner of Michelin-starred Locanda San Lorenzo, prepared his famous Alpago lamb, a rare breed of small to medium sized sheep with small ears and no horns, raised in the mountainous Alpago Valley in Veneto. Dal Farra offers this lamb dish in his restaurant in Puos d'Alpago, located just a few hours from Venice.
Alessandro Gilmozzi, chef-owner of the Michelin-starred El Molin Restaurant in Cavalese, Val di Fiemme, turned out to be a lichen specialist, gathering and cooking this peculiar specialty to capture the flavors of Italy's most famous woods and mountains, the Dolomites. Gilmozzi also uses color in his dishes to suggest the forest: deep green for herbs, brown for the woods and mushrooms, and soft pink for the mountains at sunset.
But for a wine lover, I Magnifici Vini was by far the most compelling event of the expo, with wine tastings from over a hundred Italian, French, and Austrian wineries, chosen for their high quality and place of origin.
Organizer Coronini said, "In the world of wine, we often talk about climatic conditions, marl and limestone soils, exposures to the sun suitable for a particular type of grape versus another… All of these elements are fine to chat about, but only the insider to the wine world truly understands the lingo. We all know that the characteristics of a terroir affect wine… if we divide these products into wines from mountains, sea, plains, and hills, everyone will understand what we're talking about, because everybody knows these natural environments."
With the help and advice of Attilio Scienza, a famous Italian viticulture professor at Milano University, Marcello Coronini began some years ago to distinguish and classify wines according this subdivision. Here's how it breaks out:
Wines from the sea offer evergreen aromas. Soft and full-bodied in the mouth, they typically show sweet and supple tannins. The whites are are especially exciting, approachable, and display a rich, golden color. Here's one characteristic "Wine from the sea" I tasted at the event:
Casa Vinicola Firriato, Etna Rosso DOC 2007 "Cavanera." This wine is a blend of the indigenous grapes nerello mescalese, etna rosso, and nerello capuccio, grown in black soils at about 600m elevation, and under extreme conditions. Dark ruby in color, with a very dark bouquet of black spices and fruit, this wine offers a peculiar volcanic flavor and a long, persistent finish.
Wines from the mountains are rare, because they come from areas considered difficult to culture. They're mostly white, and often aromatic, fresh and elegant. One of the few red wines of this kind is Sfurzat, from Valtellina. Made from dried nebbiolo grapes, the wine is like a cousin to Amarone della Valpolicella. Here's one "Mountain" example:
Arunda Vivaldi, "Arunda Cuvée Rosé." This sparkling rosé is made exclusively with pinot noir from a vineyard located 700m above the village of Montagna. A wonderful and luminous cherry color leaps from the glass, and the wine offers a lovely perlage. The nose is enchanting with aromas of blueberries and raspberries, while the rich flavors coat my mouth with a fresh yet elegant creaminess.
Wines from the plains are also considered a bit rare. These areas are often characterized by hot, dry summers with gusty winds. The soils, sometimes composed of clay, are compact, pebbly, fertile, and well drained. The wines, both red and white, generally show subtle aromas but with big, full-bodied mouthfeel. They tend to age well. One wine "From the plains:"
Tenuta Roveglia, Lugana DOC "Vigne di Catullo 2008." The turbiana grape produces one of the most elegant and long-lived Italian white wines, Lugana. Turbiana thrives in the white clay plains, giving us a wine with a bright golden color, aromas of tropical fruit and white flowers, and a never-ending finish that's elegant in its perfectly balanced acidity. Note: Try this wine now, because in the near future it may no longer exist: a new high speed train will be built to pass through the Roveglia Estate, which will likely wipe out this heritage grape.
Wines from the hills are the most prolific you'll encounter. The most suitable areas for quality viticulture are limited to a range of between 30 and 45 degrees latitude, both in the northern and southern hemispheres. Consequently, these wines are complex and unique, reflecting their place of origin. For example:
Tenuta Cerulli Spinozzi: Pecorino IGT bianco "Cortalto 2008." Pecorino is a grape from Italian regions Marche, Abruzzo, Lazio, and Puglia. This particular pecorino is light in color, with rich aromas of pineapple, peach, and melon, and these also show on the palate, followed by a long and creamy finish.
---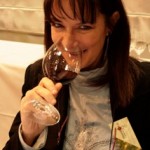 Elisabetta Tosi is a freelance wine journalist and wine blogger. She lives in Valpolicella, where the famous red wines Amarone, Ripasso, and Recioto are produced. Professionally, she serves as a web-consultant for wineries, and in her free time  writes books about Italian wines. She is also a contributor to Vino Pigro.