Sicily's wine revolution and the challenge of marketing unfamiliar grapes 
I'm sitting in a Sicilian fish restaurant overlooking the Mediterranean, a glass of white wine in my hand that pairs perfectly with a plate of seafood yanked out of the water just hours ago.
Clean, crisp and versatile, the wine made from the regional grape grillo is the sort of thing you might expect to go over big in a U.S. market that has embraced Sauvignon Blanc and Pinot Grigio. But in fact I've never seen it on a restaurant wine list or found it lurking in the "other wines" section.
Turns out unfamiliar grapes face a pronounced difficulty making a name for themselves in a market dominated by "international" varieties like Chardonnay and Cabernet Sauvignon.
"If you put it on a wine list or you put it on a by-the-glass list, nobody knows what it is," explains Alberto Lusini, COO of Prestige Wine Imports, which imports Stemmari wines, my host on a recent trip to the region.

The big story in Sicilian wines is the rise in quality. Once viewed as primarily a source of cheap, overcropped grapes that went into indifferent bulk wine there's been a concerted effort in recent years to reduce yields and raise winemaking techniques. These days, this autonomous region of Italy is producing elegant reds and interesting whites proudly labeled under Sicilian appellations. Along with the rise in quality there has been renewed attention to regional grapes which add a unique flair to the island's portfolio of wines.
Now, the task is to persuade consumers to try them.
Take Grillo (gree-lo), one of the white grapes used to make Marsala, Sicily's famous fortified dessert wine. Grillo means "cricket," in Italian; according to Stemmari winemaker Lucio Matricardi crickets used to shelter under the bush canopy of the vines – the old-school cultivation style. Another possible etymological derivation is the way the taste "jumps in your mouth," he says. In the past, the grape was produced in the poorest way and, in Matricardi's colorful analogy, was "like a dog that has been beaten." But grown at lower yields and with an emphasis on quality the grape can produce crisp, dry whites.
Stemmari introduced Grillo in the United States some years ago and while it did well in tastings it didn't catch fire in the market. So, the company regrouped and in August is releasing a Spumante-style Grillo called Baci Vivaci, Italian for "lively kisses."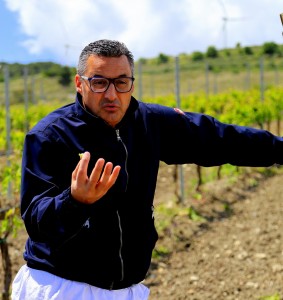 Another solution is to marry local and international varieties in an effort to bring out the best of both worlds. The 2012 Dalila, an 80-20 blend of Grillo and Viognier, gets the famous floral aromas of the latter mixed with the fruit and citrusy zing of the Grillo for a fresh, lively white.
On the red grape side, Sicily's star is Nero d'Avola, (neh-row-DAH-veh-lah), which means "black grape of Avola," Avola being the Sicilian town where it was identified. In the past, Nero d'Avola primarily was shipped to France to add weight and color to lighter red wines, winning the nickname le vin medicine for its curative properties. At its best an intense, elegant wine that can be sipped alone or paired with food, Nero d'Avola is becoming better known in the U.S. market, although it hasn't yet reached breakout status.
Stemmari sells a 100 percent Nero d'Avola in the United States and also has a blend, Cantadoro, which mixes Nero d'Avola and Cabernet Sauvignon (also 80-20), and Hedonis, a 70-30 blend of Nero d'Avola and Syrah.
Sicily isn't the only source of obscure varietals. Hungary has Furmint, the white variety that goes into the country's famous Tokaji dessert wine but is also being turned into dry whites these days. And the Greeks have a long list of tongue-twisting varietals, including Agiorgitiko, ah-yor-YEE-ti-ko, a grape that produces red wines as well as dry rosés.
As Shakespeare might have put it, a rosé by any other name would smell as sweet. But it probably takes some serious effort to sell as sweetly.