Sparkling wine has always been a glass act.
It was the invention of stronger bottles in 17th-century Britain that made the beverage cellar-safe, solving the problem of exploding bottles which had plagued effervescent beverages.
And the glasses used to serve sparkling wines have gone through more than a few incarnations
Take the classic, saucer-shaped sparkling wine coupe said to have been modeled after the breast of Madame de Pompadour, mistress of French King Louis XV, Madame du Barry, other mistress of Louis XV, the Empress Josephine, or – the most often cited figure of mammary modeling lore – poor, doomed Marie Antoinette.
That's a fun but fictional piece of bubbly trivia that has been debunked a few times. At issue are a number of pesky details, including the fact that lead crystal wine glasses were developed in England, not France, and predate all of the aforementioned ladies.
What is true is that the broad-bowled coupes were embraced in the U.S. in the 20th century, becoming an instantly recognizable symbol for luxury, celebration and just a bit of naughtiness, especially on the big screen.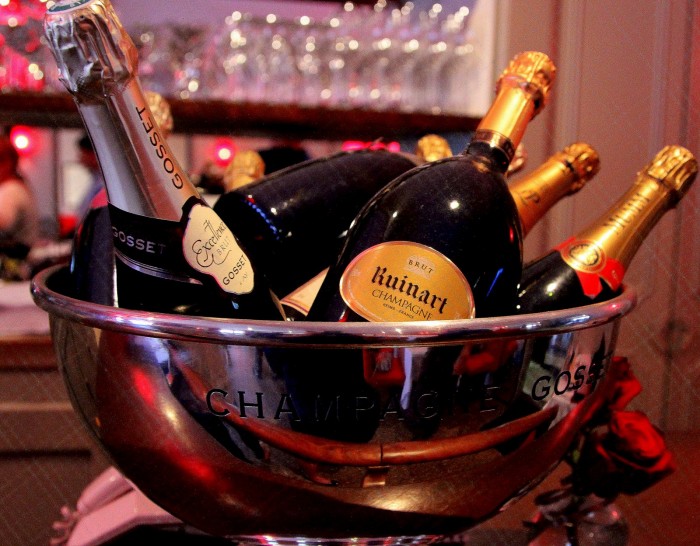 Tom Ewell frantically searches for a couple of coupes when upstairs neighbor Marilyn Monroe appears with a bottle of Champagne along with an ahead-of-her-time potato chip pairing in The Seven-Year Itch; Deborah Kerr and Cary Grant compare their hitherto pampered lives to rosé Champagne in An Affair to Remember, and Humphrey Bogart and Ingrid Bergman save Champagne from falling into enemy hands by drinking it up in Champagne cocktails in Casablanca.
But the wheel of fashion is ever turning and the very thing that made coupes so festive – nose-tickling bubbles – led to their abandonment as connoisseurs worried that the wide surface area was letting bubbles escape and allowing the wine to warm up too quickly.
Previously, saving the bubbles hadn't been much of a concern. Eileen Crane, CEO and founding winemaker of Domaine Carneros in the Napa Valley, remembers encountering a strange little device shaped like an upside down umbrella with no canopy that was intended to be inserted into a coupe glass and stirred vigorously specifically to remove bubbles.
"I don't know why you wouldn't just drink a still wine," she points out reasonably.
In the latter half of the 20th century the flute became the chosen chalice for sparkling wine on the grounds that it looks elegant and does a great job of protecting the bubbles. But, flutes too, came in for criticism because the small opening makes it harder to smell the wine.
A more modern option are tulip glasses – Crane's vessel of choice – which are tall like flutes but have a bigger opening and larger bowl than flutes.
And still others advocate using regular white wine glasses since bubbly generally is a white wine.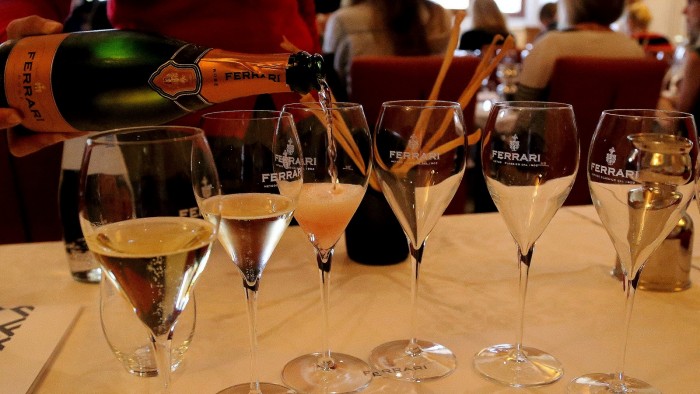 Matteo Lunelli, president of the Ferrari Winery, producing sparkling wine in the classic method in Italy's Trento region, says
"Traditional narrow flutes cannot deliver the perfume and complexity of a sparkling wine such as a TrentoDOC. [Flutes] tend to increase the perception of acidity and decrease the ability to appreciate the full range of flavors, particularly when you are pairing a complex wine with food.  They do emphasize the perlage [effervescence] which is an important component of the experience but I prefer large tulip flutes or large wine glasses that showcase a vintage or reserve wine with several years of aging on the lees. I use a wine glass when pouring Ferrari Perlé and it allows you to think of the bubbly as a wine in its own right and not just limited to a toast.  The whole tasting experience really improves."
Lately, Crane has seen glass playing a new role in sparkling wine consumption with the advent of decanted bubbly.
That can draw a shocked reaction – what about the bubbles? But Crane says the decanting, which she'd only do on a vintage sparkler, doesn't do much to the bubbles so long as the wine has been chilled down to serving temperature.
Crane tried it herself using a Riedel vintage Champagne decanter and "when I decanted it into a half-carafe, it actually opened up the wine," she says.
So what should you pull out for your big holiday party?
As with most things wine, it comes down to what you like – flutes, tulips, standard wine glasses, basically anything other than a big red plastic cup, will get the job done.
And even interest in the abandoned coupe has perked up lately with London's 34 restaurant making a Kate Moss coupe based on a mould of the supermodel's breast.
This you can try at home. The restaurant is selling a limited number of two-glass sets for about $530.
Somewhere Marie Antoinette is looking up copyright attorneys.