Franciacorta has the most demanding standards for any sparkling wine region in the world. They're a substitute for tradition, because the Italian region has been in the bubbles business for only 50 years, which is nothing in Europe.
As everybody is thinking about bubbly this week, I decided to take a look at the smallest of the three types of European bubbly—after Champagne and Cava—that doesn't have to say "DOCG" or even "sparkling wine" on the label. The word "Franciacorta" is supposed to be enough.
Currently, the best wines in the region can stand alongside Champagne with pride. But the youth of the region is apparent in both enthusiasm for new ideas and lack of experience. After visiting a half-dozen producers and tasting 40 or so wines, I found some standouts, and I also found more than one winery doing things that are admirable philosophically, but not yet paying off in the glass.
If not for the Vietnam War, Franciacorta might still be a minor appellation better known for mediocre red wines. This is a story I got only because my ride was late when I was hanging out with Ca' del Bosco president Maurizio Zanella, who also happens to be head of the Consorzio for Franciacorta.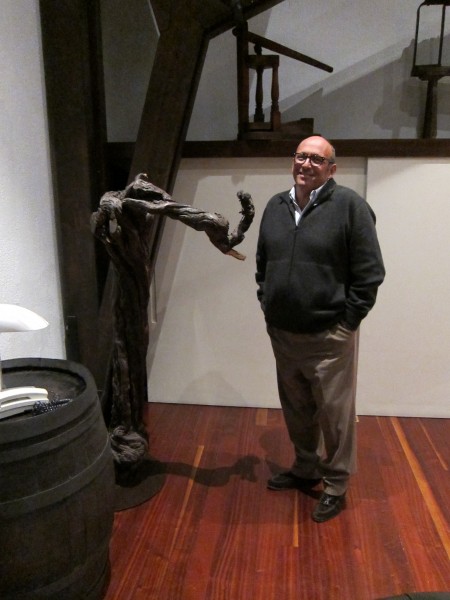 Zanella wasn't there for the founding of Franciacorta. That happened when enologist Franco Ziliani told vineyard owner Guido Berlucchi that the climate, cooled by breezes off the large Lake Iseo, was ripe for bubbly instead of the hodgepodge of Italian and Bordeaux red grapes then (and still today) grown in the region. Berlucchi made its first sparkling wine in 1961 and pushed through DOC status in 1967. But within a few years the company's sales outgrew the available grapes. G. Berlucchi began sourcing from all over Italy and branding itself (quite successfully) instead of the region. Franciacorta existed, but few were paying attention.
Meanwhile, Zanella was bored with high school in Milan and discovered war protesting. By 1969, his father had had enough.
"My father sent me here in exile," Zanella said. "I liked to play and not go to school. My father said, 'You go to the country house.' And then I fell in love with the wine."
Everyone gives Ziliani the credit, deservedly so, for noticing that the area's cool climate would support Chardonnay, which was barely grown at the time, as well as Pinot Noir, which has not yet reached the same level of quality.
But Zanella became and still is the region's leader through his personal magnetism. Without his impish smile, he could be any well-dressed businessman. His good humor is a reason he fell in with some of the leaders of the American wine scene. Zanella said Robert and Tim Mondavi came to Italy to his wedding, as did restaurateurs Wolfgang Puck and Piero Selvagio of Valentino, spirits magazine publisher Anthony Dias Blue and Gil Nickel of Far Niente.
Zanella met all these Americans while he was visiting California to see how wineries like Schramsberg and J Vineyards were setting up sparkling wine operations from scratch. He also made many visits to Champagne, but California was more relevant to him in the 1970s.
"The US was developing new concepts," Zanella said. "All the great vintners—Warren Winiarski, Paul Draper—they were all together, and none of them came from a wine background."
Zanella made a key alliance with Vittorio Moretti, a building tycoon who started what would be one of the largest wineries in Franciacorta, Bellavista. They decided to convince the roughly 20 other producers in the area to require lower yields in the vineyard and longer maturation periods in the cellar than anyone was doing at the time.
"We had no history of making great wine," Zanella said. "So we had to have rules to force producers to try to make great wine."
The cellaring rules for non-vintage wines are particularly strict. They cannot be released for at least 25 months after the harvest and must spend at least 18 months of secondary fermentation in the bottle before disgorgement, compared to 15 months in Champagne.
"With Prosecco, after four months, five months, the wine is on the market," Zanella said. "Here you have to have 25 months. We look to make our life harder. Prosecco is booming worldwide. We will not boom."
Alceo Totó, an agronomist for La Montina—which sells its Franciacorta directly to the Pope—said some producers naturally resisted the conversion.
"One producer, just 10 or 12 years ago, went to Champagne and came back and said, 'You are completely crazy. Why you produce sparkling wine? Franciacorta is the soil for red wine'," Totó said. "He had won awards for his red wine from Gambero Rosso. Now, he produces only sparkling wine."
Bubbly has been great at creating jobs for the region, which has no big towns (Rovato, at about 14,000 people, is the largest) and previously was better known for steel production. There are now more than 200 vineyard owners and 104 wine producers, all of which own at least some of their own grapes. "This is very important," Zanella says. "We don't have négociants. We don't have cooperatives."
An issue for consumers of Franciacorta is this: What type of wine should they expect? Very few wines there have the minerality of Champagne. (An exception is one of the two best wines I tasted, La Marchesina Secolo Novo Franciacorta Brut Millesimato 2005, which combined green apple and citrus notes with rock-salt savoriness on the long finish.) Nor do most have the bright fruit of California.
One of Zanella's favorite types of sparkling wine is the lower-pressure style, with softer bubbles, created by adding less sugar for the second fermentation.
"You can eat without turbulence in the stomach," he said. "You don't have to burp. These are wines you can eat with, but with quality."
The style used to be called Crémant in Champagne. In fighting to protect the name Champagne itself, producers there traded their claim to exclusivity over the term, and now Crémant just means any sparkling wine. Zanella and Bellavista's Moretti, also a fan, needed a new name, so they hired a copywriter in Milan and came up with "Satèn."
"We tell them what this wine is: silky, soft, with good quality," Zanella said. "They came up with this name (Satèn). This name became property of Ca' del Bosco and Bellavista."
In 2000, the two wineries decided to give the rights to the name Satèn to the Consorzio to encourage others to use it.
I'd like to see more Franciacorta wineries focusing on Satèn for several reasons. At present, Chardonnay is significantly better in the region than Pinot Noir, and the rules require Satèn to be blanc de blancs (although Pinot Blanc is still permitted).
Also, it's great for a young region to have a name on the bottle that tells people what to expect. No other region that I'm aware of is focusing on this low-pressure style.
And when a Satèn is good, it's amazing. Contadi Castaldi Franciacorta Satèn 2007 (Moretti also owns this winery) was one of the most sensual bubblies I've had this year, opening with golden apple before spreading rich toasted hazelnut across the palate. And the reserve version, Contadi Castaldi "soul" Franciacorta Satèn 2005, compares favorably to much older vintage Champagne with great complexity—dried apples, toasted hazelnut, hints of cedar and clay—and a delicate mouthfeel.
But the region is still making the whole range of bubblies, including rosés, which tend not to be as exciting because of the lesser quality of Pinot Noir, and vintage wines, which must spend a minimum 37 months of lees contact.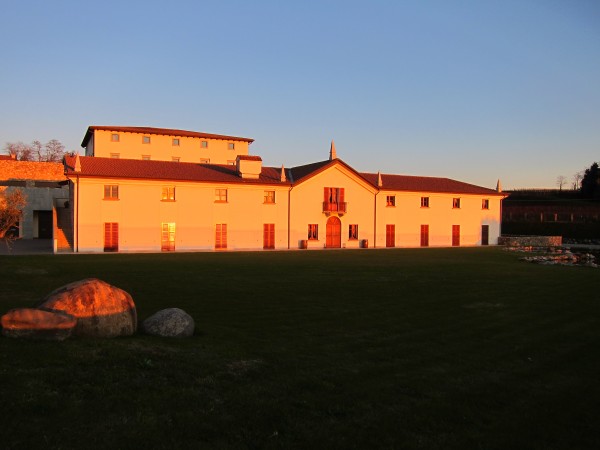 Many wineries are making bubblies with zero dosage—trendy, but not something the Champagne houses are jumping into. The style seems to do well here: I had a number of crisp, delicious wines with linear fruit profiles. One of my favorites was from Villa Crespia, the "Numero Zero" Franciacorta NV, a 100% Chardonnay wine from made mostly from grapes harvested in 2005, an exceptional aging period for the style. It paid off with a round mouthfeel to go with the unadulterated bright green apple fruit. This was one of the best zero-dosage bubblies I've ever had, largely because of the commitment to aging far longer than was required.
But as I mentioned, at three of the six wineries I visited, good intentions don't always translate into great wines, and Villa Crespia is a good example. The winery places great stock in terroir, which is admirable, making six different single-vineyard wines. But there's a reason Champagne houses blend. I tried two NV Brut wines side-by-side from different vineyards: one, Novalia, was complex, earthy, funky, and really interesting, but not all that pleasurable. The other, Miolo, was sweet and simple and pleasant enough, but not at all interesting. Those two really need to be combined.
At another winery, Cà del Vént, there's a line of wines called "Pas Operé" ("not worked") which plays right to the many hip oenophiles' philosophical sweet spot, as they're just about completely unmanipulated: no dosage, no sugar, just disgorged and rebottled as is. Well, with one exception: Some spent the first fermentation in barrels and the oak was oppressive. In any case, I didn't like any of the Pas Operé wines as well as the "operated on" 2006 Brut, which had liqueur and sugar added after the second fermentation to smooth out the rough edges. Call me uncool, but I prefer drinking pleasure to drinking philosophy.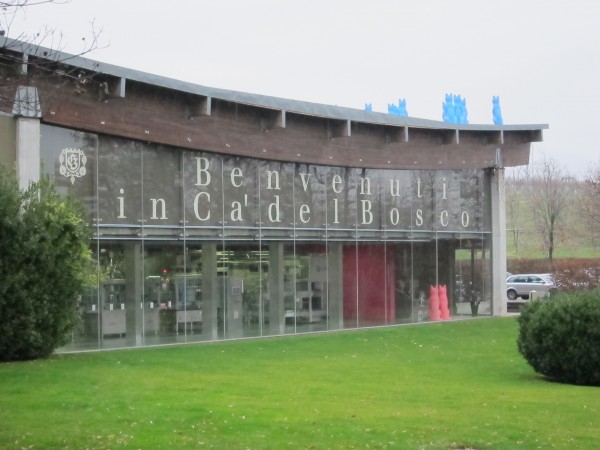 Zanella himself, at Cà del Bosco, is also in the early stages of a well-meaning experiment that for now limits the deliciousness of every one of his wines. His company patented a system that bottles without any added SO2 because he wants to cut back on sulfites. The system is a completely anaerobic environment, injecting nitrogen gas into the top of the bottle, so there is no oxygen for the wine to interact with. The problem is that that means the wines do not develop at all in the bottle, and moreover each of them needed to be open for an hour to show its full potential (once again I was glad my driver was late).
Example: Cà del Bosco's Satèn smells rich and luxurious, but on the plate it's closed and austere, at least until it has been open an hour. "These wines need time to be gentle," Zanella said. But who opens bubbly an hour before serving?
As with screwcaps, for which manufacturers are gradually solving anaerobic problems, I expect Zanella's system will get better over time, perhaps leaving a tiny amount of oxygen in the bottle to soften the wine.
I suppose that unexpectedly austere Satèn is a fitting analogy for Franciacorta on the whole: full of richness and potential, with its heart in the right place, but still sometimes finding its way in the glass. That said, I have a bottle of that Contadi Costaldi "soul" Satèn, and I expect it to make the wee hours of my Jan. 1 quite soulful.
---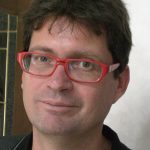 Wine writer W. Blake Gray is Chairman of the Electoral College of the Vintners Hall of Fame. Previously wine writer/editor for the San Francisco Chronicle, he has contributed articles on wine and sake to the Los Angeles Times, Food & Wine, Wine & Spirits, Wine Review Online, and a variety of other publications. He travels frequently to wine regions and enjoys coming home to San Francisco.