Red wine and chocolate. It's one of those "classic pairings."  Personally, I've never really found the pairing all that appealing, but I have seen many instances of people going nuts for chocolate served with a sweet red wine in a tasting room.  Maybe it's because they enjoy the supposed health benefits of both wine and chocolate. Or maybe it's because chocolate leads to the release of brain chemicals similar to those released during sex.  Whatever the reasons, some wine producers have decided to take this pairing to the next level: putting chocolate in the wine itself.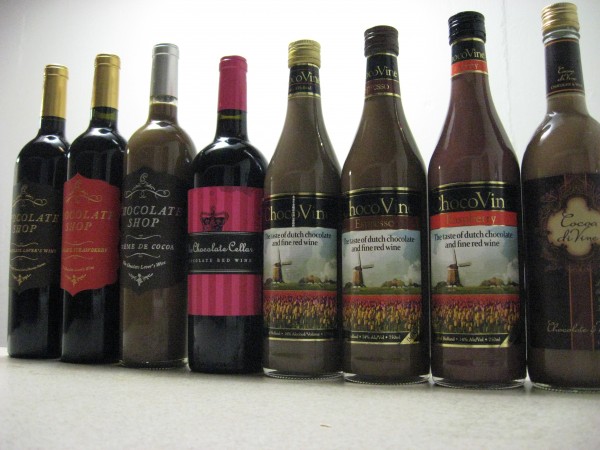 Now, Sauternes and foie gras is another classic pairing, but you don't see the Bordelais putting pâté in a blender with Château d'Yquem.  Anyway, out of morbid curiosity I decided to see if any among eight major chocolate and wine blends were good enough to serve up at your holiday party.  All the wines tasted sell for roughly $10-12.
Available chocolate-infused wines generally break down into two categories: (1) those that are primarily wine and are infused with chocolate flavor and (2) wines mixed with cream and chocolate.  The first is most likely to remind one of wine, while the second is closer in consistency to Bailey's Irish crème or other related creamy cordials.
In the first flight, which represented the mostly-wine-with-some-chocolate category, I have to say I was pleasantly surprised.
Chocolate Shop is made from a proprietary blend of red grapes and pours a clear, deep magenta, appearing like a normal table wine, if a bit bluer.  The nose brings berry and vanilla, not unlike a standard overripe, high alcohol, indistinguishable red from somewhere in California.  On the palate, the sweet (7% residual sugar) berry flavor really shines, and the infused chocolate leads to a taste so familiar that as we tasted it, my wife and I practically said "raspberry Tootsie Pop" simultaneously.  The wine is a liquid Tootsie pop, complete with candy coating on the outside and a soft, waxy chocolate center.  12.5% ABV.
The Chocolate Cellar is a more serious pick, made from (according to the label) "the finest vinifera grapes", with a darker, more mocha-tinged nose.  It's like walking into a coffee shop where they grind their own beans.  A full mid-palate adds complexity, and it leaves with a finish not unlike root beer barrel candies.  It holds its sugar well (8% RS) but there is a reason I'm still reminded of candy.  12.5% ABV.  Both wine brands are held by Precept Wine and originate in Walla Walla, Washington.
Here we leave the realm of "heart-healthy" red wine behind, as cream is a prominent ingredient in the "wines" of the next flight.  I shudder at the amount of calories in a serving of any of these products. (Wines and other alcoholic beverages are regulated by the TTB, not the FDA, so they are not required to display nutrition information on the label, but I'm willing to bet that if you drank a few glasses of any of these dairy-laden wines, you'd be nearing double bacon cheeseburger territory.)  They are all quite heavy (about the consistency of egg nog), so don't expect to want more than one or two pours.
Chocolate Shop Crème de Cocoa is the cream-infused member of the Chocolate Shop line. It has a roasty coffee-chocolate nose and a rich, full, creamy chocolate flavor, but its toasted hazelnut finish won me over. 14% ABV
In spite of its name, ChocoVine, a brand has sold close to a million cases since its inception in 2009, isn't very chocolatey at all.  A mix of Cabernet Sauvignon, cream, and Dutch cocoa, the original flavor smells and tastes like butterscotch until a tiny bit of cocoa powder creeps in on the finish.  It's definitely the most artificial tasting of the bunch.  ChocoVine also comes in espresso and raspberry flavors, and in 2012 will introduce a (God save us) whipped cream flavor.  I tasted the espresso and raspberry flavors and they are pretty much as advertised.  The espresso would make a very nice after-dinner cordial. The raspberry is powerfully berry-flavored, but rather artificial.  All 14% ABV.
Cocoa di Vine (Opici Wines) takes a different approach to wine blending, adding a mix of the white grapes Torrontés, Moscato, and Pedro Ximénez to cream and chocolate flavorings.  The difference is noted as among the creamy flight, this is the only one that  has undertones of fruits like banana.  Unfortunately, a whey-like taste (think Yoo-Hoo) makes it the least appealing of the flight. 14% ABV.
Regarding vermouth, The Ultimate Encyclopedia of Wine, Beer, Spirits & Liqueurs states that the herb-infused potable "is as far removed from the natural produce of the vine as it is possible for a fortified wine to get."  So it is, too, with these wines.  Wine is an ingredient in these mixtures, but the adding of flavorings, natural or not, runs counter to the spirit of wine altogether.  However, vermouth is good for something: cocktails.  In this vein, I got behind the bar to see what I could whip up.
The mostly-wine-with-some-chocolate selections were not very amenable to cocktail concoction, but some of the creamier selections did very well when kicked up with some liquor.  Here are two of the best that I came up with (now accepting name suggestions).
2 parts vodka
1 part ChocoVine Raspberry
1 part Chambord liqueur
Shake the vodka and ChocoVine with ice, serve up in a martini glass.  Garnish with chocolate shavings.
•••
2 parts Bourbon whiskey
2 parts Chocolate Shop Crème de Cocoa
1 part amaretto liqueur
Shake with ice and s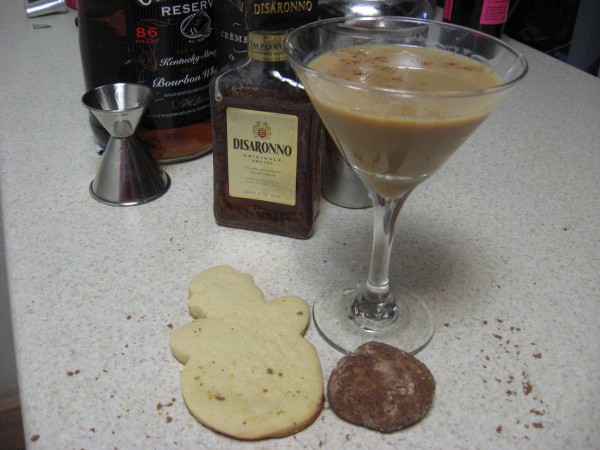 erve up OR add a scoop of ice cream and blend for a Bourbon-infused chocolate shake.
The wines are clearly targeted at a female demographic (e.g., The Chocolate Cellar's tag line, "A velvety chocolate red wine fit for a queen!").  I suppose this was best evidenced in our small sample size by my wife as she picked up what was left of the bottle of Chocolate Shop, jokingly declaring, "If you need me, I'll be in the tub."
Wine aficionados may scoff at the concept of chocolate in wine.  I would argue that while these selections do have "wine" on the label, they shouldn't be treated as wine at all.  The mostly-wine-with-some-chocolate ones are at best dessert wines, and the cream-laden ones are essentially cream liqueurs.  Are they good wines?  Not really.  Do they make tasty beverages?  For the most part, yes.   Admittedly, I had low expectations, but I was particularly impressed by the Chocolate Shop line.
Regardless of how you characterize them, they are selling like crazy and most are available in all 50 states.  And chances are your mom will love them.
---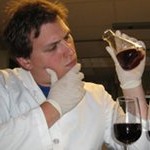 Tom Mansell is the Science Editor here at Palate Press and a member of the Editorial Board. He has a PhD in chemical engineering from Cornell University, where he also learned to love the wines of the Finger Lakes. He is also the Science Editor for The New York Cork Report. Tom is currently living in Boulder, CO, where he is a researcher at the University of Colorado. Follow him on Twitter @mrmansell.