[Publisher's Note- There are errors in this story, and we apologize. Errors are entirely ours, not the author's. We thank those contributing to the Comments for pointing out our mistakes and appreciate the wisdom and immediacy of the interactive wine community.]
Napa Valley is noted for its abundance of wineries, wine tastings, warm climate (even in winter), lavish restaurants, and compact access to literally dozens of wineries (currently numbering over 700). But with notoriety also comes popularity. Let's face it—in the summer and fall, Napa is a zoo of tourists and locals. The two main thoroughfares, St. Helena Highway (Route 29) and the Silverado Highway, are usually jammed with vehicles, as are the tasting rooms.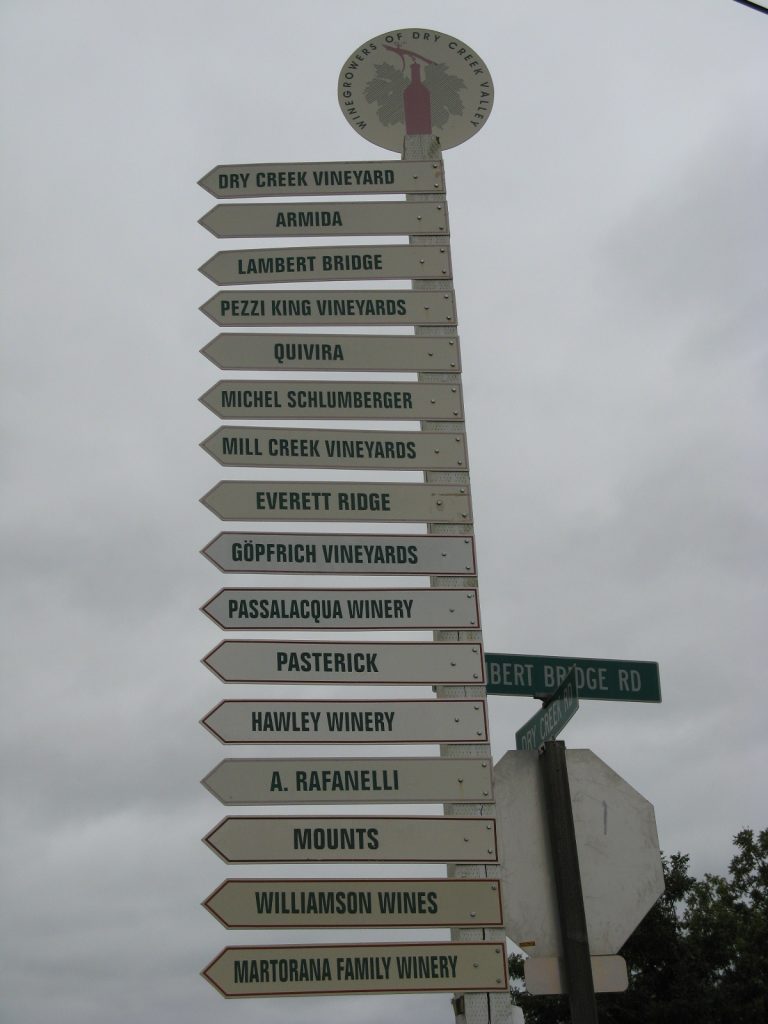 For a more relaxed wine tasting experience, look no farther than Sonoma County just west of Napa. Most tourists ignore Sonoma, much to their loss. Visitors will find quaint towns, far fewer tourists than in Napa, and, perhaps best of all, less expensive or free wine tastings. Whereas almost all Napa tastings are pay-as-you-go (usually $5-10 per person for 4-5 samples), many Sonoma wineries, especially those that are more isolated in the beautiful rolling hills to the north and east, are so happy to have visitors that they offer delightful conversation and free tastings, or more samples than you paid for—two important factors in an enjoyable wine tasting adventure.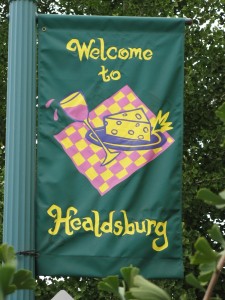 Sonoma County includes several wine-growing areas in close proximity: Dry Creek Valley, Alexander Creek Valley, Sonoma Valley, and Russian River. Online, Sonoma.com is a great resource, but always be sure to check with current travel brochures in your hotel or another winery as well.
While wine touring in the Sonoma area, plan to spend a couple of hours in Healdsburg, just north of Santa Rosa. This picturesque town has a square surrounded by dozens of tasting rooms and boutique shops.
It's a good idea to start with a hearty breakfast on any day you plan to go wine tasting. Most tasting rooms open at 10 a.m., and an early start is ideal. This will allow you to tour more slowly, receive more personalized attention, avoid large crowds, and complete your touring before the temperature gets too hot. Temperature is especially important to keep in mind if you plan to purchase wine. Many wineries will remind visitors that wine left in a hot car (summer outdoor temperatures can exceed 90ºF) will be ruined after just an hour or two. You can avoid cooking your precious wine purchases by wrapping them in a towel or T-shirt and keeping them in the cabin area of your car ,where your vehicle's air conditioning will help keep them cool.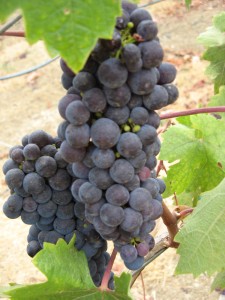 For the past two summers I've based my Sonoma wine touring in Santa Rosa, the home of Peanuts creator Charles Schultz. The modern Charles Schultz Museum mounts current exhibitions and also provides an extensive history of the life of the famous  cartoonist and his characters.
While most wineries in Sonoma are small and family-oriented, the Kendall-Jackson Wine Center, right in Santa Rosa, is large (120 acres with a chateau for wine tasting and equipped with a modest gift shop) and is definitely worth a visit. Here, you can tour the organic garden or enjoy a wide variety of Kendall-Jackson reds and whites from either the standard or the reserve selections. Check online for a complimentary reserve tasting coupon. As with other larger wineries, K-J is open to the public from 10 a.m. until 5 p.m., and if you are traveling after September first, ask about their wine and food pairing dinners.
Last summer I toured the Dry Creek and Alexander Valleys, where my tasting included Truett-Hurst, Forchini and Rued.
Truett-Herst is one of Sonoma's newest tasting rooms in Dry Creek, offering only reds poured in stemless wine glasses. Not formerly open to the public, wine production here can be as low as 180 cases of a varietal annually. The 2007 Black Sheep Pinot Noir is excellent. You can sit outside on couches or take your wine on a short walk to Dry Creek (which is not dry!) behind the tasting room where chairs are provided for relaxing in the idyllic setting.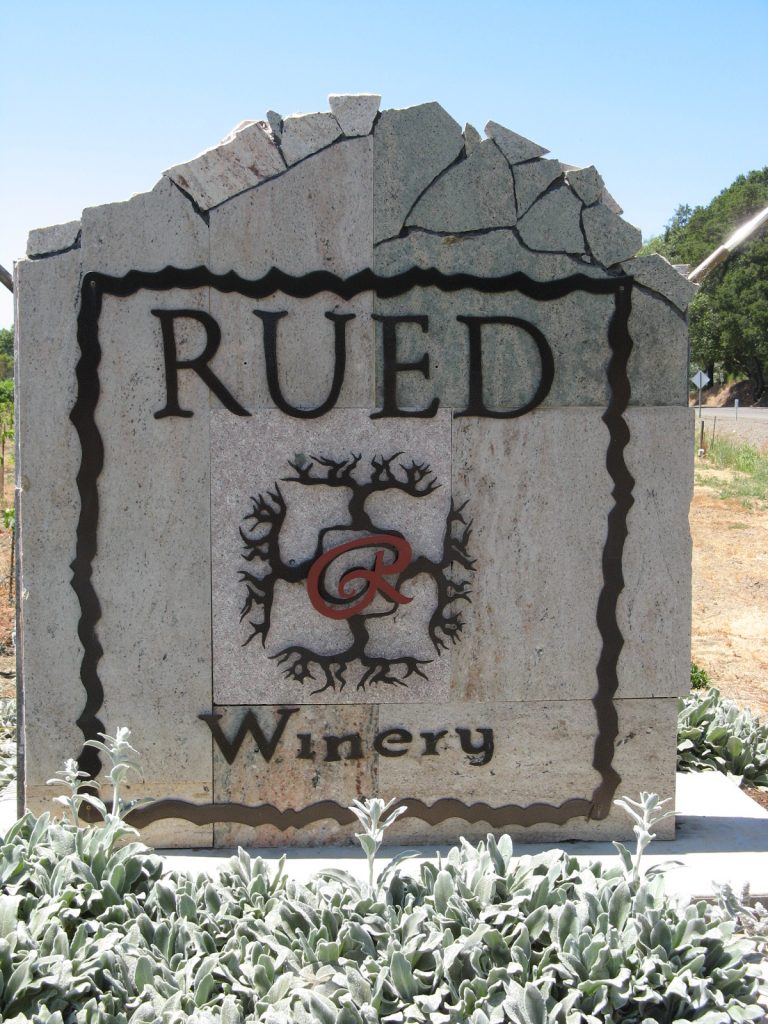 Nearby, the family owned and operated Forchini Vineyards and Winery has won numerous gold medals at the World Wine Championship and the Sonoma State Fair for their Pinot Noir and Zinfandel. I chatted with owners Jim and Anita Forchini (Jim was a NASA engineer who participated in several space exploration projects) who were serving in the tasting room the day I visited.
My son, who formerly lived in Santa Rosa, loves wines from Rued Winery, also located in Dry Creek Valley, not far from Forchini Vineyards. Tom Rued explained that the family has farmed in Sonoma County for six generations. Their first grapes were planted in the early 1880s, and their 2005 Cabernet Sauvignon was rated 92 points by Wine Enthusiast magazine.
I also visited Francis Ford Coppola Winery, a must-see for movie fans. The Coppola tasting room includes a showcase of the five Oscars and several Golden Globe awards the famed director has garnered, the gold telephone from the Godfather movies, and other movie mementos. Formerly known as Rosso and Bianco Winery, the name change back to the Coppola label occurred in May 2009. Coppola wines now also have organic certification, and a mammoth restaurant and patio are currently under construction. Try the 2007 Pinot Noir from the Russian River and Coffey Lane vineyards. Coppola also bottles the newer Sofia label, offering a delightful Riesling.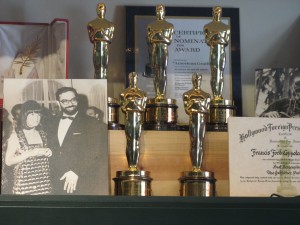 Although I didn't visit B.R. Cohn on this trip, I have done so on prior wine tasting jaunts. Owner Bruce Cohen was the manager of the Doobie Brothers, whose gold and platinum records line the walls of the tasting room. Music is not the only thing that has garnered gold for B.R. Cohn. Their wines have yielded dozens of gold medals (all proudly listed at their web site). The small tasting room includes a modest gift shop where you can purchase a variety of the delicious olive oil products that B. R. Cohn also produces. Ask for a complimentary bottle label—it is uniquely attractive.
Finally, if you are going to be in this area of California during the summer next year, plan to attend the world famous Gilroy Garlic Festival. Gilroy is located on the route from San Francisco to Sonoma off Highway 101, south of San Jose. The festival organizers run an efficient event. You are guided to park your vehicle in a huge field and free, air-conditioned buses take you directly to the festival where you can view local arts and crafts and purchase a variety of foods—all made, of course, with generous helpings of garlic. Try the garlic ice cream for a unique treat. Arrive early when the temperature is still low and the crowds are light.
You might also like:
---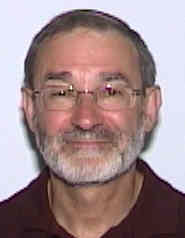 Sandy Wohl lives in Vancouver, British Columbia, just a short flight from BC's well-known wine region in the Okanagan and a few hours drive from the many wineries in Washington and Oregon. He is a university instructor, author, and textbook consultant. Sandy's original and creative ideas for teaching science have earned him national and international recognition. Sandy enjoys travelling to Napa, Sonoma, Paso Robles, and Temecula.