Alexandre Schmitt's nose is in demand.  He's a classically trained French perfumer. So what's he doing at a Napa Valley winery?  Schmitt teaches winemakers not just how to smell wine, but how to pick out and properly describe all the varied aromas that make up the complex fragrance we call bouquet.
"To know how to taste wine you have to know how to talk about wine," Schmitt tells a group of 16 wine industry professionals –  winemakers, enologists and cellar workers – gathered for his Level 1 Olfaction Seminar.  He's teaching this class at Mumm Napa Valley, but there's no wine on the table.  Instead there's lots of small glass vials, each filled with a different aromatic component.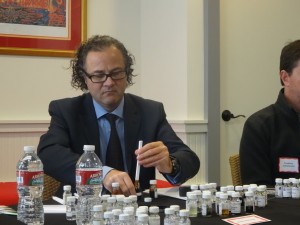 "We have a need to talk about wine," says Schmitt.  "It is not a desire to, but we cannot control it."  He says in order to communicate what's in the glass, people working in the wine industry need a common language.  "If we learn the same language of aroma, winemaking teams, sommelier teams can exchange more and better information and they can go deeper and faster.  It helps fine tune your work."
Brian Talley, owner of Talley Vineyards in Arroyo Grande, CA heard about Alexandre's workshops through the grapevine.  One of his enologists is in this class, but he's sent other members of the winemaking team to previous sessions.  " I feel that Alexandre offers unique technical training that we can't find anywhere else," Talley says.  Eric Johnson, Talley's winemaker adds, "as winemakers we attend a lot of tasting oriented events.  This seminar is on the other end of the sensory evaluation scale that doesn't get discussed as much as tasting."
When Pétrus comes calling
Schmitt has been training winemakers on olfactory perception for 15 years through his business Wine & Flavors.  After working in the perfume industry in Paris developing scents mostly for household products or shampoos, he returned home to Bordeaux to pursue his other passion, writing.  Then Jean-Claude Berrouet, winemaker at Château Pétrus came calling.  Berrouet asked Schmitt to train him how to smell better.  In exchange, Berrouet would teach Schmitt about wine.  The two met for monthly sessions for 12 years.  Imagine having the Pétrus winemaker as your personal mentor.
Word got out about Schmitt's unique approach to developing noses.  Now he holds seminars in several countries.  He wrapped up three weeks in Napa Valley in February and will return in April.  His clients include Opus One, Dominus, Spottswoode, Harlan Estate, Dana Estate and Pride Mountain.
At Mumm Napa Valley, winemaker Ludovic Dervin has taken Schmitt's seminars many times, and is here again today.  "Alexandre Schmitt's educational sessions allow our team to calibrate our noses and eventually speak the same olfaction language," he says.  Dervin likens the training to working with a coach, "only disciplined practice leads to real, continuous improvements."
Perception and sensation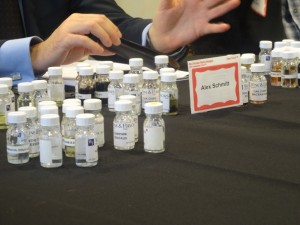 A major theme of Schmitt's classes is that there's a difference in perception and sensation when it comes to smelling wine.  Perception is subjective.  You may smell raspberry and I may smell cherry in a glass of Pinot Noir.  Sensation is something you perceive that is quantifiable: acid, tannin, concentration, finish.  If you say that Pinot is high in acid, you're wrong.
Schmitt dips a handful of scent trips into a glass vial, passes them out and asks, "what do you smell?"  Pine essence, earth, steam rising from wood, clay pot, wood shavings, sauna.  Everyone has a slightly different perception.  This aroma is a blend of cedar wood and a resin.
We learn the difference between wood aromas, like cedar, which has a drying effect, versus resins, which have a piney character.  Vanilla is resinous but also has a warm, round syrupy character which Alexandre tells us is a balsamic aroma.
Staglin winemaker Fredrik Johansson says, "because of Alexandre's professional background, he has access to a vast array of aromatic compounds that is hard to create or experience on your own."
We sniff our way through other aroma classifications: spices, animalic, menthol and mint.  Schmitt says, "a winemaker should have all of these concepts as strong markers to do his or her job very well."
Day two is another marathon round of sniffing, this time fruits, beginning with citrus.  The day ends on floral notes.  We've sniffed more than 80 aromas in two days.
"The most useful takeaway," says Johansson.  "is a better understanding the different categories of each family of aromas.  That helps me to "see" the differences between orange and Mandarin, or camphor and eucalyptus and be more able to regularly identify them correctly."
Brian Talley says his winemaking team has "become better tasters which is critical in our winemaking process."  Mumm's Dervin says there's an added bonus.  "On top of building the strength of my own winemaking team, I always make new friends when I attend these seminars."
Schmitt says this training is also about precision in thinking and decision making.  The more precise a winemaker is about describing wine aromas, the more precise he will be in making any of the 200 or more decisions during the winemaking process.  Take buying barrels for example.  "You have to taste all the barrels in a way that will express your feeling with each barrel, how your wine works with each of them," says Schmitt.  "If you bring precision to this process you will choose better your barrels."
After one of his Napa olfaction seminars, a student who was a Master of Wine thanked Schmitt for the class.  "He told me he was looking for this type of teaching for years to help people to get aromatic knowledge, because wine professionals use their noses daily," Schmitt says.  "I always believe in what I do and am very convinced with this tool and the importance of the olfaction training."