I was visiting Sonoma for a press trip. It was already unusual; of the four journalists attending, three had to withdraw at the last minute, leaving only the host — Christina Starr of Ste Michelle Wine Estates — and myself.
Our itinerary included one property in Sonoma on Sunday, then three more in Napa Monday and Tuesday. After dinner in Sonoma Plaza on the first evening, we noticed the wind picking up. By the time I switched off the hotel room light, bluster was eerily rattling my windows.
I stirred overnight a few times; something was clearly amiss. Sirens wailed in the distance. A few even rushed past the hotel. Probably the high winds damaging property, I assumed.
Arising early Monday to workout, a distinct odor of ash greeted me when I stepped outside. The sun was beginning to rise, and though smoke was visible in the distance, I was initially struck by the array of muted pastels painting the morning sky purple, grey, pink, and orange. At that moment, knowing little of what was actually happening, I focused on snapping a photo of the beautiful scene.
As I finished my workout, another guest's chatter about the spreading fires got me thinking, for the first time, that we might actually be in danger. I hurried back to my room, turned on the local news, and almost instantly the phone was ringing. It was Christina: we would not be going to Napa. Instead we must evacuate, she said, be ready in thirty minutes.
There I stood, drenched in sweat, no time for a shower, or even think. Just change clothes, pack, brush teeth, leave.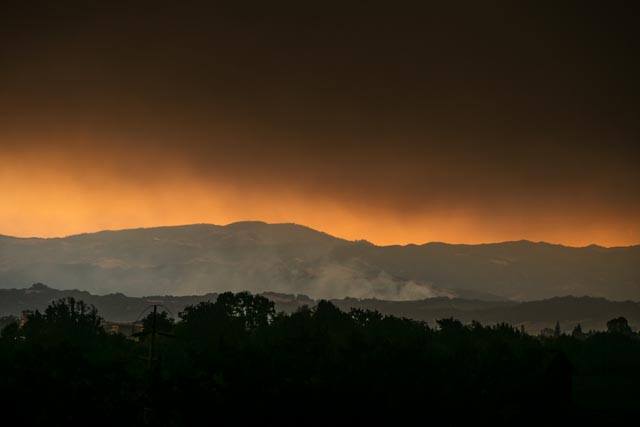 In the car, we programmed the GPS to San Francisco and set out. But the main road from Sonoma was closed. Each time the GPS re-routed us, it seemed to lead to another inaccessible path. Plums of billowing smoke blanketed the sky, and visible flames raged on the Mayacamas Mountains. A feeling of entrapment began to set in.
Approaching Eighth Street, the reality became starker. As the fire jumped from one side of the road to the other, reigniting with renewed vigor, several men stood helplessly while the blaze marched toward vineyards just a few feet away. I'll not soon forget the look of utter disbelief on their faces.
Flummoxed by the lack of open roads, we returned to the hotel to seek help. They directed us west to Petaluma, where, we were told, we'd find access to the 101. We were not told, however, this route would also take us towards the conflagration creeping up the Lakeville Highway.
As we made our way, steadfastly engulfed by smoke, air quality in the car deteriorated quickly. A line of flame marched across the mountains like dutiful soldiers going to battle. The ominously auburn, soot-filled sky framed a blood-orange sun. Pausing on the side of the road for a moment, we were mesmerized by the size and scope of just one of these fires.
We did, eventually, thankfully, make it to San Francisco. With us we brought much smoke, embedded into our hair, clothes, suitcases. It persisted insistently for the next 24 hours, serving as a gentle reminder of so many who weren't as lucky, who were still actively experiencing utter chaos and devastation. Or worse.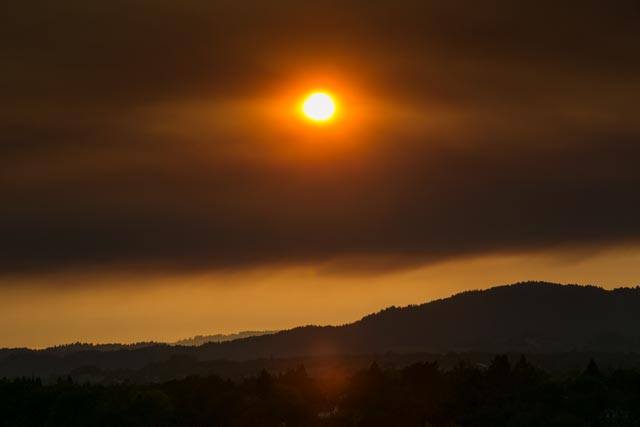 Having returned safely to Dallas, I reached out to a couple friends with closer ties to the area to find out more about their experiences. Their stories follow.
Wine marketing vet Jo Diaz has lived in Windsor, 9 miles north of Santa Rosa, for 25 years. "My husband woke me at 3am, saying 'get up, we've got to evacuate.' It was shocking," Diaz recounted. "He'd gotten a text message from one of our neighbors, telling us the hills were ablaze, that we'd better get out ASAP. I didn't even know what to do, what to bring, besides our cat. Where to even go. That was Monday morning."
"It's hard to explain the anxiety, she continued. "It's constant. It's impossible to think about anything else. A comfortable world is collapsing, and there is nothing we can do about it. It's going to be days, some are saying weeks. What is one supposed to do with no closure?"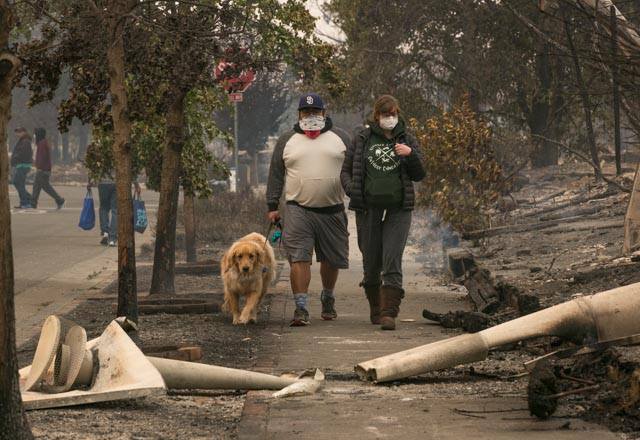 The photos featured here were taken by George Rose, a professional photographer who recently relocated to Santa Barbara after 25 years in Sonoma. Though now semi-retired, Rose returns at least one week each month to shoot local events. "I came for a week of carefree, romantic wine country photographs," he told me over the phone. "Instead I witnessed an inferno that demolished Santa Rosa, that destroyed thousands of homes."
"People who live here are now homeless," he added. "It's hard to wrap my head around that. That a place of such beauty is destroyed. The devastation is complete: vegetation, homes, businesses, vineyards… it is all destroyed."
George has stayed all week to capture what he's witnessed and share it on Facebook.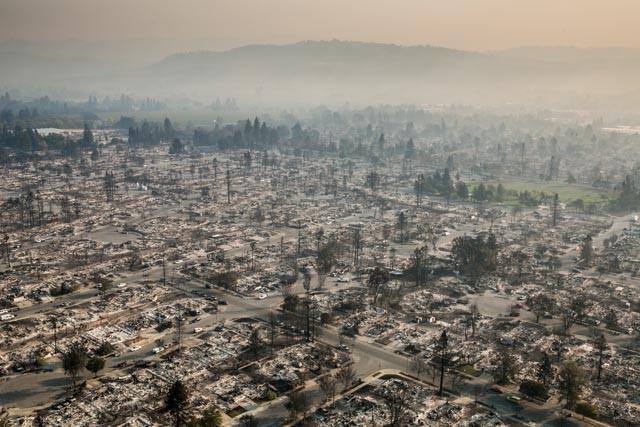 A Quick Update on What We Know
This is a highly fluid situation with information changing by the hour. Here is what has been shared at the time of this article submission.
As of October 13 at 10am, the Napa Valley Vintners reported preliminarily there are 5 physical wineries belonging to NVV members that have suffered total or significant losses due to fire. At least 11 additional NVV member wineries have reported significant damage to their winery, outbuilding, or vineyards. Many others are unable to get to their properties; therefore, many conditions are unknown.
Winds reportedly picked up again on Wednesday evening, giving many of the fires new life. At least 31 people are reported dead with 400 people in Sonoma County unaccounted for on Thursday, according to Sheriff Robert Giordino. With almost two dozen fires raging, 220,000 acres of property (according to the Washington Post an area larger than the city of Chicago), 3,500 properties destroyed, and more than 25,000 people have had to evacuate their homes in seven northern California counties.
The San Francisco Chronicle reported on Wednesday that official say downed power lines due to the Sunday night's high winds helped spark the fires, while drought conditions help spread them. Governor Jerry Brown on Wednesday said in a news conference these fires are the "biggest, most serious" of all the fires experienced in the state of California. Tens of thousands of people have evacuated their homes. Cal Fire spokesman Daniel Berlant said on Thursday morning there are over 8,000 firefighters fighting the fires and they are slowing making progress, the Tubbs fire is 30% contained, but some communities are still surrounded by fires. Fire fighters priority remains to make sure people are out of harm's way, protecting life and property.