The next time someone brings up the term "vintage variation," think about this story from the Finger Lakes. In 2011, disease pressure was pernicious and constant throughout the growing season, spurred on by a series of east-coast deluges that seeped into the region. By October, one winemaker compared the vineyards to the opening scene in Raiders of the Lost Ark: just as Indiana Jones was sprinting to avoid the collapse of the cave after grabbing the idol, growers were desperate to pick grapes and get out before the collapse of their vineyards.
Twelve months later, there was no pressure at all. No disease pressure, and no pressure to pick on any given day. The finest growing season in recent memory cruised through harvest. At Hermann J. Wiemer, among the very best producers in the Finger Lakes, winemaker Fred Merwarth explained that they were able to pick grapes from their HJW vineyard seventeen separate times.
"Seventeen?" I asked him. "It's one thing to follow the European model of multiple pickings, but isn't that excessive?"
"We were amazed," Fred replied. "We've never had a vintage that allowed us such options. We had plenty of acidity from early pickings, great ripeness from later pickings. I would have had to make a big mistake to make a bad wine."
He didn't. In fact, the 2012 Wiemer Reserve Dry Riesling is right there with the finest young Rieslings I've ever tasted from anywhere in the world. More importantly, the 2012 wines are hitting the market right at the moment that the world seems to have noticed the region exists.
Give some of the credit to Paul Hobbs and Johannes Selbach, the California-Germany connection that announced, several weeks ago, their plans to launch their own Finger Lakes operation. Hobbs, the peripatetic consultant with a high-wattage profile, declared the Finger Lakes ready to compete with the Mosel. Selbach, whose family has produced wine in the Mosel for many years, agreed. They've been clearing land in preparation of spring vineyard planting on Seneca Lake.
But don't buy the hyperbole you're hearing from long-established Finger Lakes producers, who think the Hobbs-Selbach project is some kind of global stamp of approval. Sure, it's a sign that some of the smartest wine professionals believe the Finger Lakes offers the quality to be profitable. That's no small matter. But Hobbs and Selbach are simply swooping in when others have laid the foundation for a regional boom.
Too good for its own good?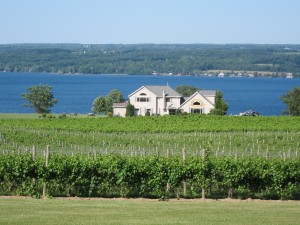 Oddly, many Finger Lakes winemakers are concerned the 2012 vintage might be too good. Or at least, atypical. And if a wave of new customers is introduced to the region via the 2012 vintage, the question remains: Is the bar being set too high?
"As nice as some of the 2012 wines are, we should not present this vintage as representative of the Finger Lakes," said Morten Hallgren, owner and winemaker of the outstanding Ravines Wine Cellars. "After all, we can not simply decide not to bottle red wines in cooler years."
It's a reasonable point. Very few regions have been so maligned for their red wines as the Finger Lakes, and for many years, it was well deserved. These days, there are very few bad wines being made just about anywhere. Clean winemaking is de rigueur. There are, however, a multitude of tart, clean, one-dimensional red wines. The challenge here is to produce high-quality reds in challenging vintages, like 2011. Consumers will not be able to throw darts at Finger Lakes reds and find consistent success yet, but thanks to winemakers like Hallgren, the odds are better than ever. His 2011 Cabernet Franc, for example, is bright and layered, and a varietal triumph. The debut Pinot Noir from Forge Wine Cellars in 2011 brought a remarkably aromatic wine that can fill the room with classic Pinot character.
The best wines are made in warm years in cool-climate regions, according to Peter Bell, the winemaker at Fox Run Vineyards. "2012 was indeed a vintage that can lure one into hyperbole, so go ahead," he advised. "Having a very strong vintage hit the market anytime is always good, but yes, with all the momentum we are seeing, it would be kind of embarrassing to be releasing red wines of the 2011 ilk."
Across the lake at Red Newt Cellars, winemaker Kelby Russell explained that the 2012 vintage is not just good timing; he thinks it's partly responsible for the recent spate of good regional press. "I think it's both an ideal backdrop for the buzz as much as it is helping fuel it," he said, adding that the region rarely sees such a strong year for red and white wines. Take 2007, when the drought produced deep reds, but the Rieslings were so parched that many of the resulting wines went all Benjamin Button, exhibiting advanced petrol character within a year. That won't be an issue in the ripe 2012, when acidity stayed strong despite the long, warm season.
Back to normal?
But Russell adds a point that would seem to echo Hallgren. Eventually the 2012s will be gone. Remember that idea of vintage variation? 2013 saw the disease pressure return, and it will separate the top producers from the mediocre stragglers. Shift ahead to this current winter, which has polar vortexed the region one too many times, and there will be considerable bud damage. That doesn't mean that 2014 can't be a great vintage; it means that it will be a smaller crop, which means less opportunity to place wines in new markets.
"If we want to live up to and surpass the buzz, the important things are what is happening in cellars right now with the 2013s, and in the vineyards with the cold-assaulted 2014s," Russell said. "Turning difficult circumstances into compelling wines is what we have control of, and that's what will positively impact us the most."
But instead of despairing over what is out of their control, I'd say it's time for Finger Lakes winemakers to celebrate some deserved good fortune. The 2012 vintage is just about as spectacular a vintage as this region will see. Even still, there is no confusing a Finger Lakes red with a west coast red. Very few Finger Lakes wines taste like raisins, and at a time when so many reds around the world taste like baby Amarone, that should be celebrated.
Even the skeptical Hallgren cracked a little. "I will admit that a vintage like 2012 might help to place wines with restaurant accounts who have been reluctant to welcome our wines because of their warm-climate bias," he said. He was talking about the city of Rochester, which has been embarrassingly slow to embrace its home region's wines. "When we have to sell our 2013 vintage wines, will they turn lukewarm again?"
In the Finger Lakes, it seems, there is always the concern of the next storm cloud. But Hallgren is looking more broadly now. "Meanwhile," he said, "there are accounts all over the country ready to embrace the Finger Lakes." And here was the most important point: "No matter the vintage."